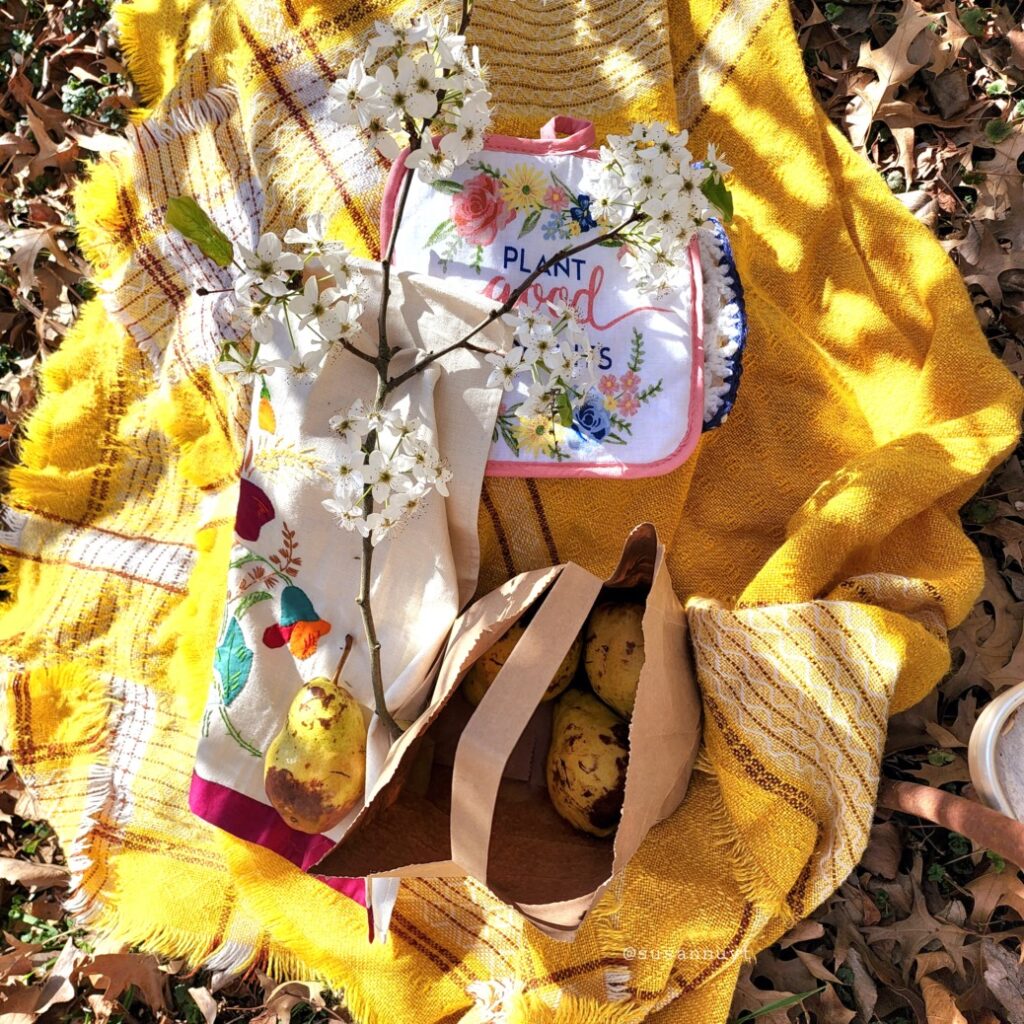 You know I've got to be different.
I'm a kid in a candy store when I'm here with you. When I'm one with nature, but also–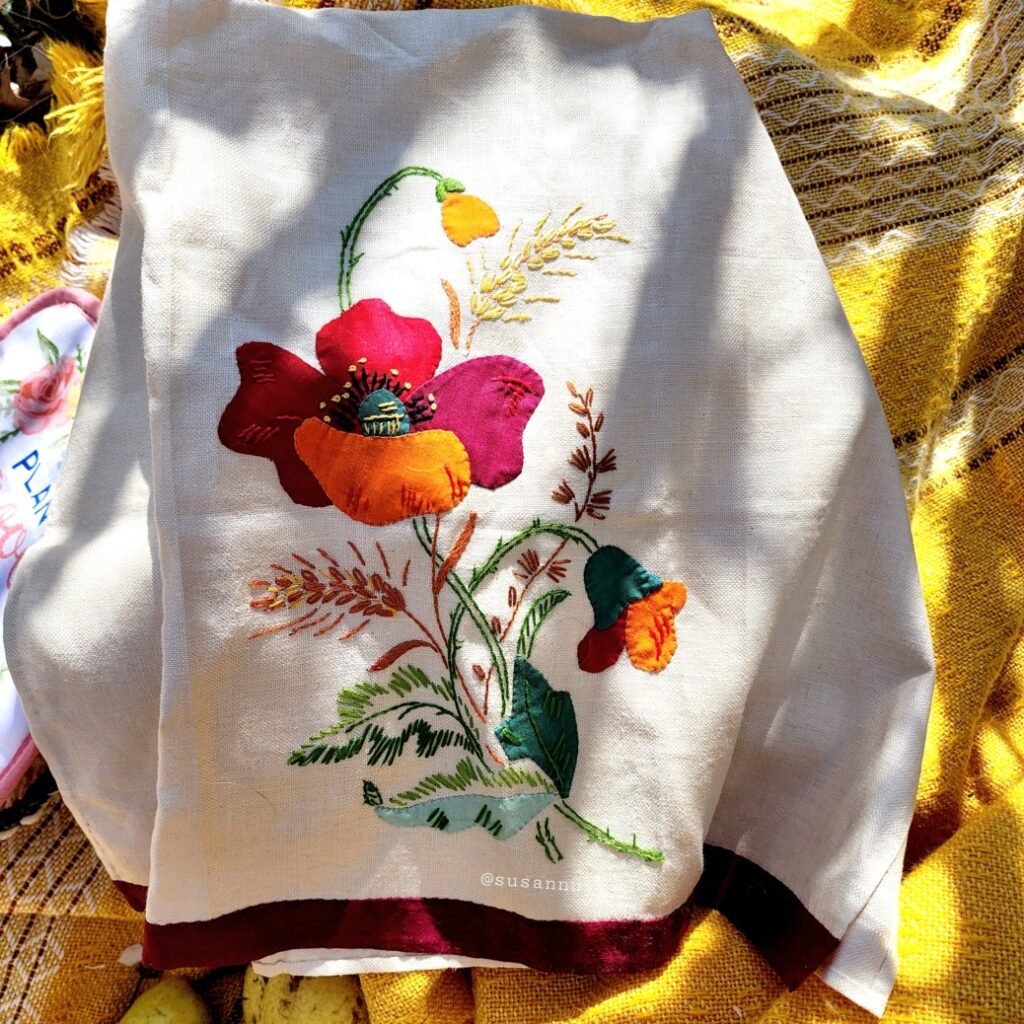 When I'm finding all the wonderful things about life with you!–
And with God.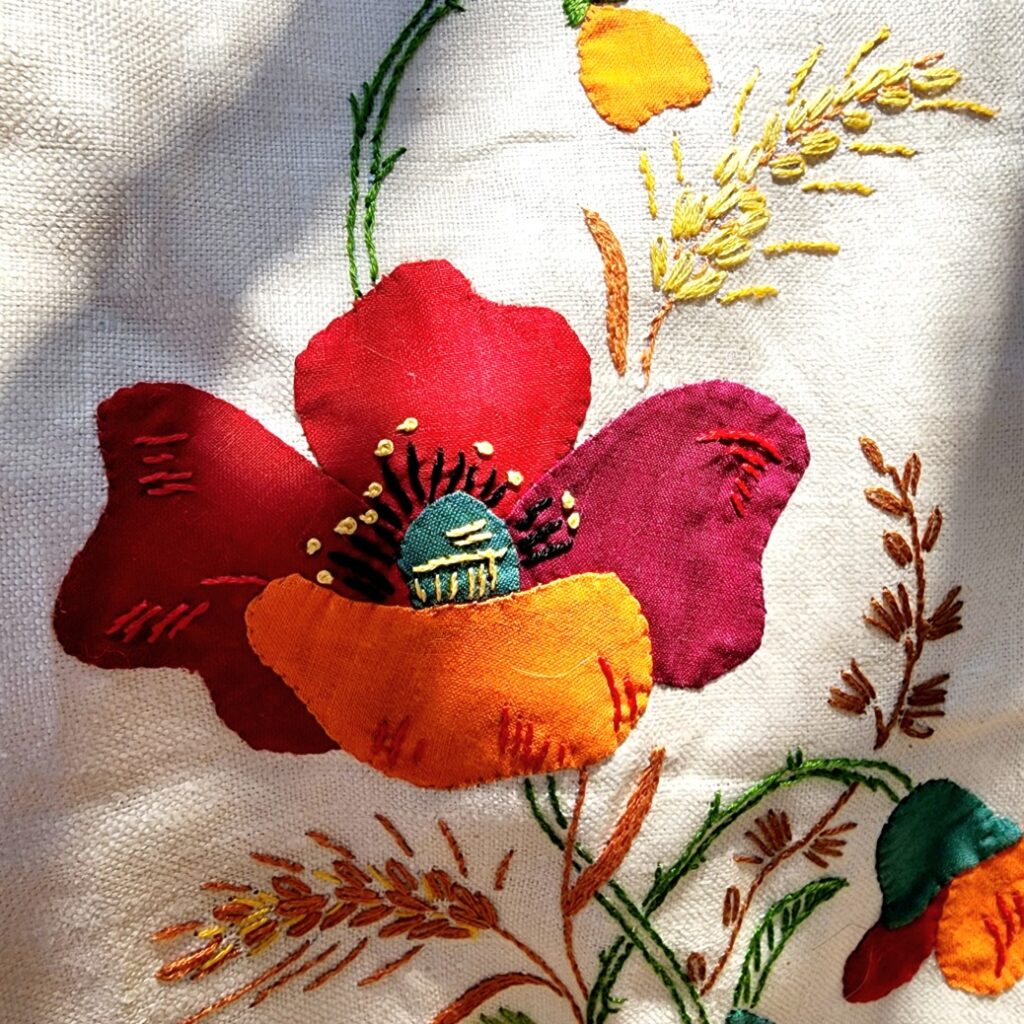 I believe in Him. I can't live without Him.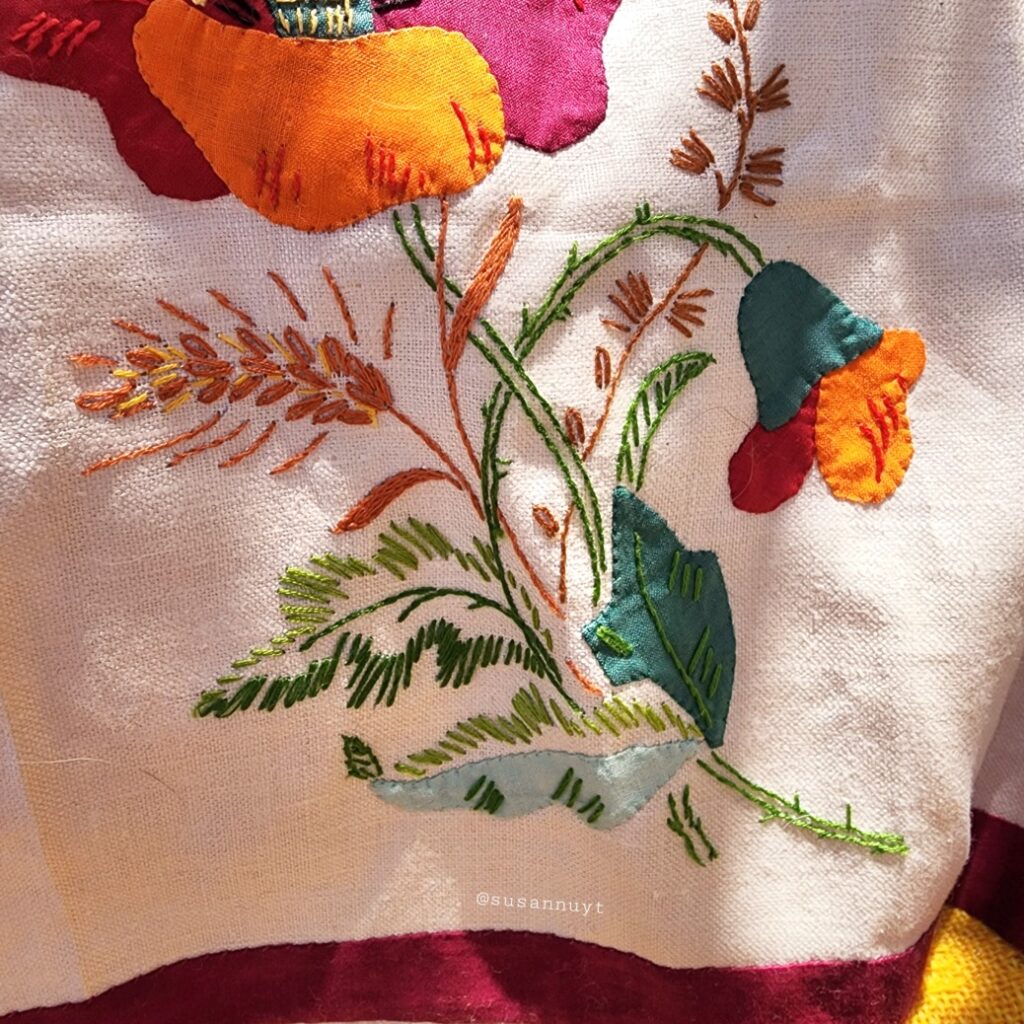 He's healing my body.
My damaged goods are His, and His to restore.
He is my refuge.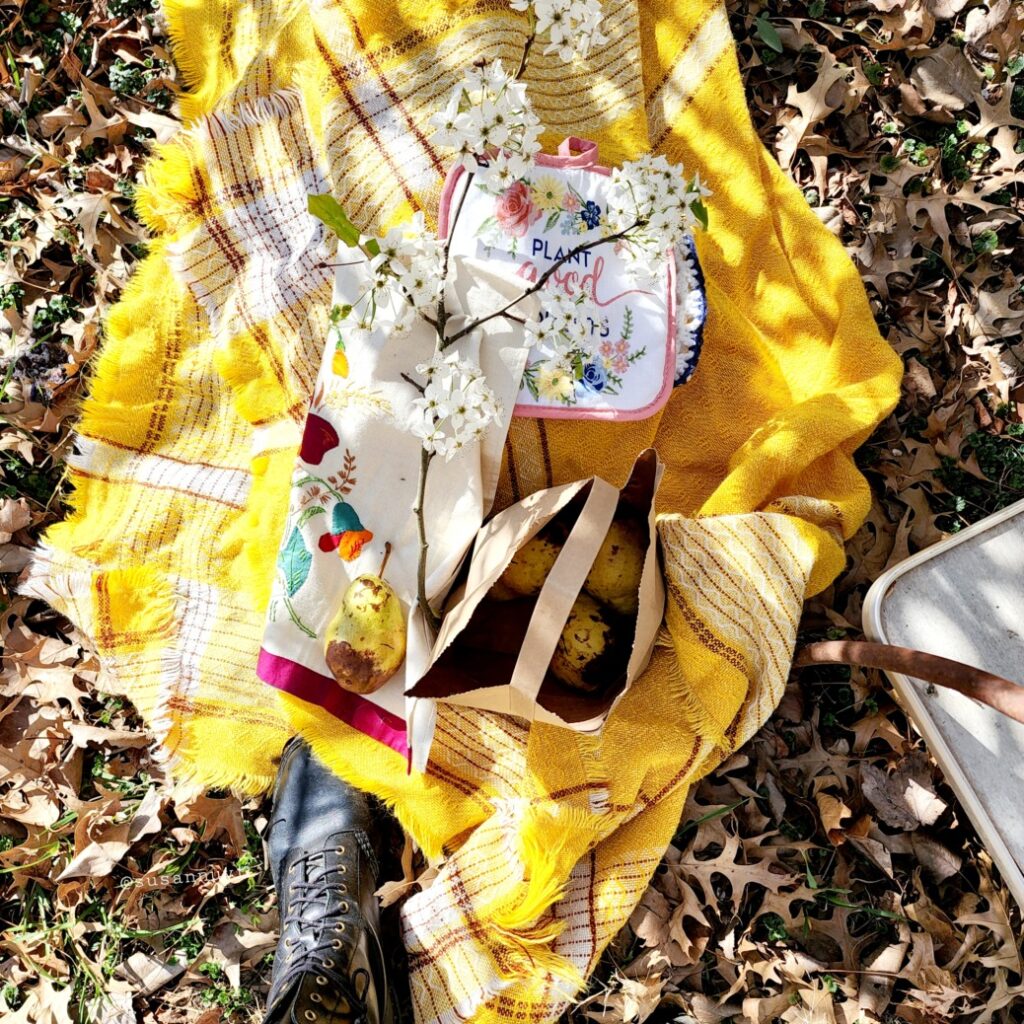 I'm taking this walk by faith;
This faith deep inside this heart under chest; this soul inside this heart, through these words…
And there is one in you.
You are enough, and I believe you are wonderful.
Your voice, your words, are you. You are rare. You are whole. You are worth your life. And more.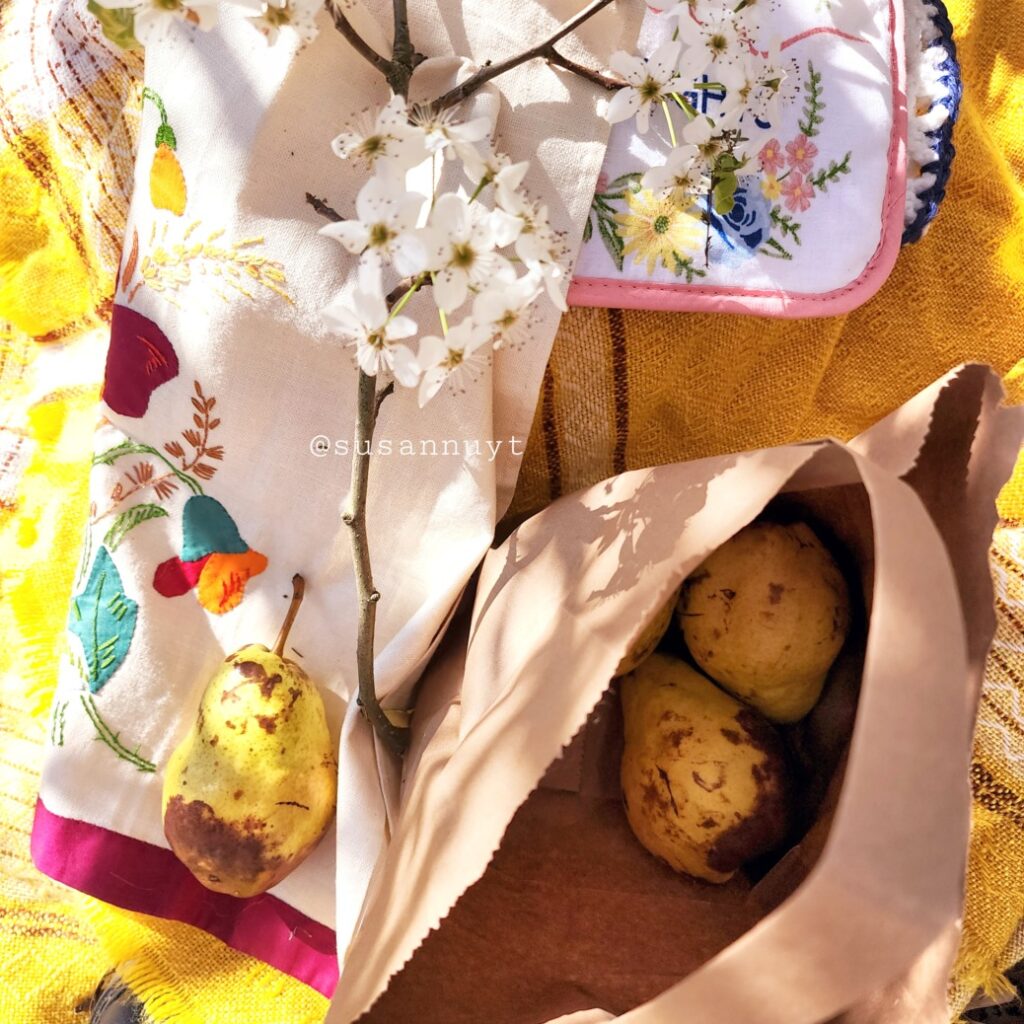 This looks like a Fall picture, but it's early Spring when I photographed and cooked outdoors–this first time that I've cooked here in the Midwest at Skirt in the Kitchen on Locust in five years.
This post is late. It's been a crazy time of year, these months.
This endearing plot and place of milk and honey has turned a leaf of 12 years-old this past month of May.
My kids were so little then, when I began!–and I had a teenager!–He's now a father; and I won't say his age!
Time slipped away too quickly. This can make a "Mom", "Ma" melancholy–but we go forward–don't we.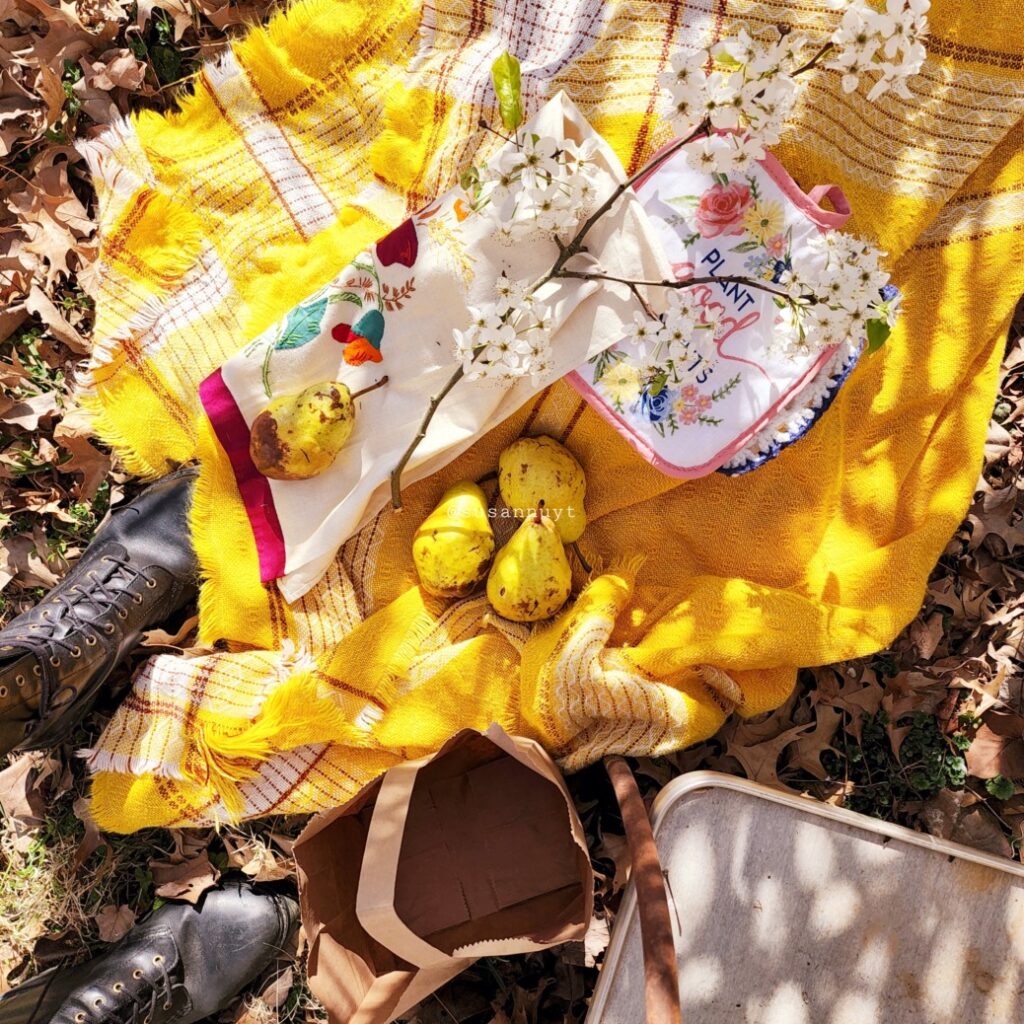 We have reason, sound reason, to keep going–to keep reaching, keep dreaming, keep loving.
We love, we let go, we re-establish, we begin again; we keep loving and continue to reach for the stars if we dare.
Let's dare.
Let's still dream.
Let's keep being alive and well.
And we're always parents to those amazing kids. Mine are each, all three, my world. I thank my good Lord for them.
I understand my parents more and more…
We never stop learning. We never stop growing, growing up; because we're still those kids, ourselves.
Even after our parents are gone.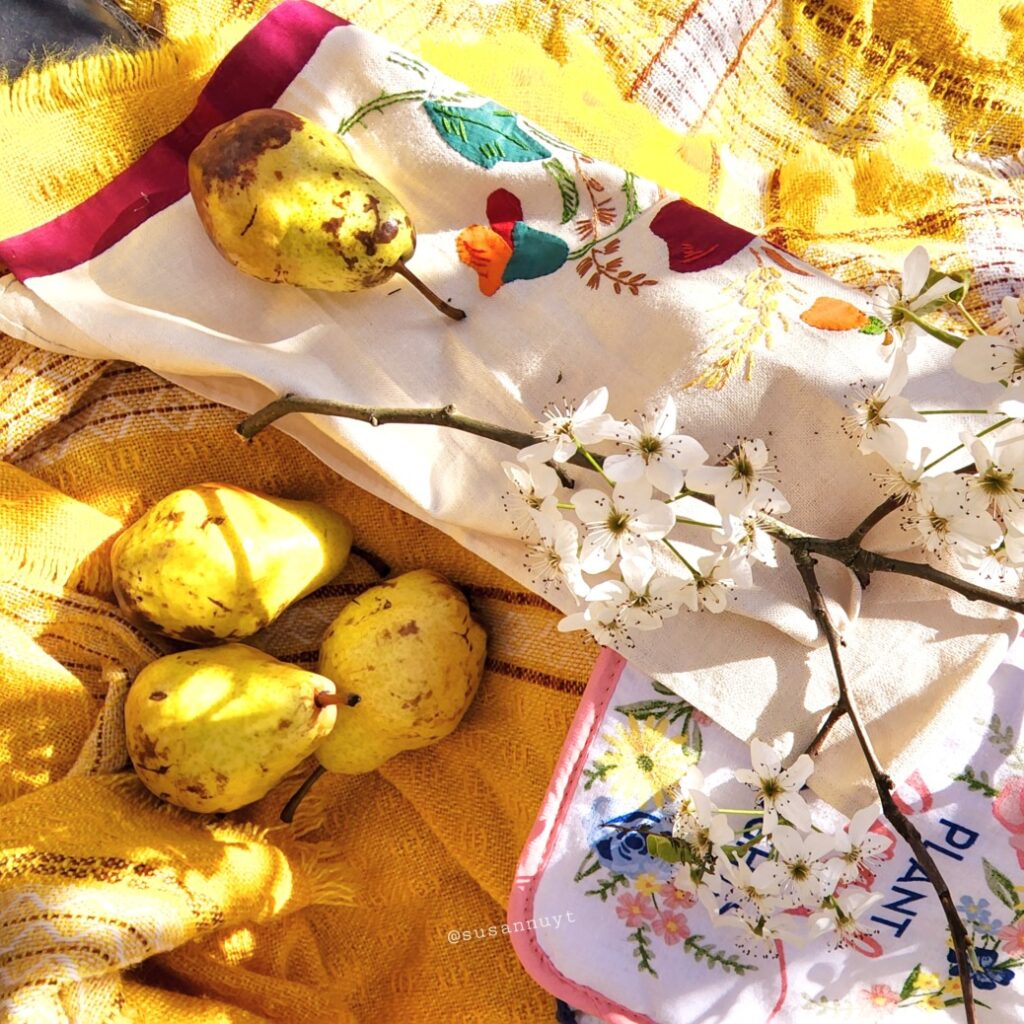 There's something about cooking outdoors that gladdens the setting, in nature, with the birds chirping; when it's just right with the temperature outside–it becomes a living, lived dreamland. For me, it's my candy store.
Do you love to cook outdoors?
And do you like this rust, this vintage bar on this cart that I just couldn't throw away?! I'm thankful I still have it.
I find anything rusted-out beautiful–its deep brown blotchy color, its curve, its sustainability to continue to function for me–for anybody. I love being one even with this rust. It deserves respect. It earned it long ago.
It's art to me.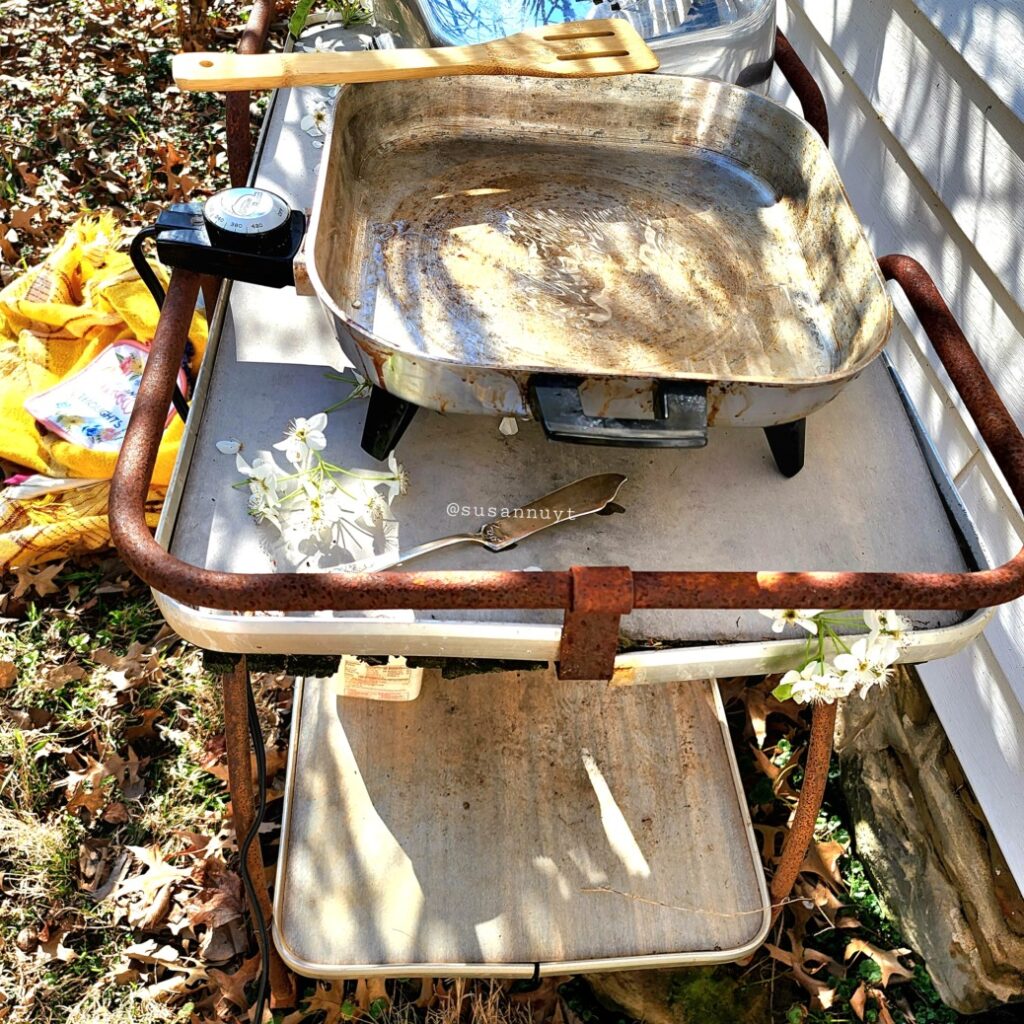 The blossoms, I picked from the Bradford pear tree next to me.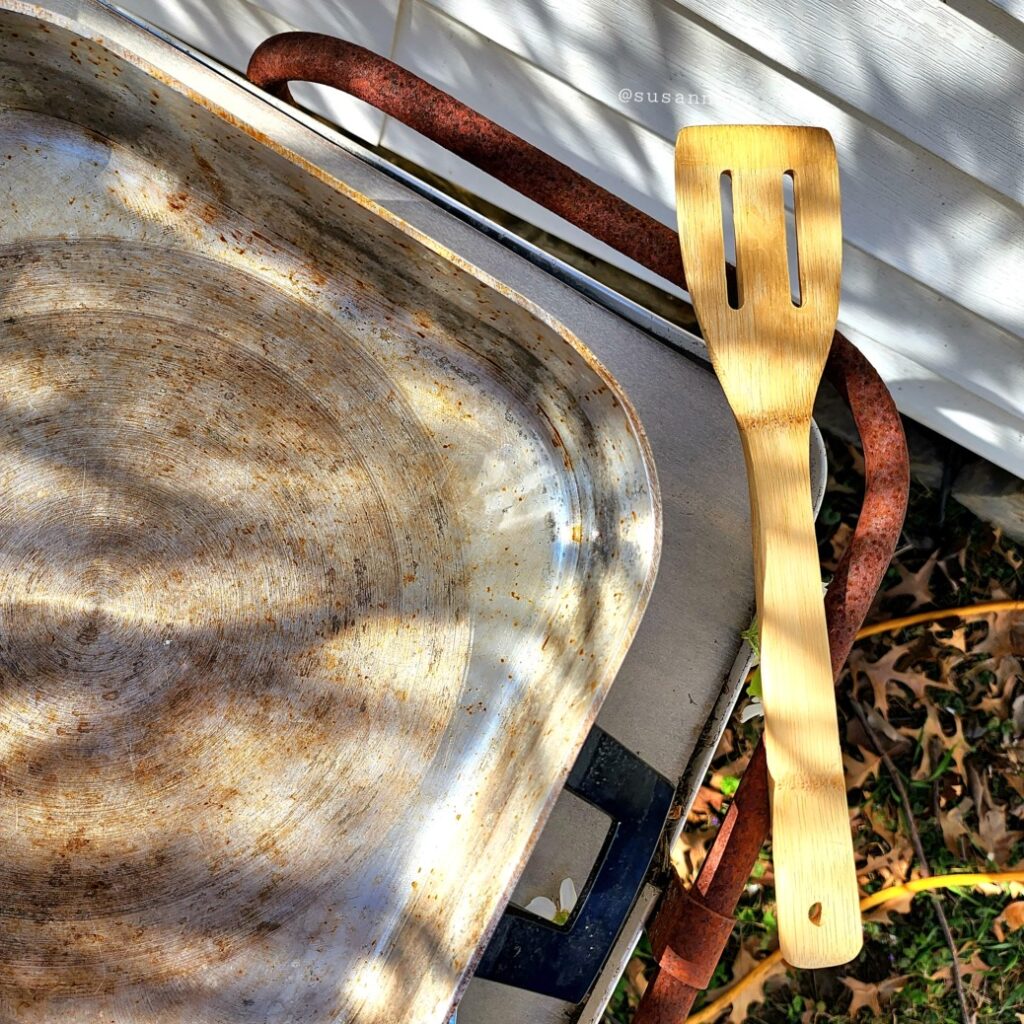 The way that this rusty bar is curved, it's handy to rest any spoon or cooking utensil on–very useful.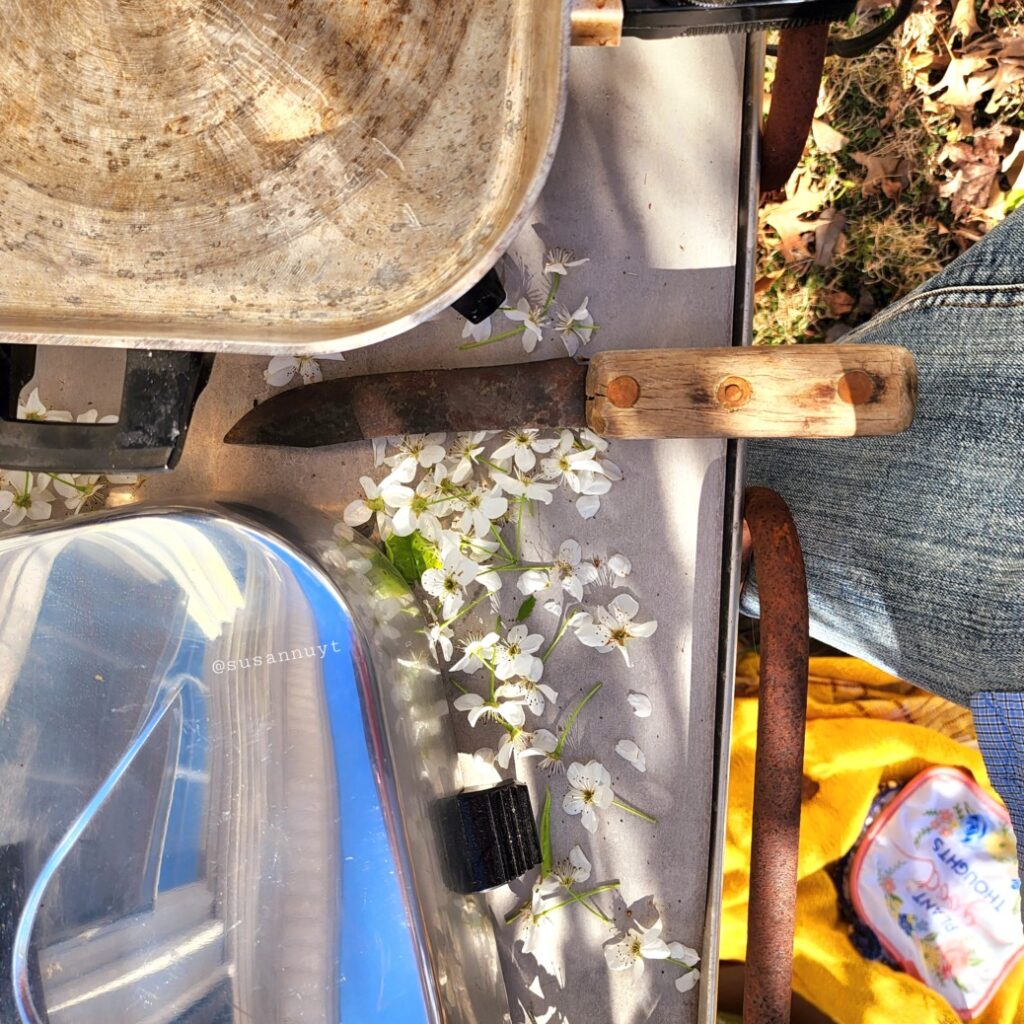 Let us not forget to mention the knives! My adoration for old knives–I'm in hog-heaven over my knives.
Probably because my father loved his knives. When he wasn't with a pocket knife, his favorite one, twiddling a stick/twig with sharp blade, he was always with one cooking–
–or dressing out chickens on the farm with my mother–just something, anything, with a knife in hand or at side.
How would that be strange? It's farm life, country wholesome-air living when you could do that as a kid.
I enjoy being "strange". I believe that I mentioned it already… Didn't I?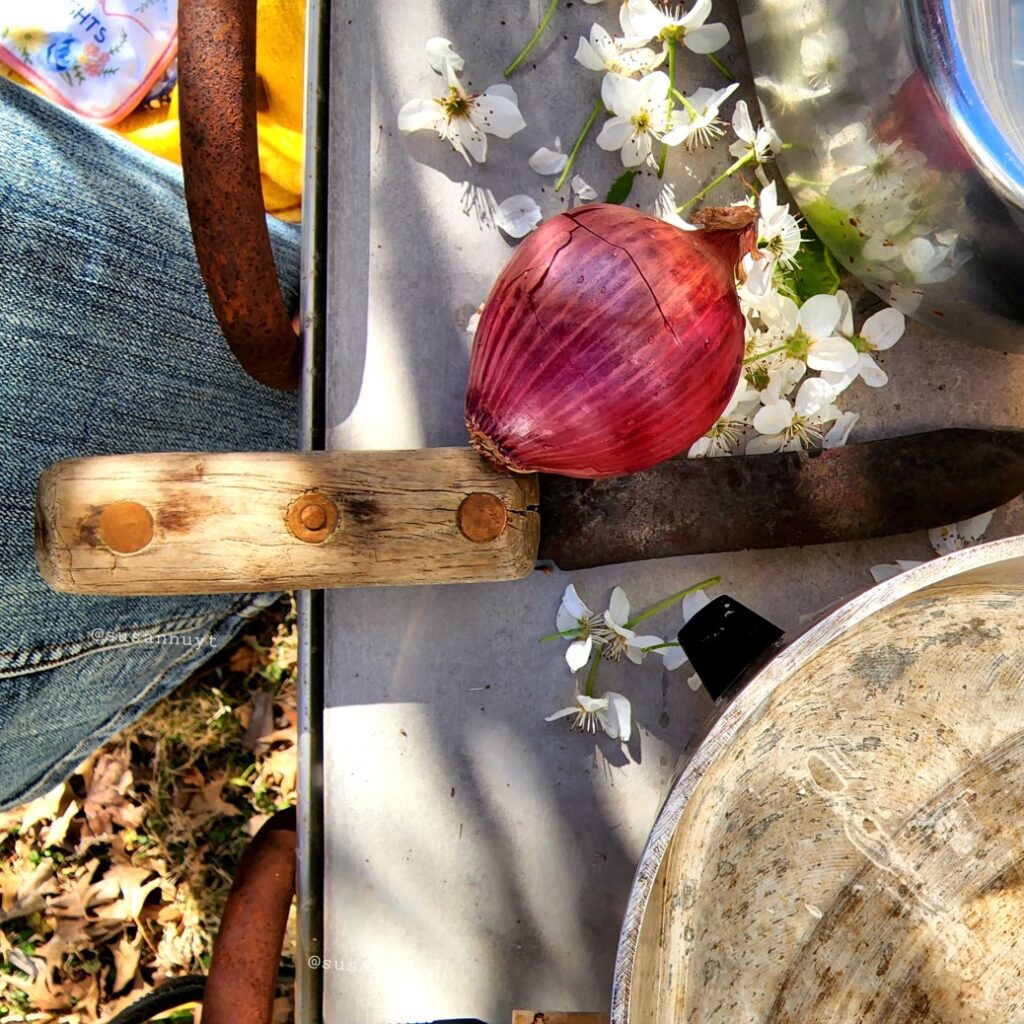 It's a well-live-life when you can enjoy the good, pulling it out of any bad.
It's not a perfect world; and sometimes, it's not a good world–seemingly so–
Let's make good and wise in all areas of our lives, in all things–in spite of anything. No matter what.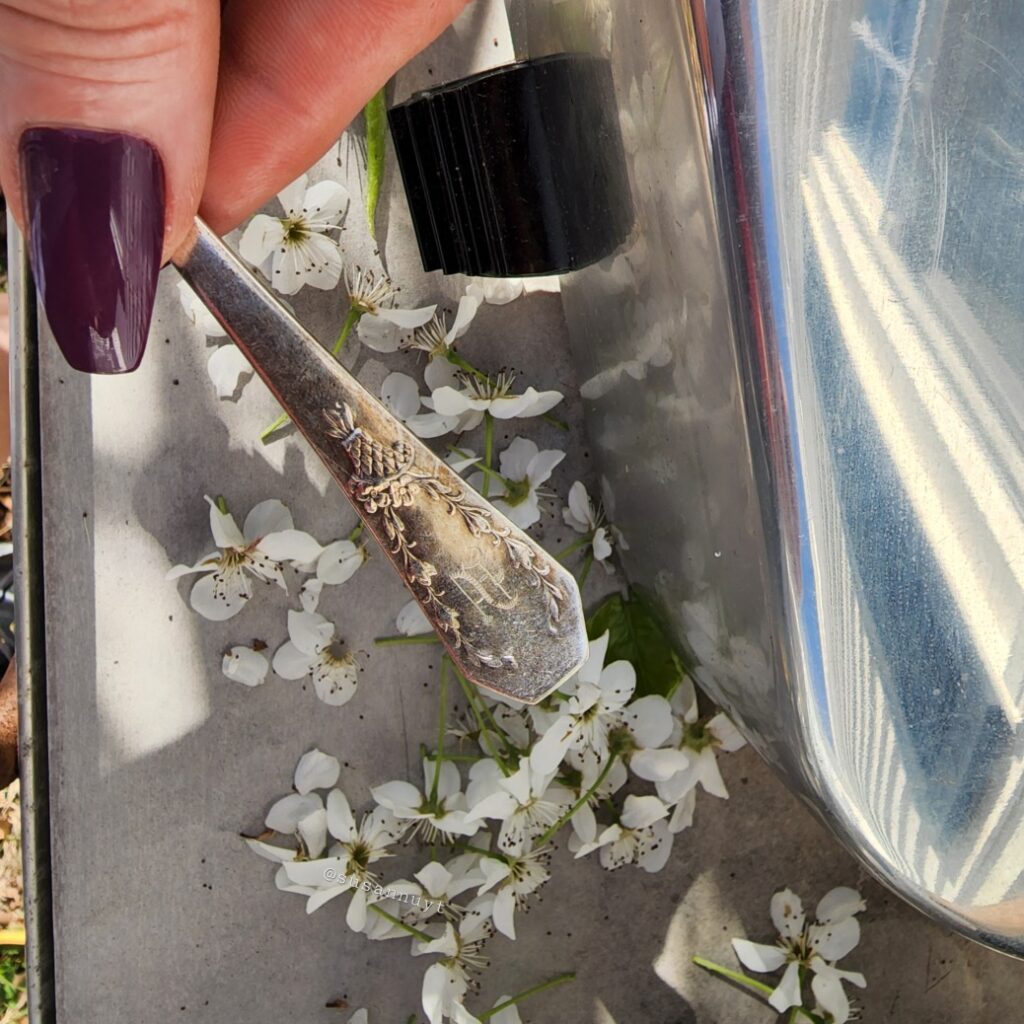 Does this look like an "A" to you on this silver? Aurora. What about the pretty design–basket and floral?
Nothing has to match. In fact, I think, arrangements are nicer-looking this way–a gorgeousness of wholesome beauty in the old, in nature–In what God has made and given; what He's put in hand to do.
Nothing has to match for there to be a pretty picture–or to simply enjoy.
Practicality is not only resourceful; it's attractive. Creative juices flow from it like a wellspring of water.
Cooking becomes art, and so does outside with nature.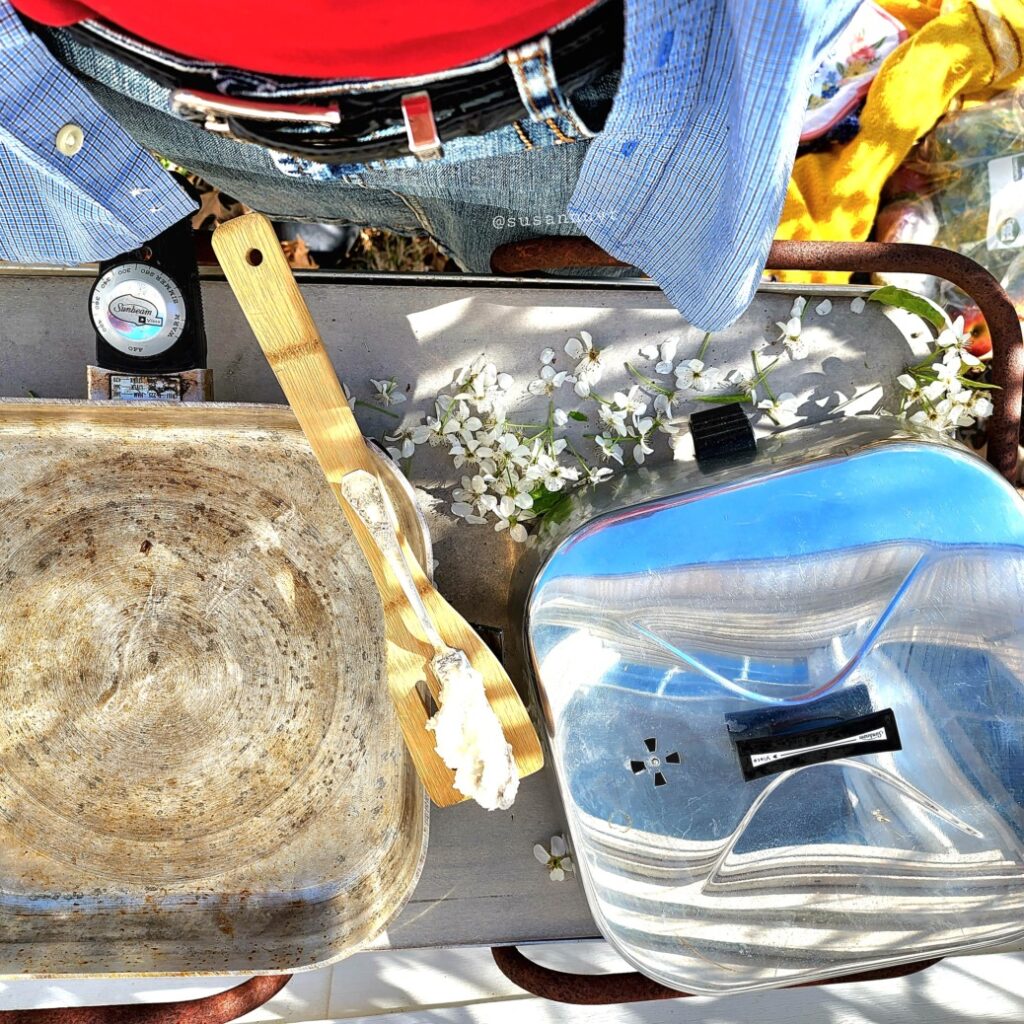 I quit cooking with most oils; vegetable, canola, corn…
This is coconut oil.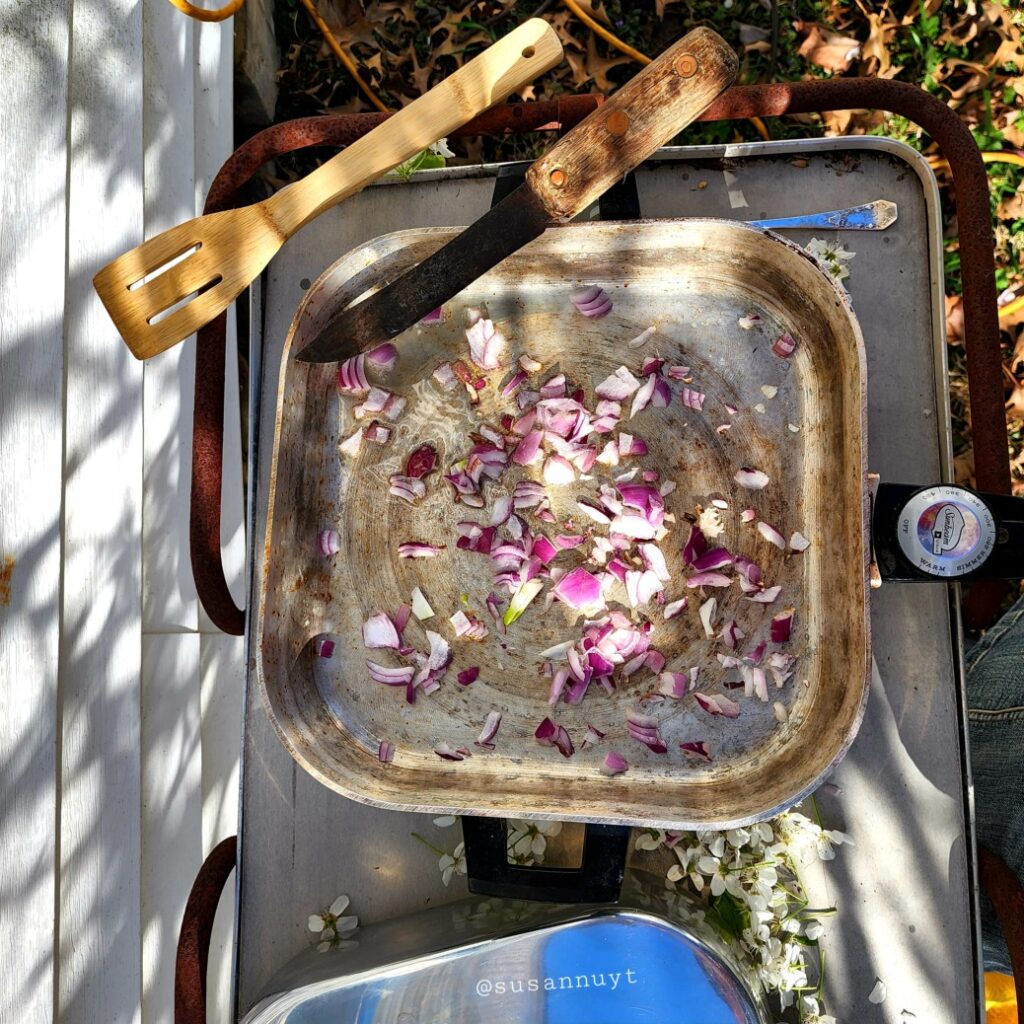 Even, this, I'm using just a little to melt into this old skillet; with this roughly chopped red onion.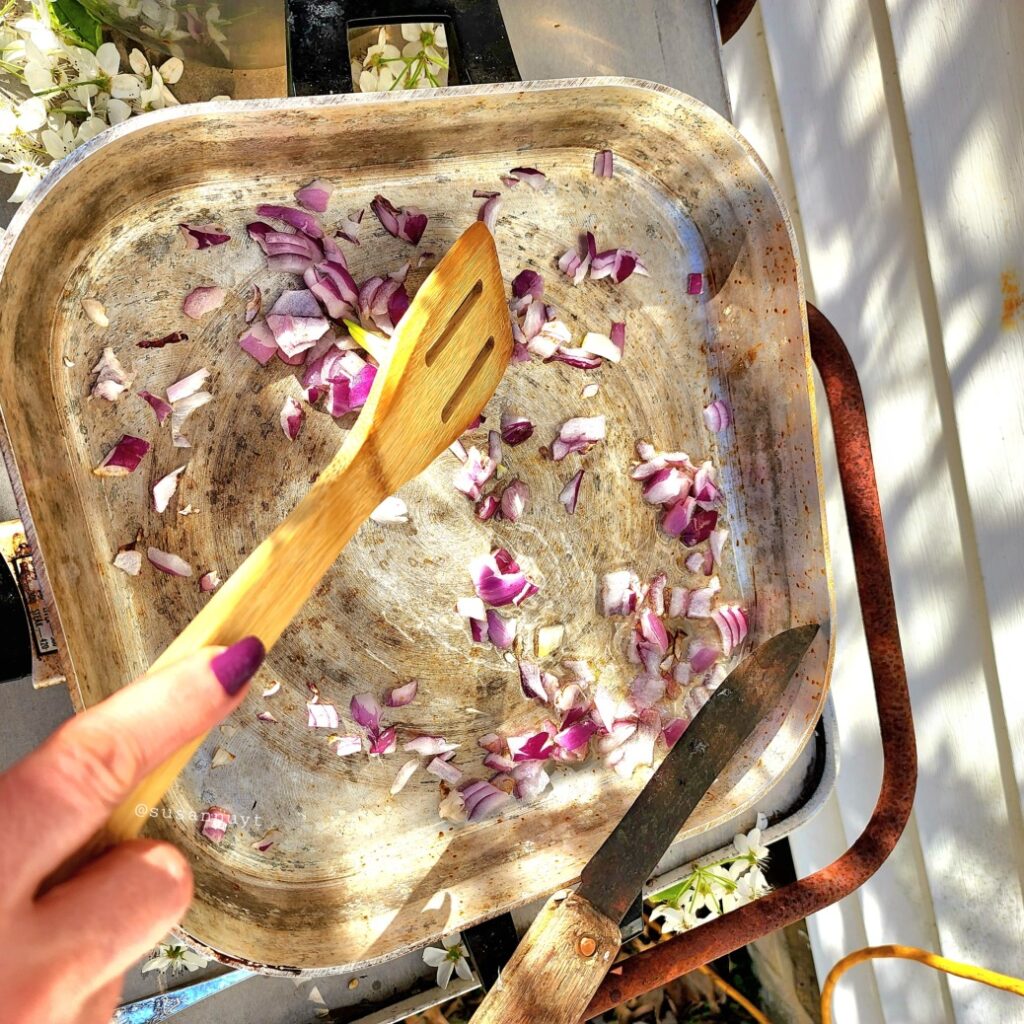 I strive to eat as wholesome as I can now. My life longevity for what God's purpose is for me, a healthiness and fullness, depends on the personal choices that I make.
Sure, I can eat just a little once in a while of what isn't healthy for me. But mostly, practically entirely, I've got to eat well for myself–to more than live. To prosper; precisely, to prevent and rid inflammation.
Inflammation can cause a range of diseases. It travels throughout the body to harm organs; and the brain. Its damage can lead to deadly diseases.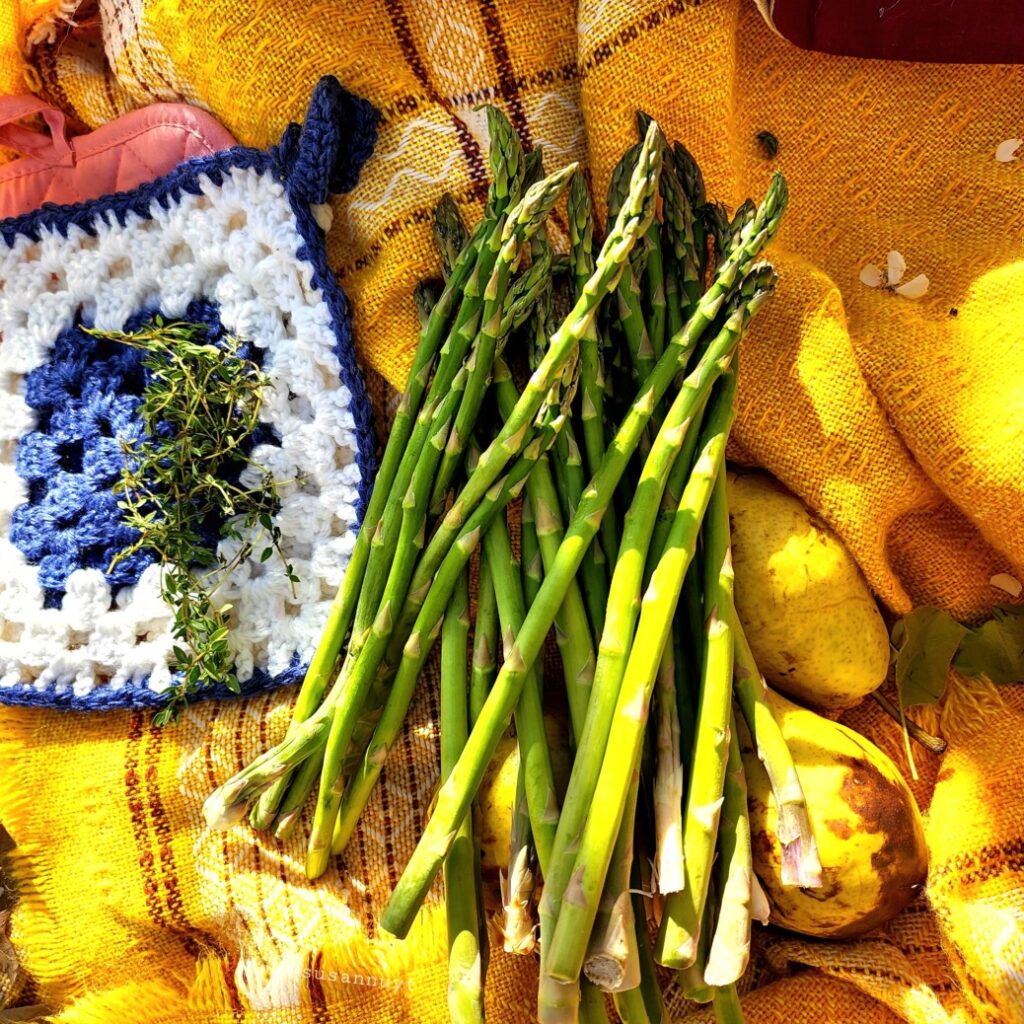 This is so Spring–crisp green asparagus.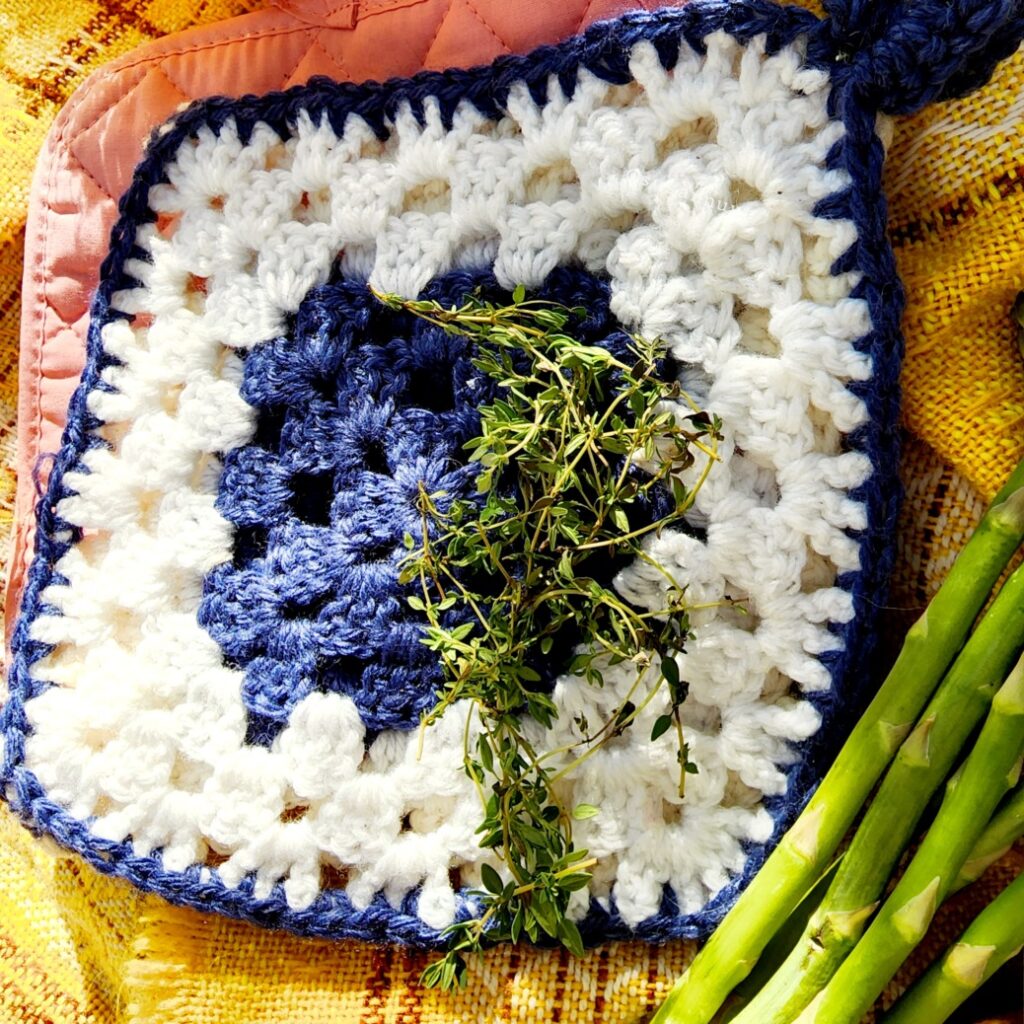 Fresh herbs, a must!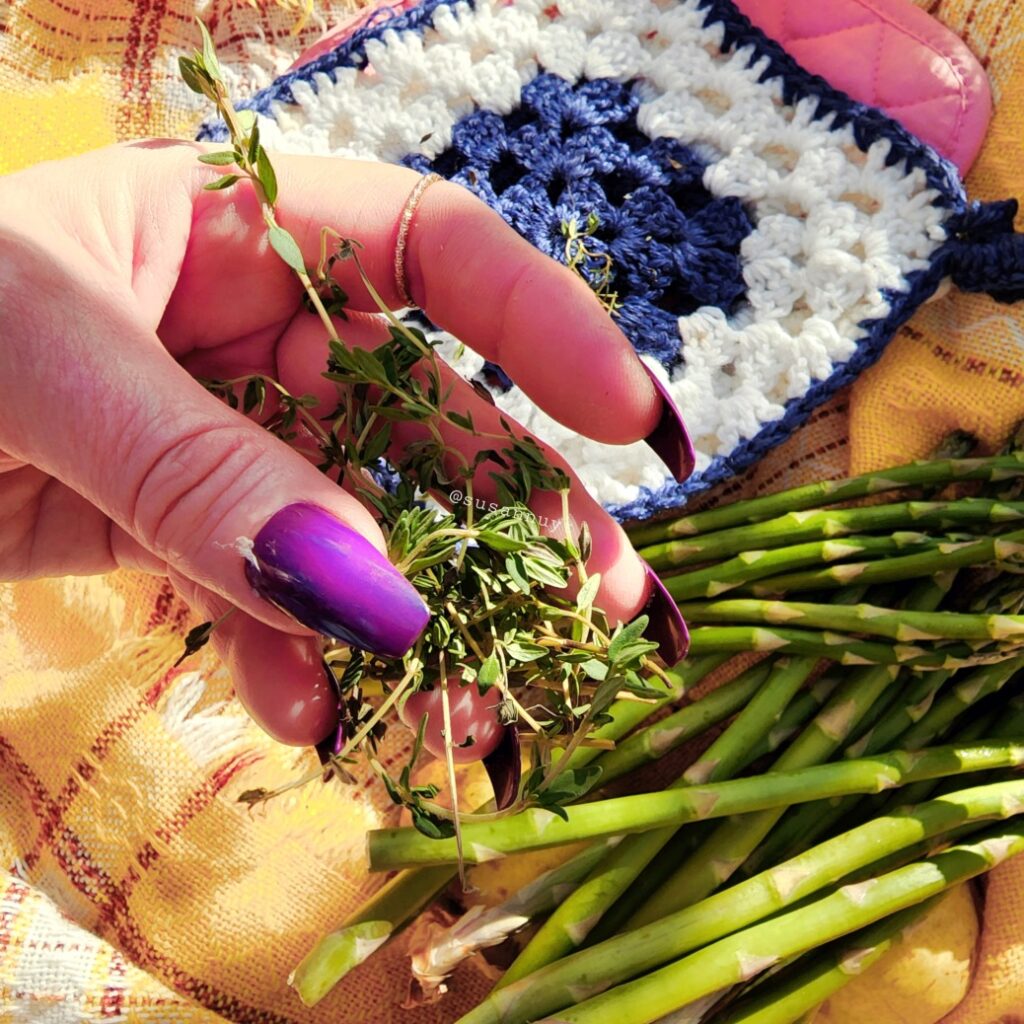 I'm going to glide these off the stems, these fine leaves.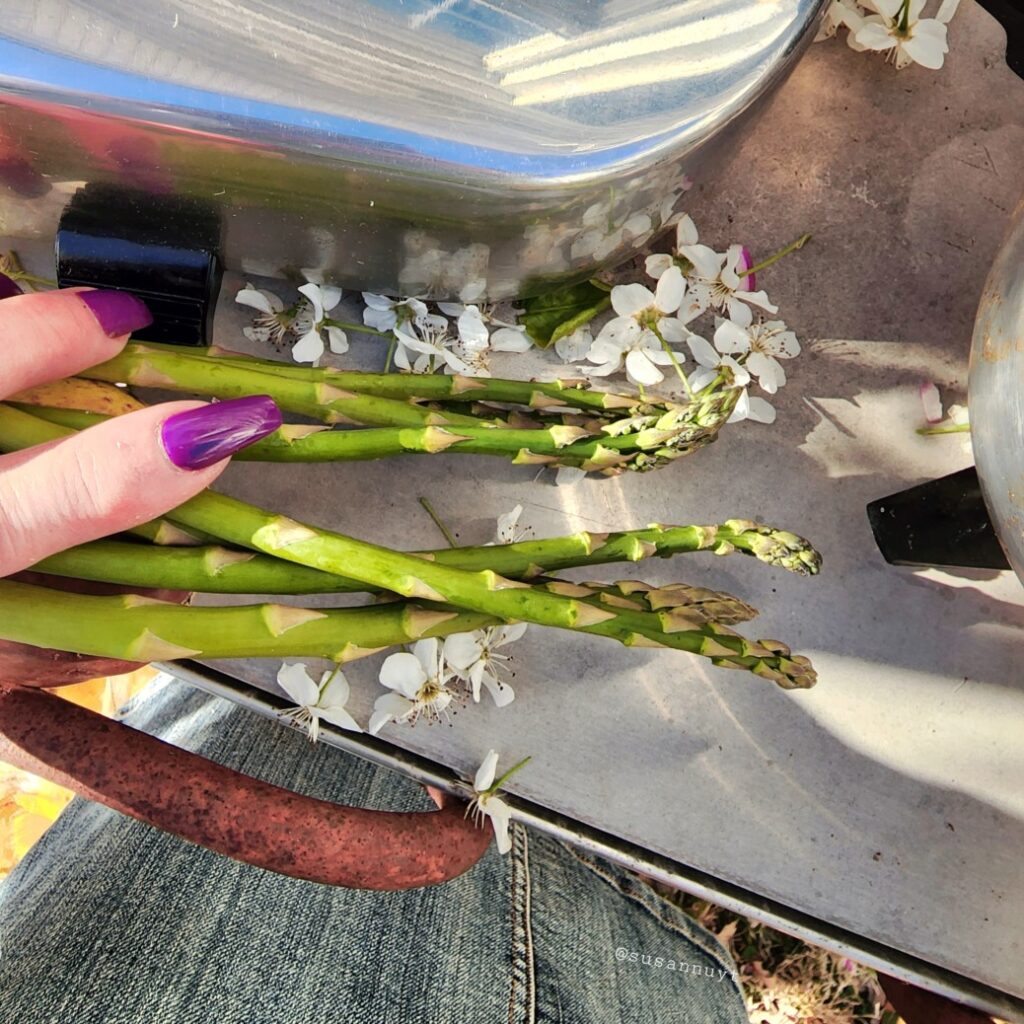 Snapping off the asparagus; I'm not cutting the stems. I want each one to snap where they're meant to break–it's just what I prefer doing.
I could have put some cut bacon in this, it would have been so delicious–but, again, cooking with concern, here; loving myself in a better way.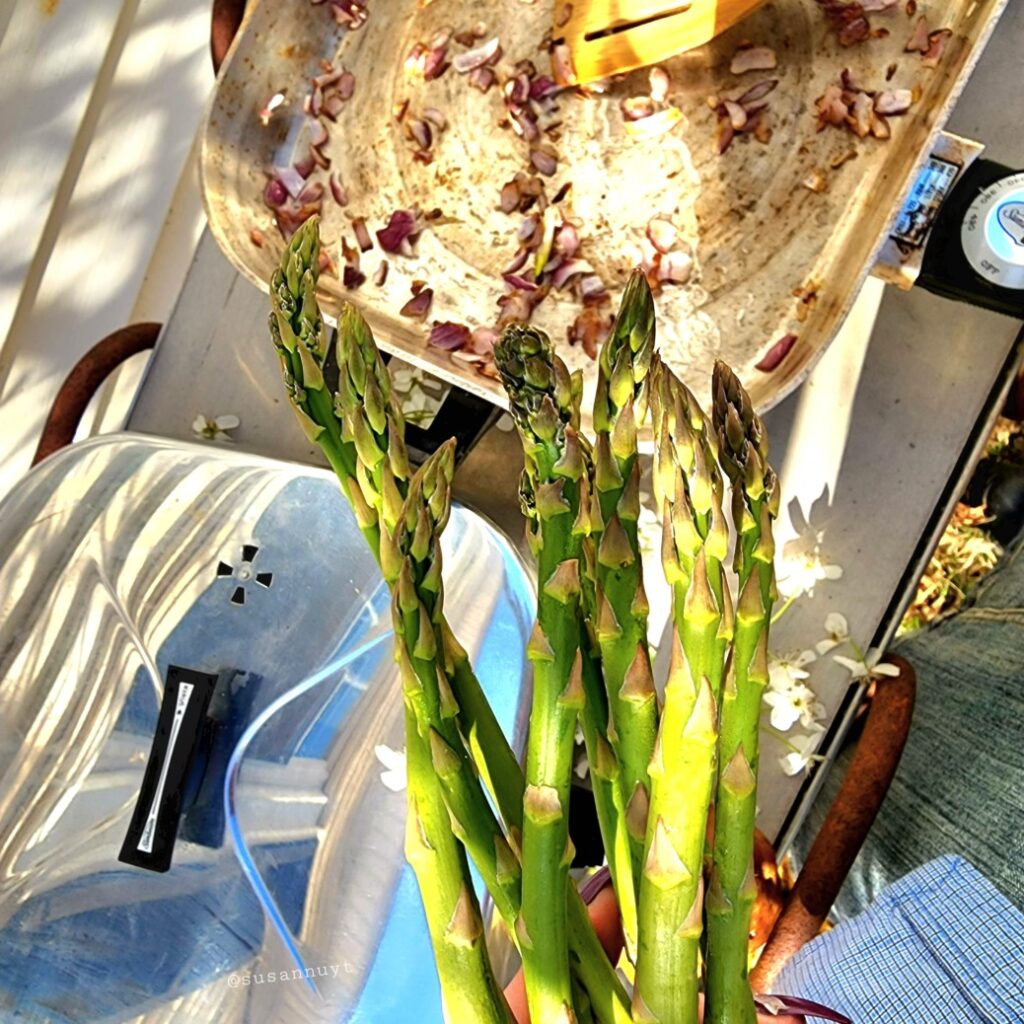 Asparagus spears are pretty, too.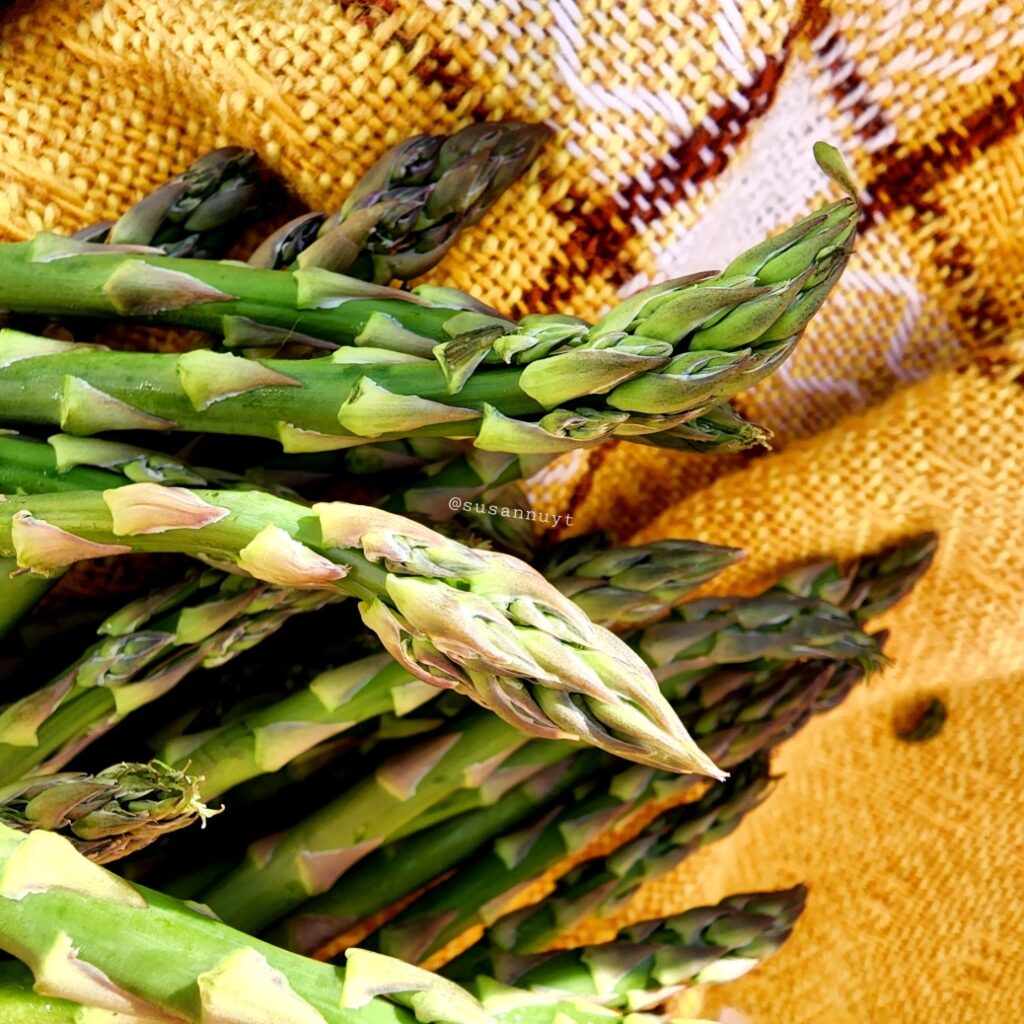 Nature could not have existed and become without God. God is artistic, creative, so right and perfect.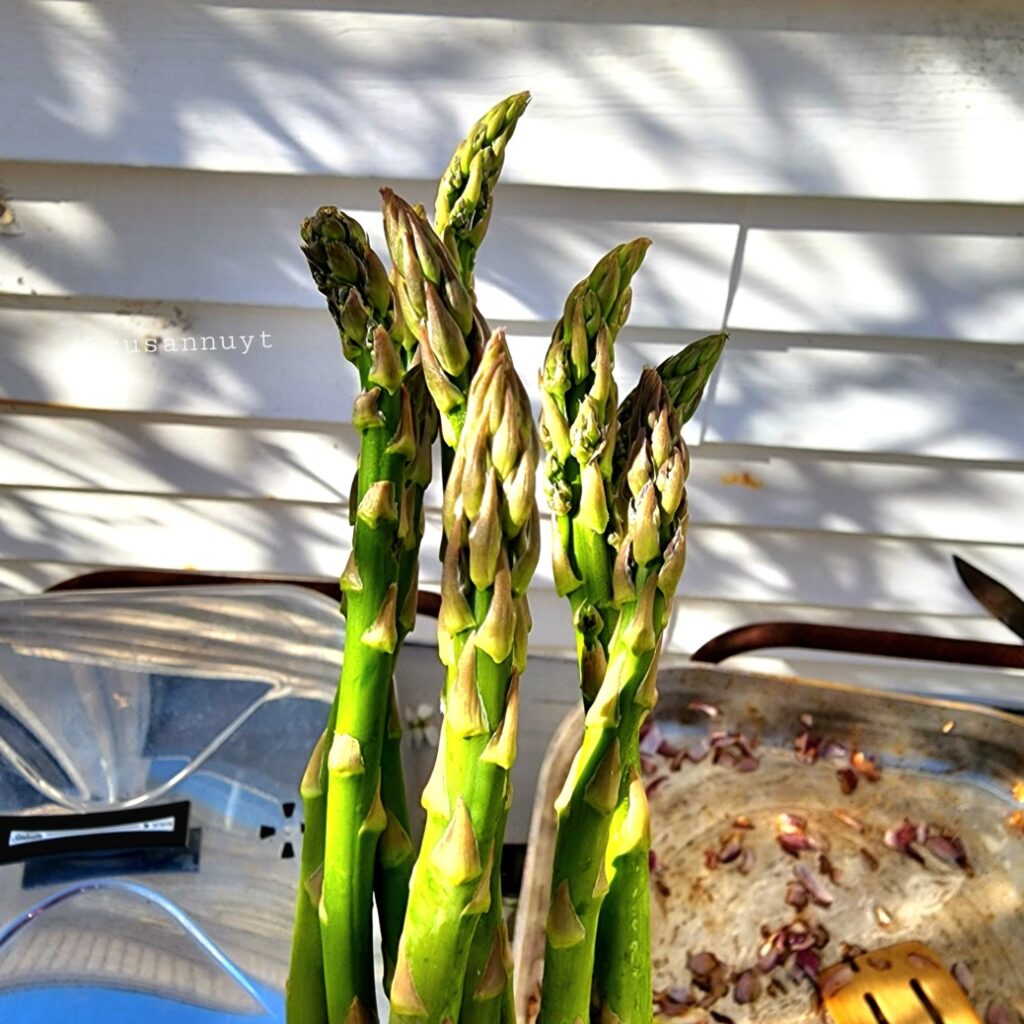 The sun's rays through shadows…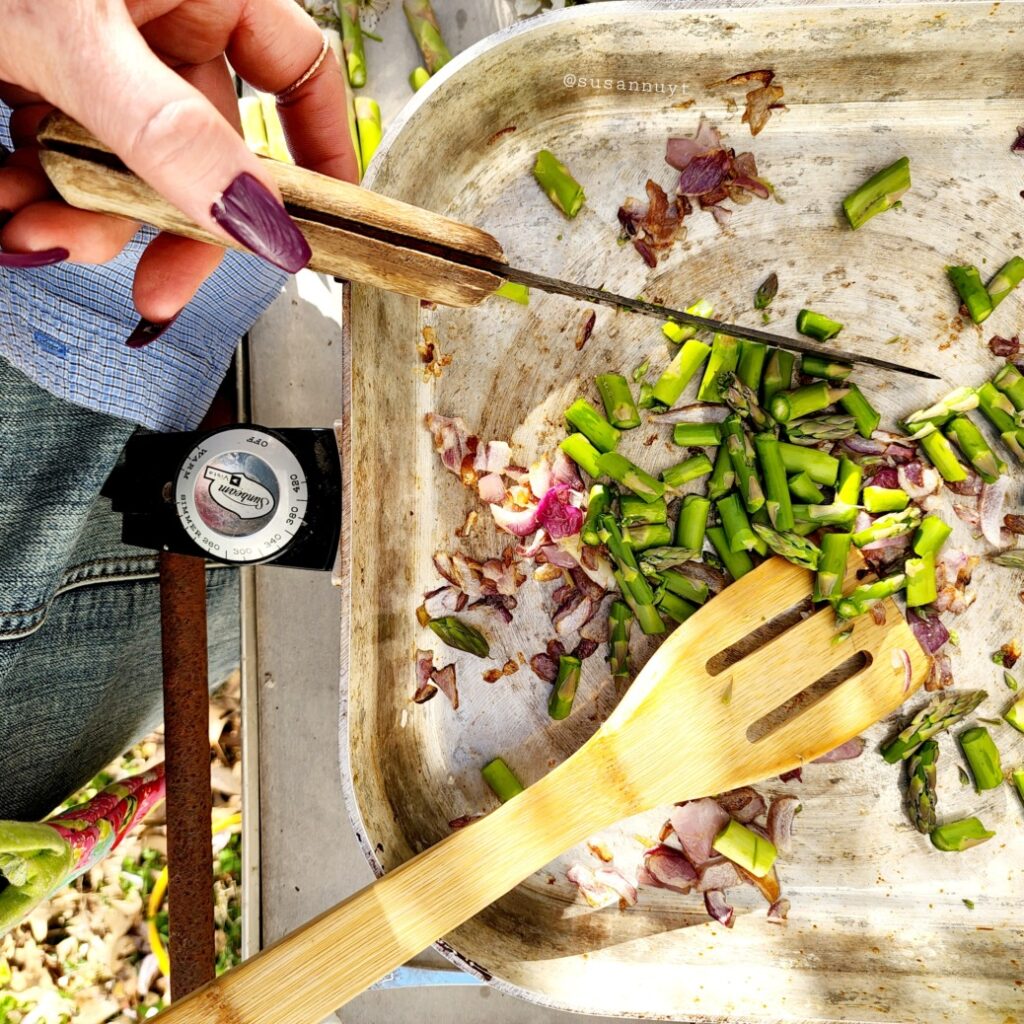 All these colors together, even this tarnished skillet with its marks…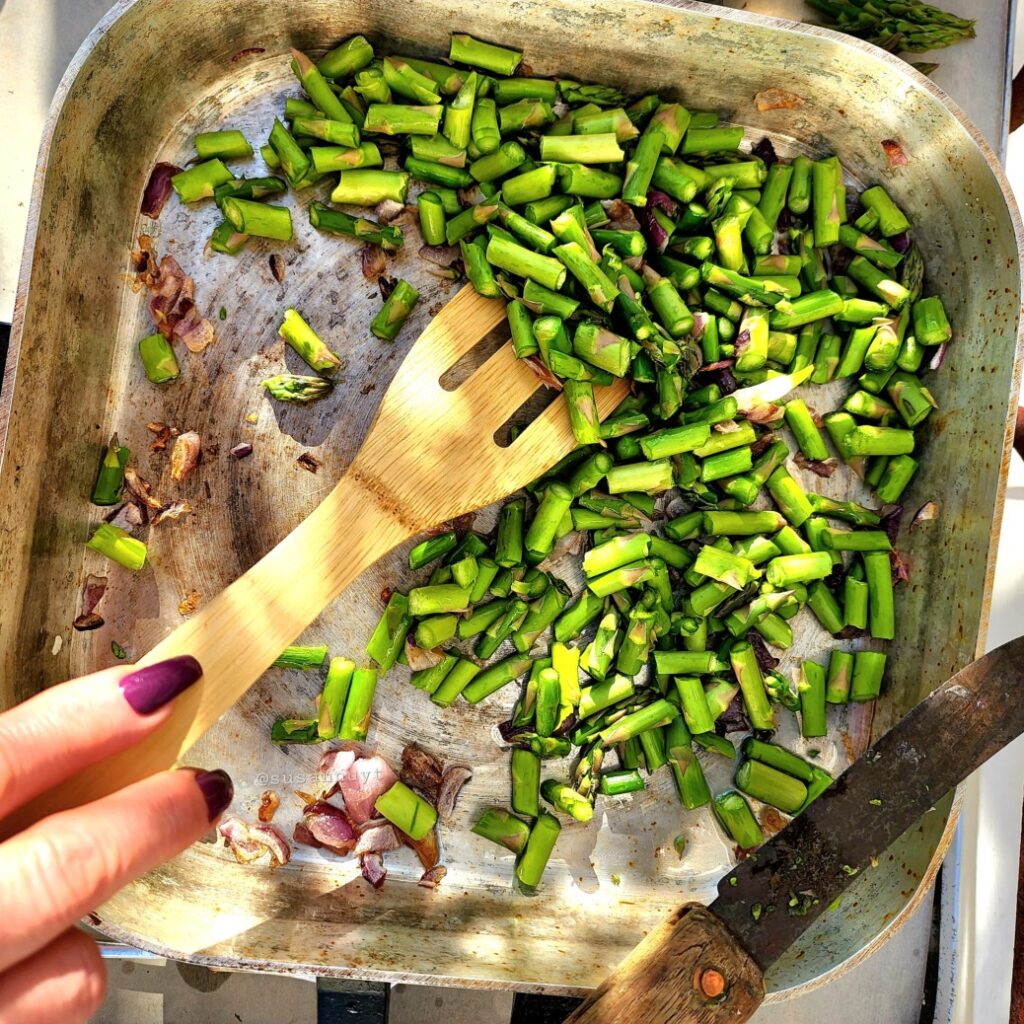 Each season is perfectly on time!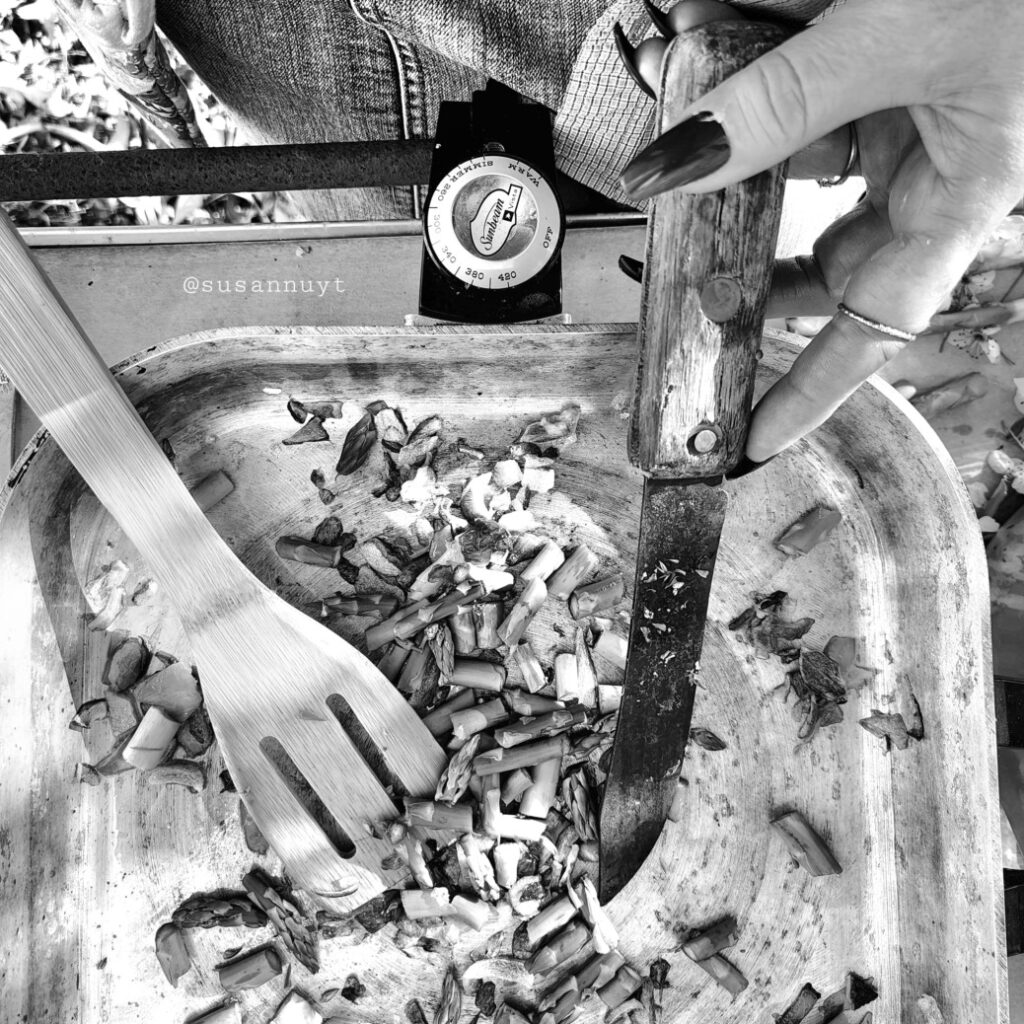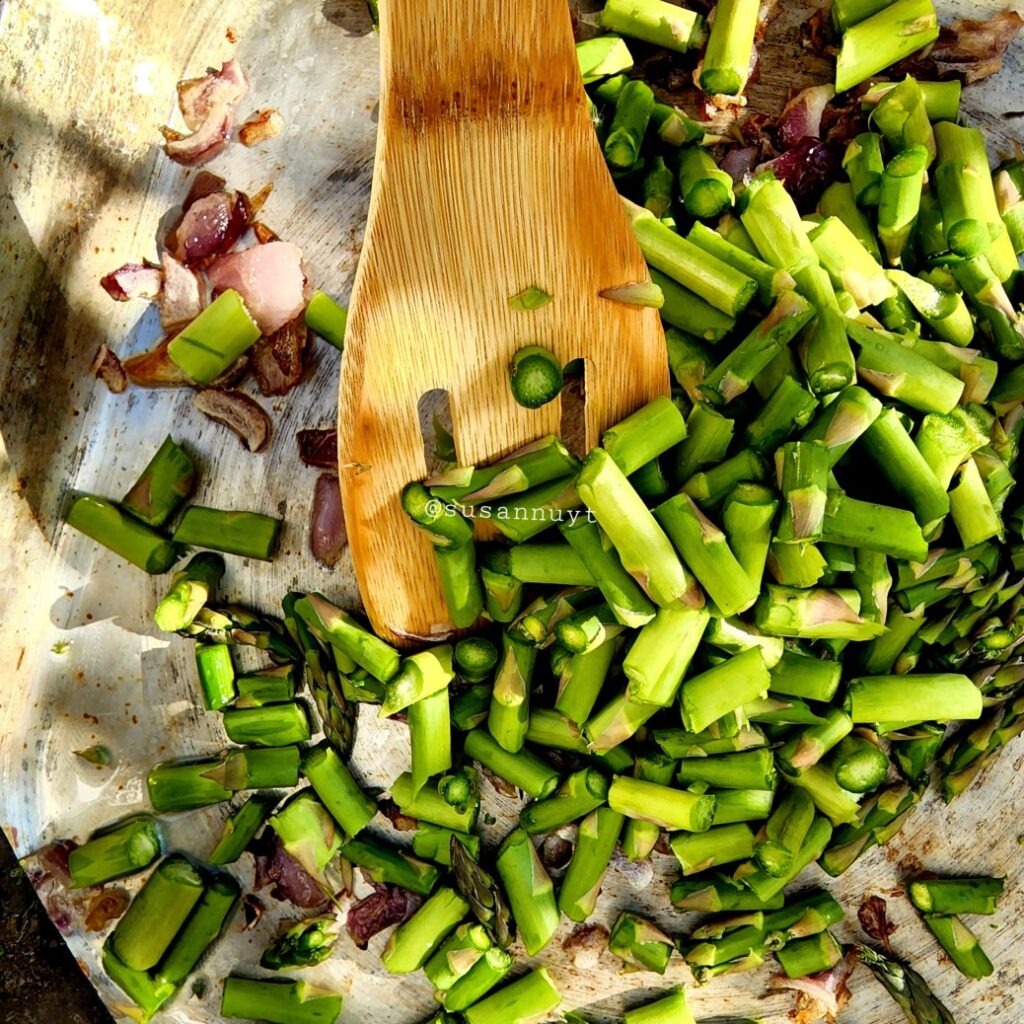 I don't want these to get mushy.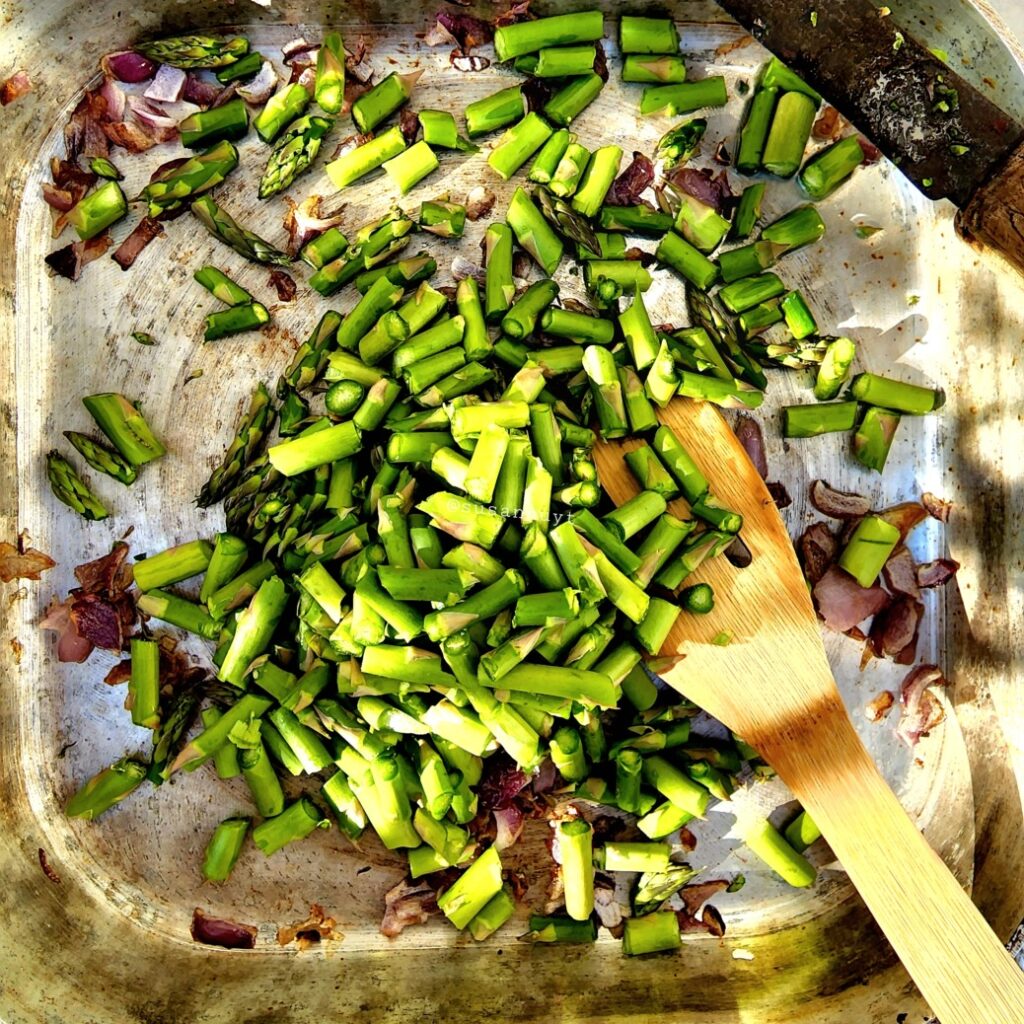 I go for a crispness, don't you?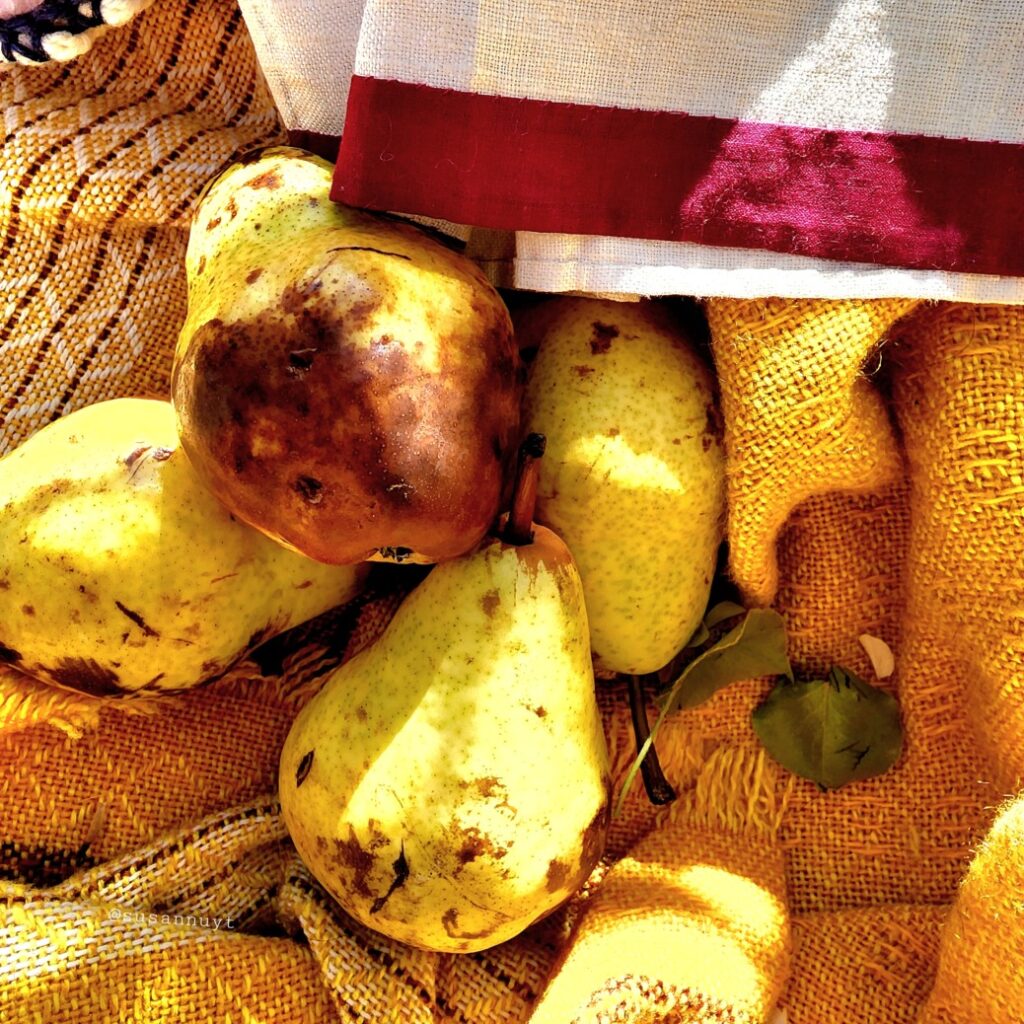 When it comes to pears, I get them well-ripened. They taste better.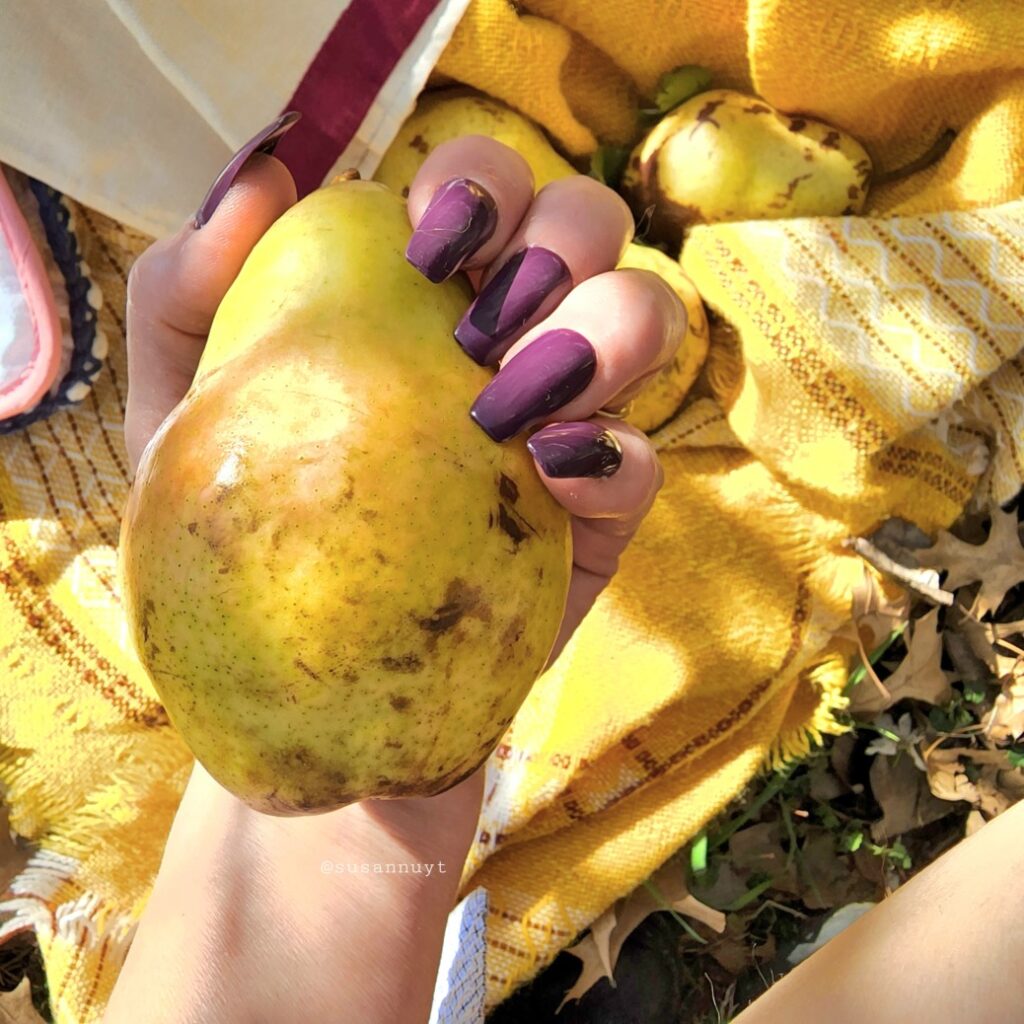 They're juicier at this stage, yes, but they're the way I want them to be.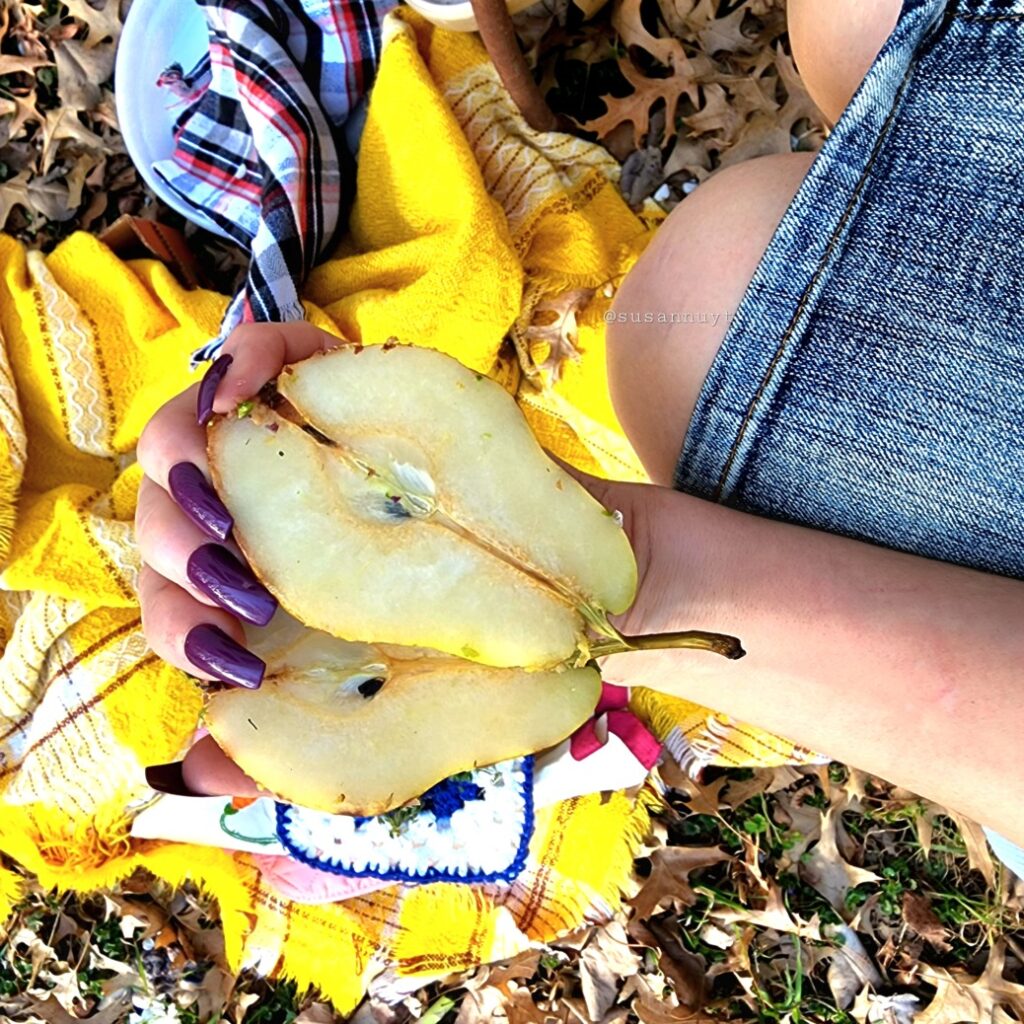 Nature's candy.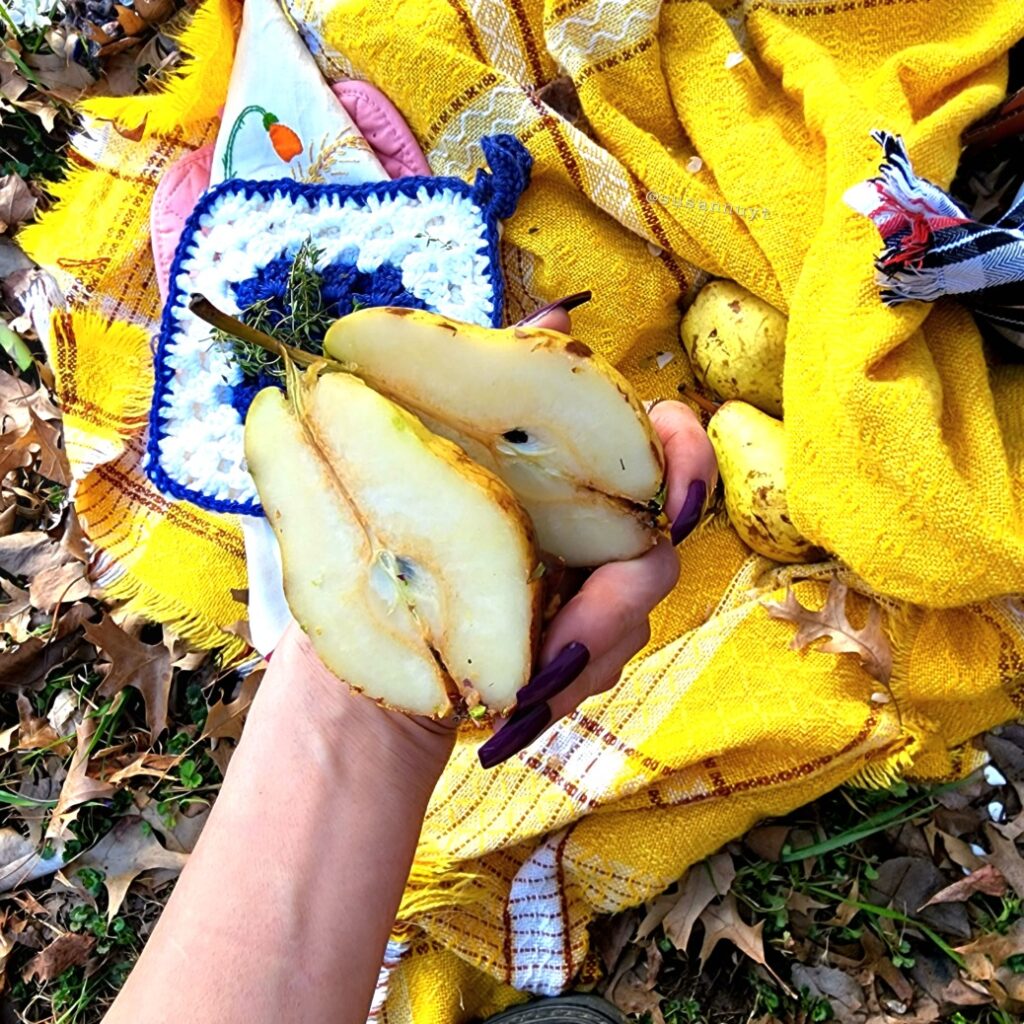 I'm marveling at the beauty, here, the way that God designed nature–every single thing that He created for us to enjoy. All the senses come together, breathing in every moment of this…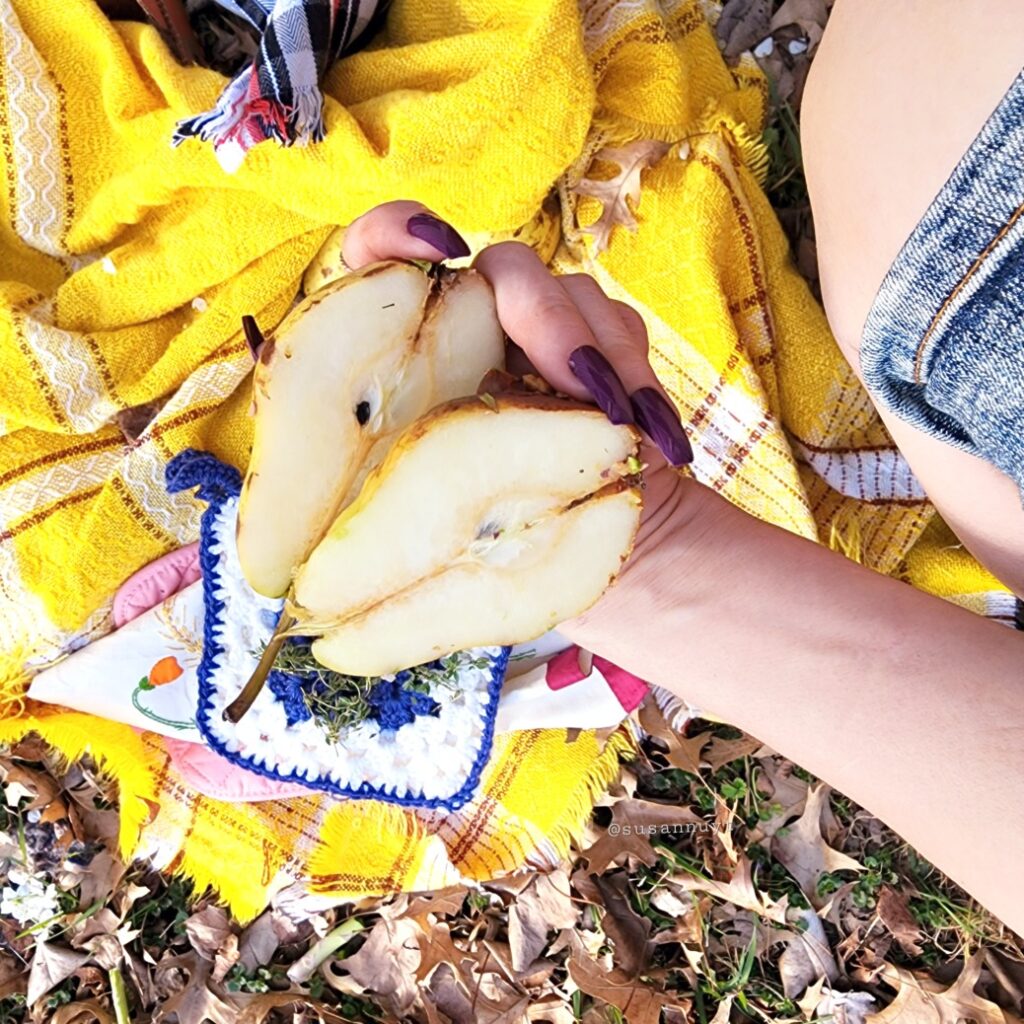 To have.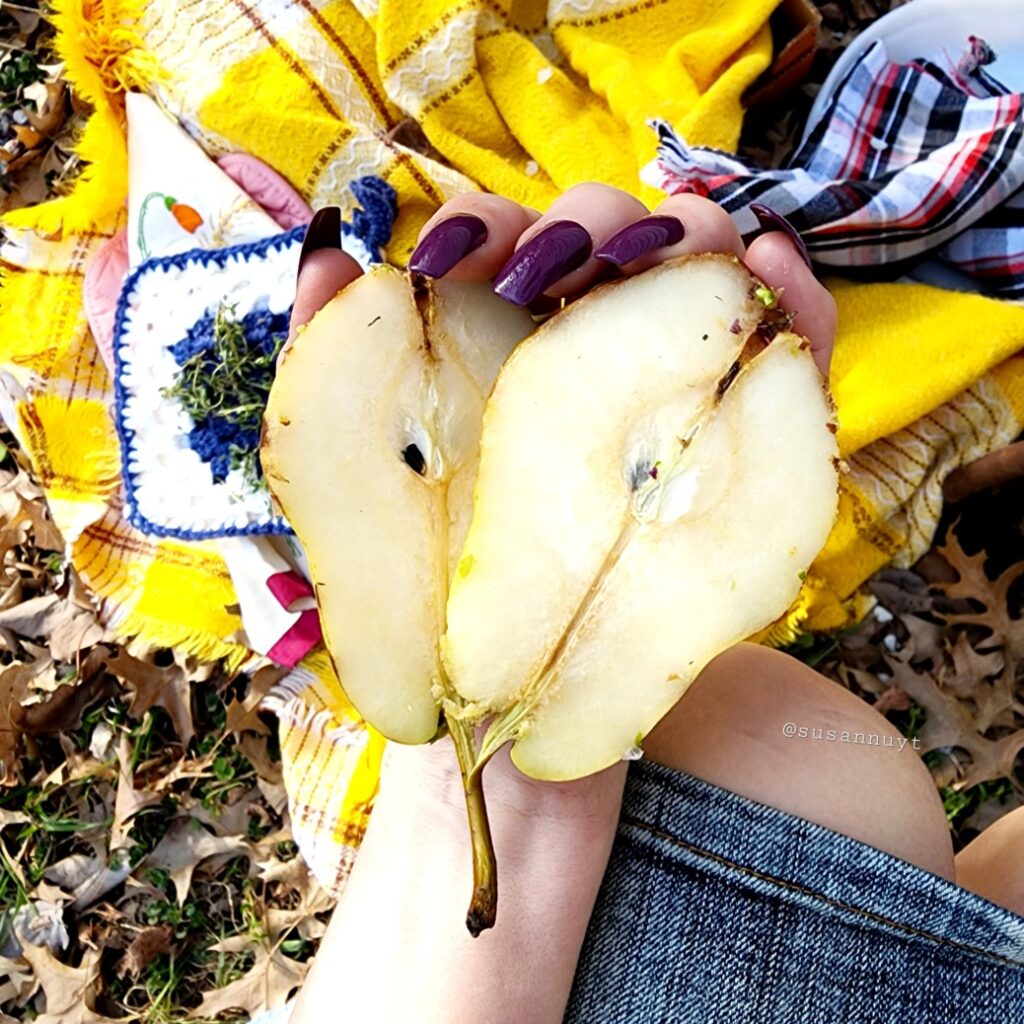 It's a heart! It represents yours and mine. It's not divided.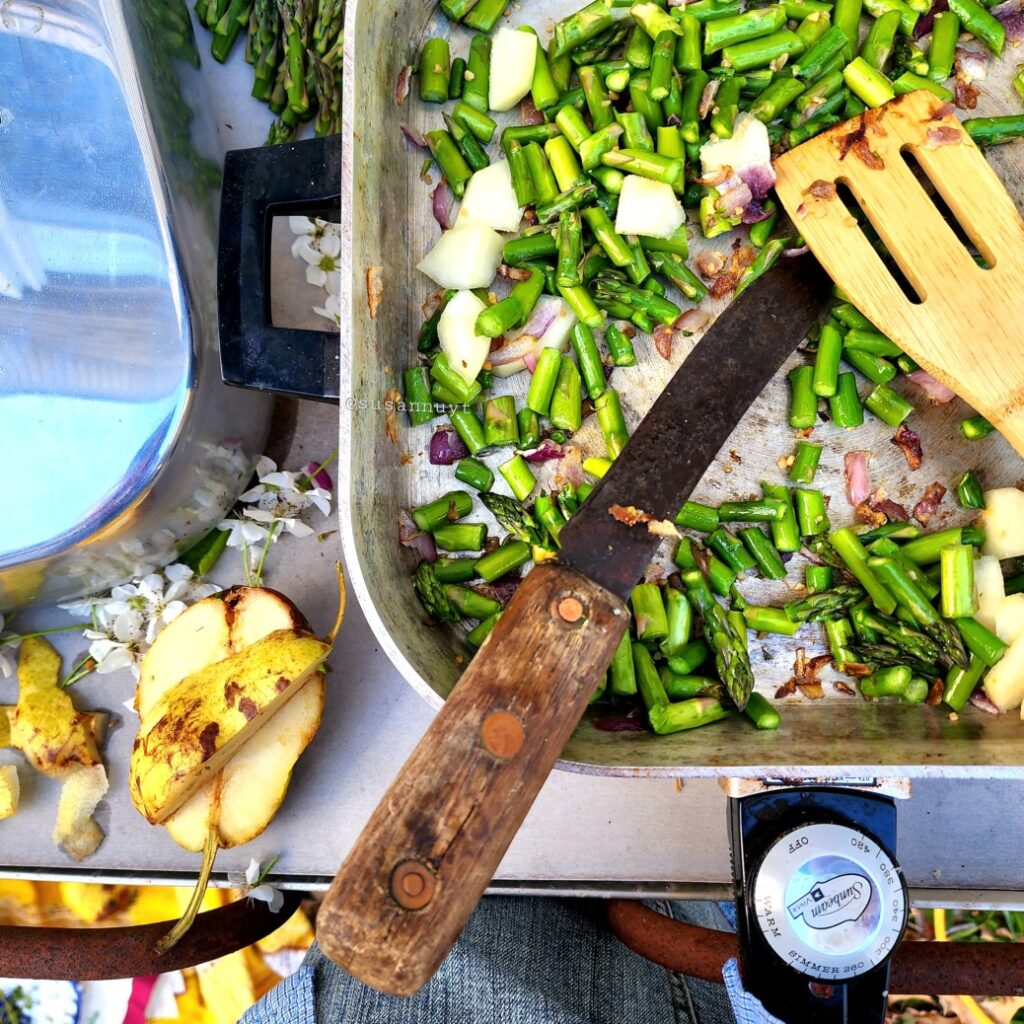 The birds will love these peelings that I leave for them.
They're singing for their early supper.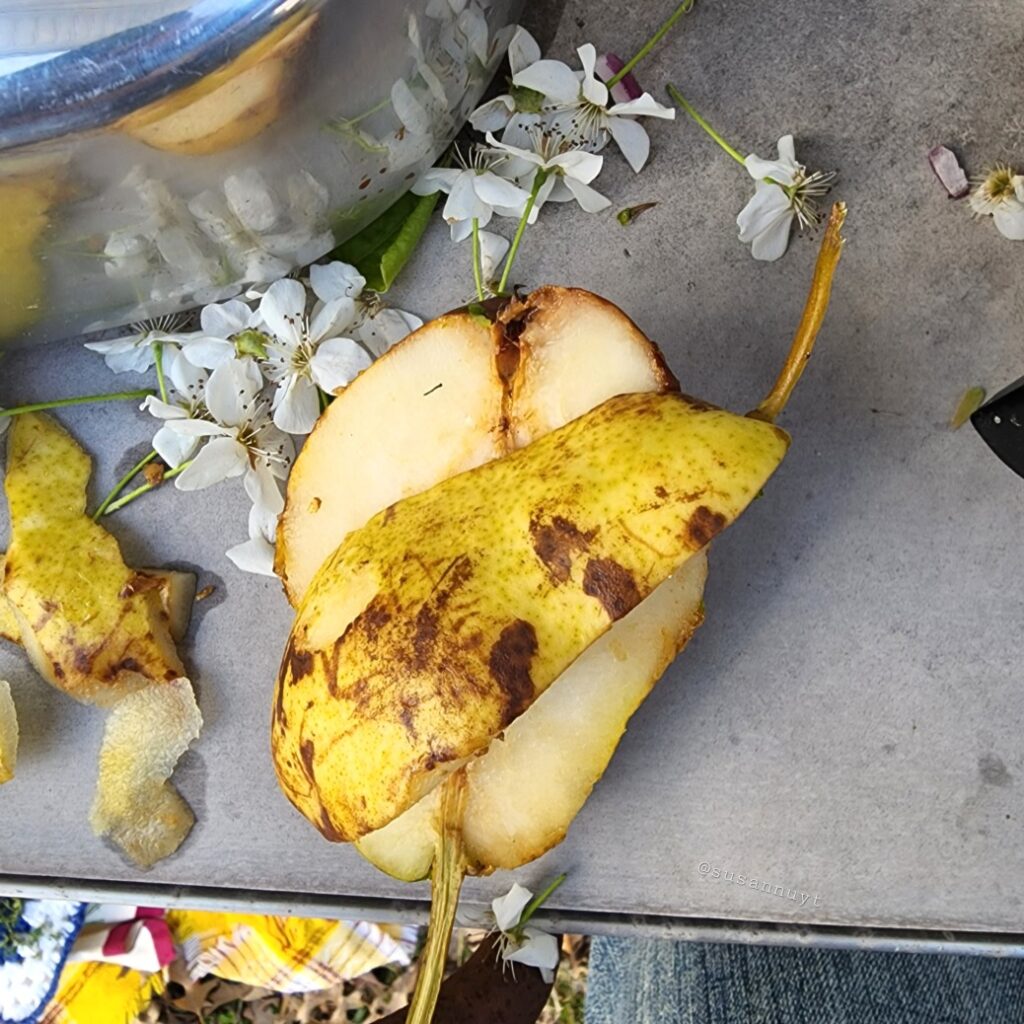 One to-half of another pear, is sufficient for this soup.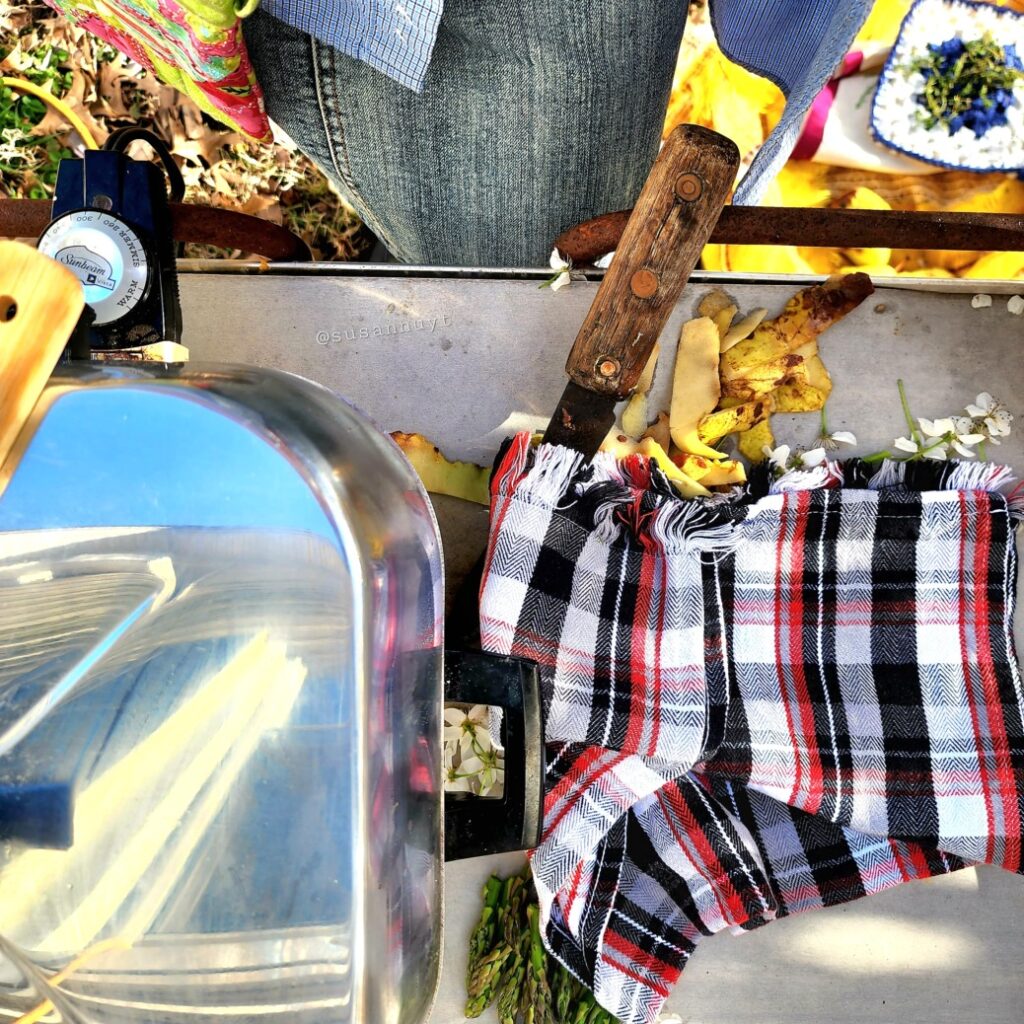 It can be healthy to make a mess of things when creating, even in cooking.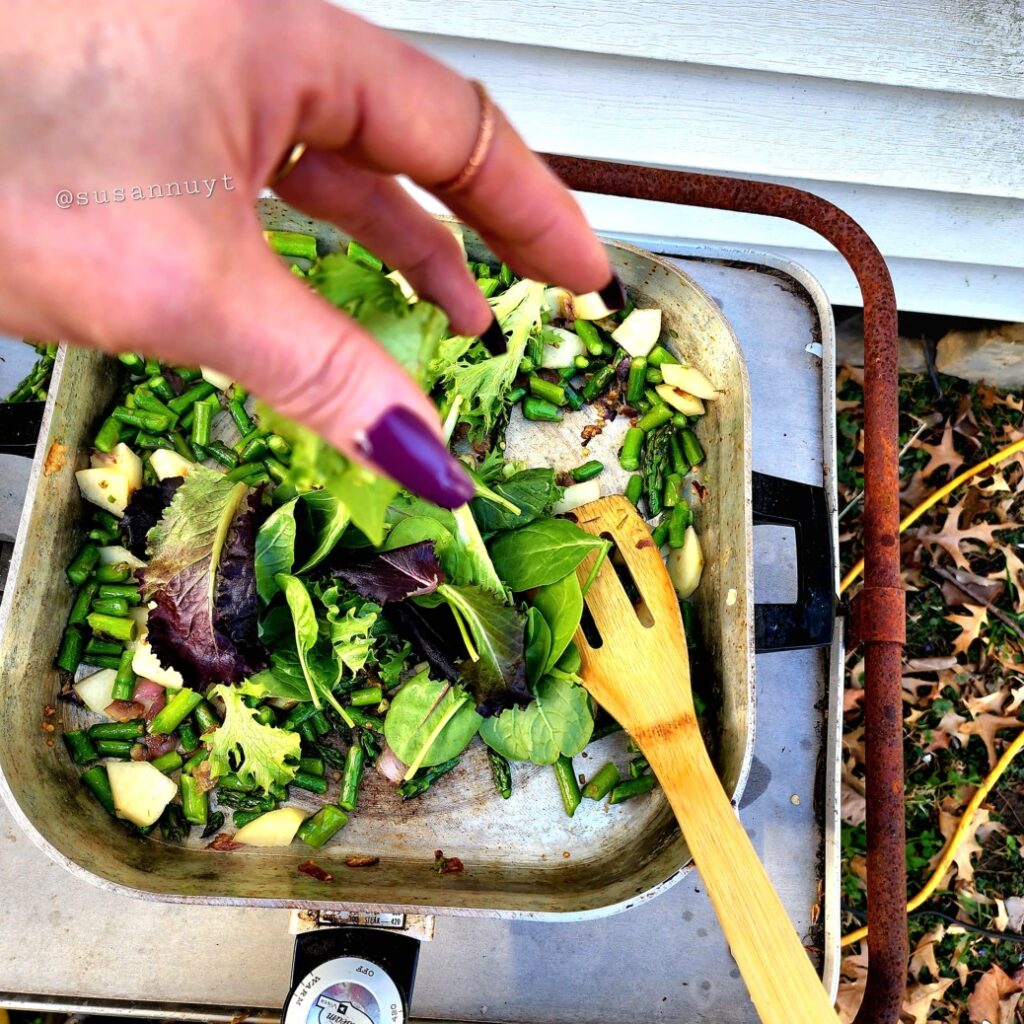 Now a spring mix…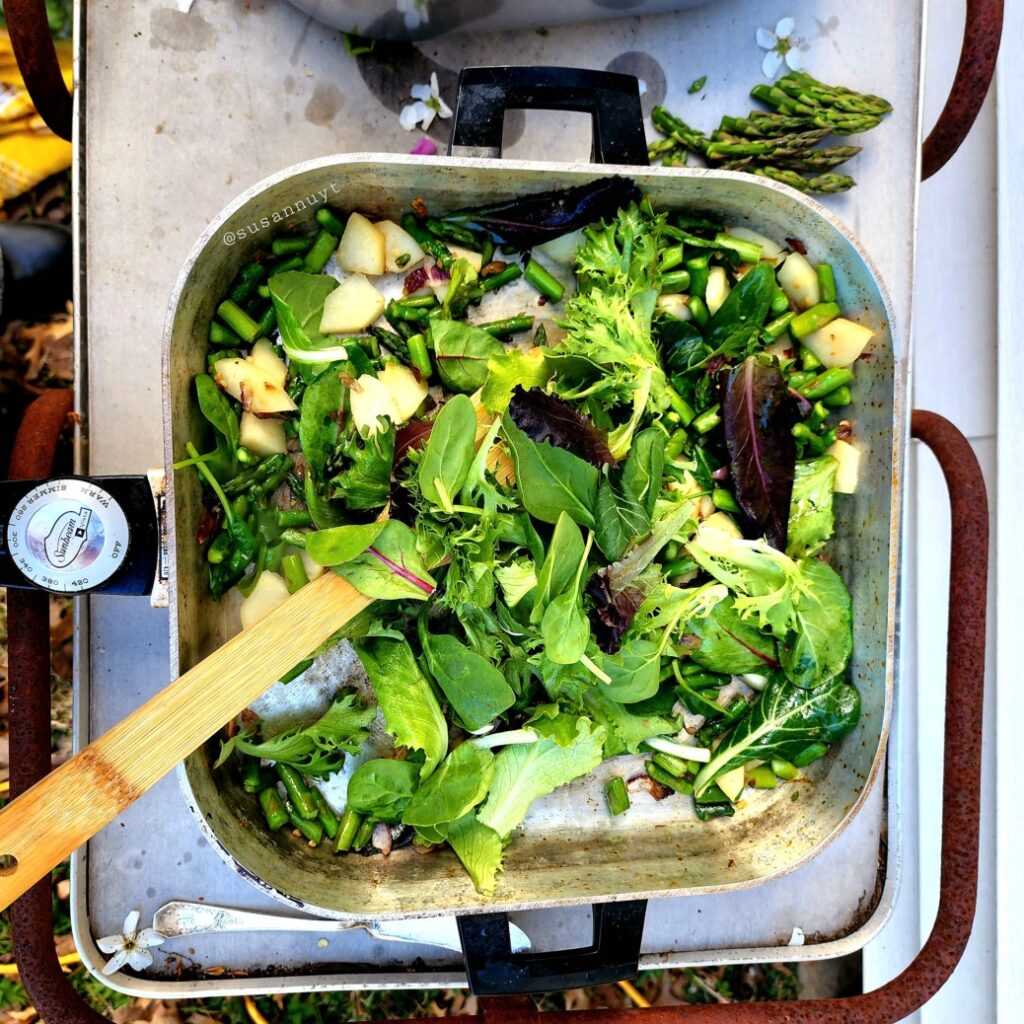 Step by step…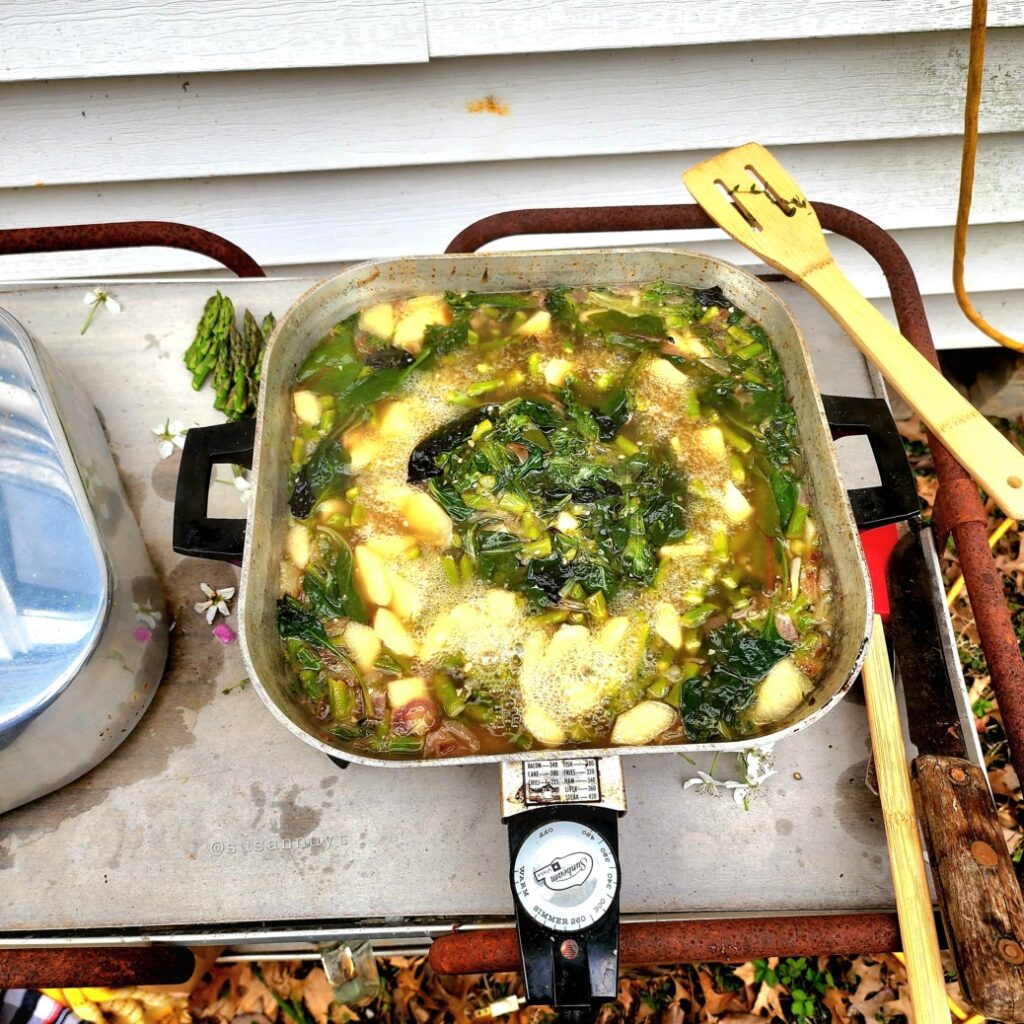 Pears added, plus, chicken broth–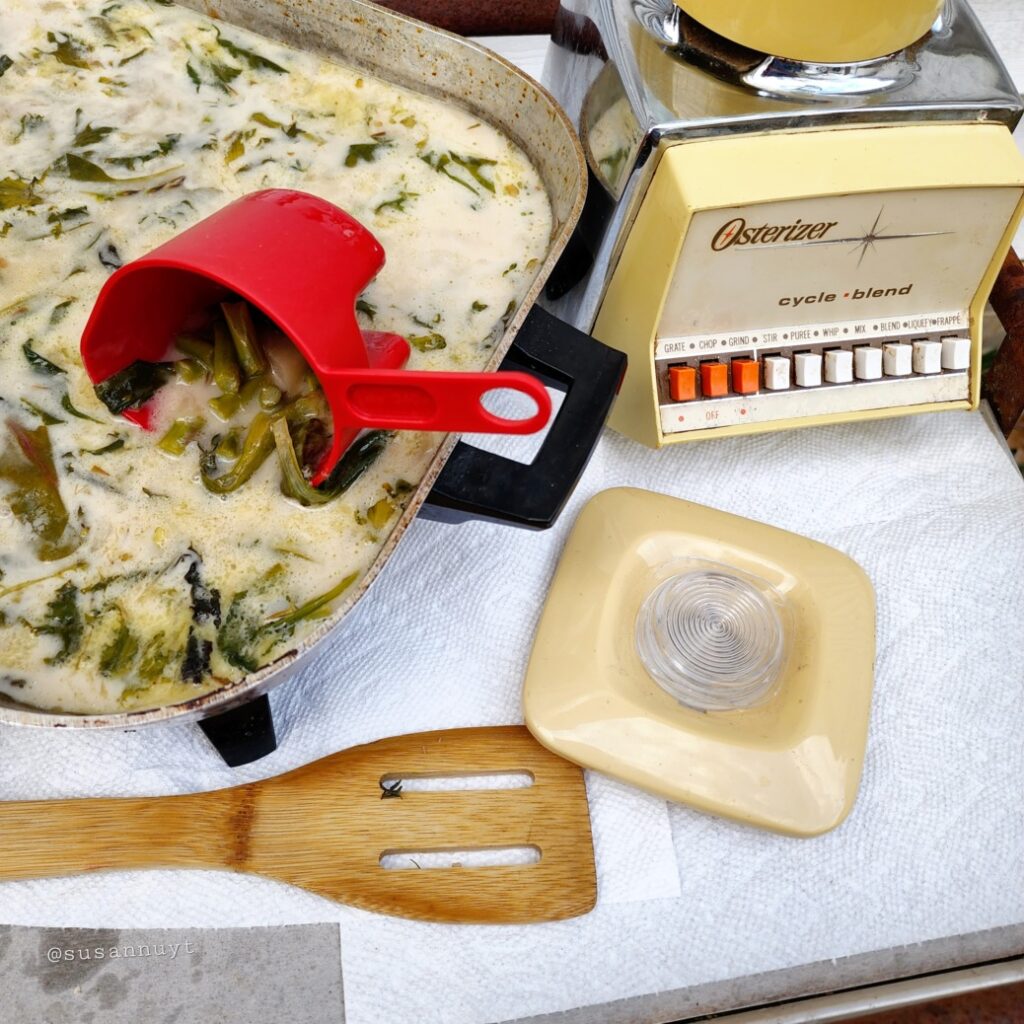 If opting for a smooth texture, blender-operation!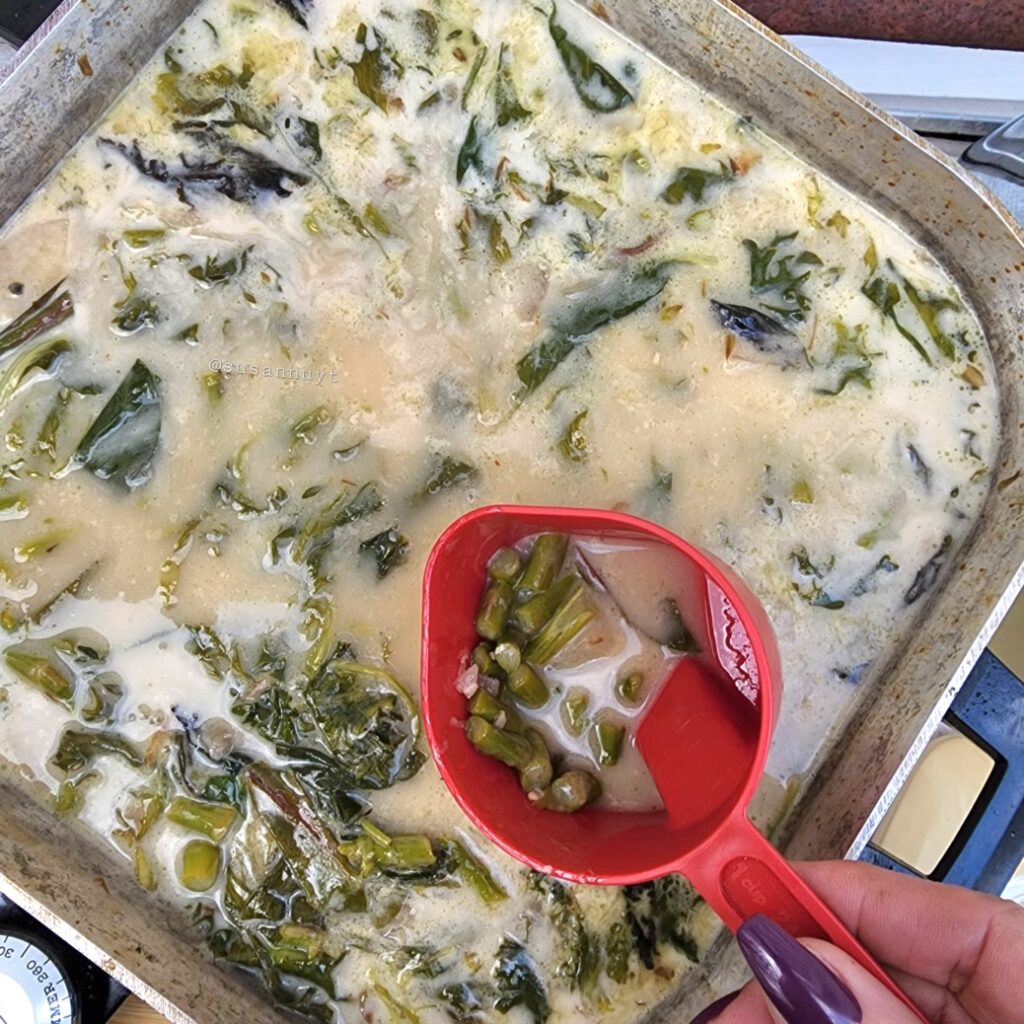 Scoop carefully…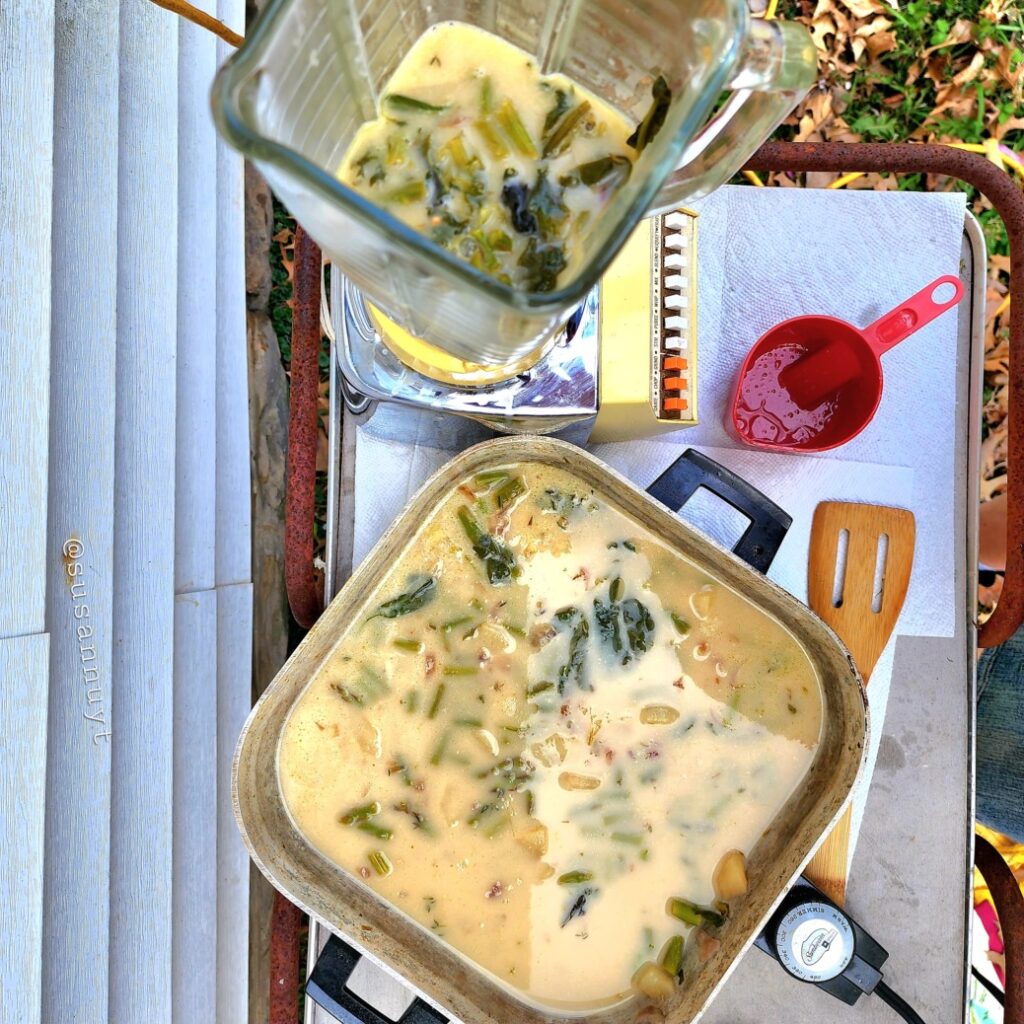 Being careful not to splatter onto clothing!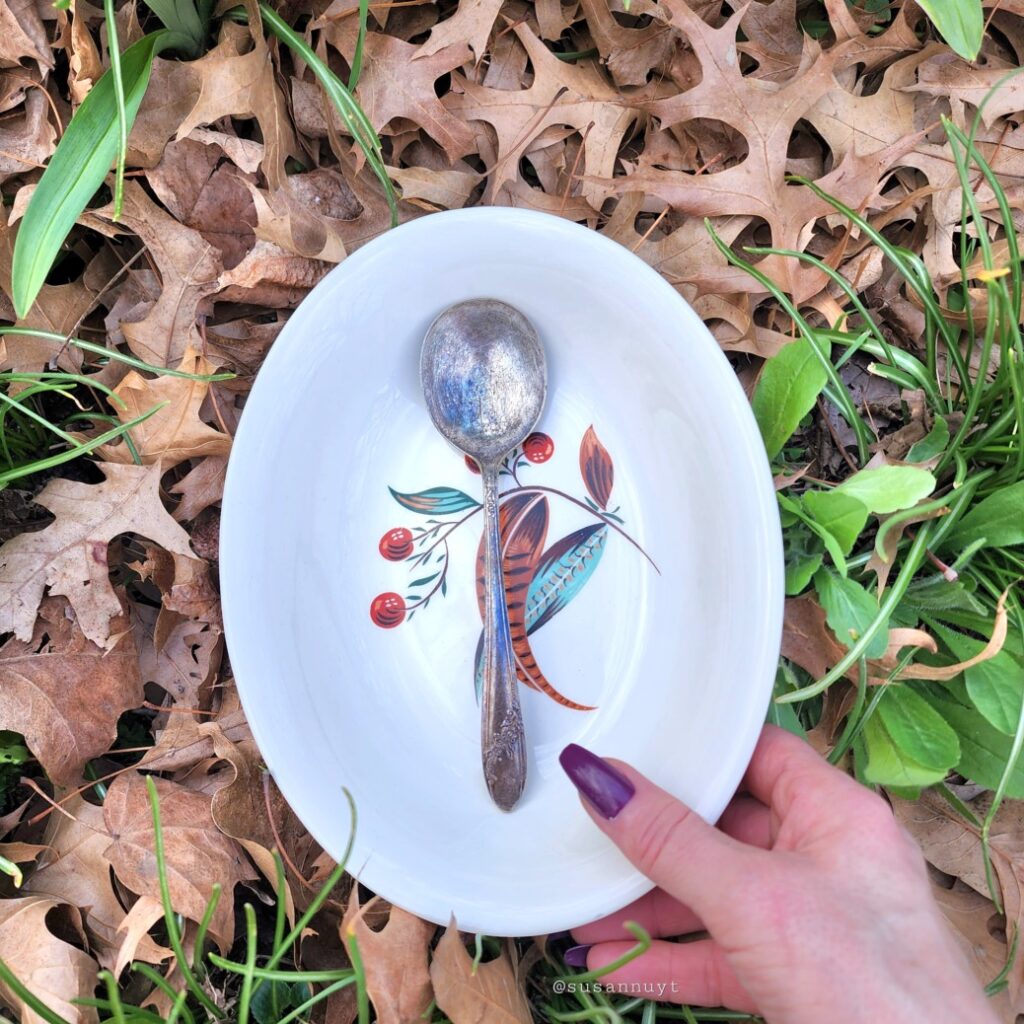 (Love for vintage dishes)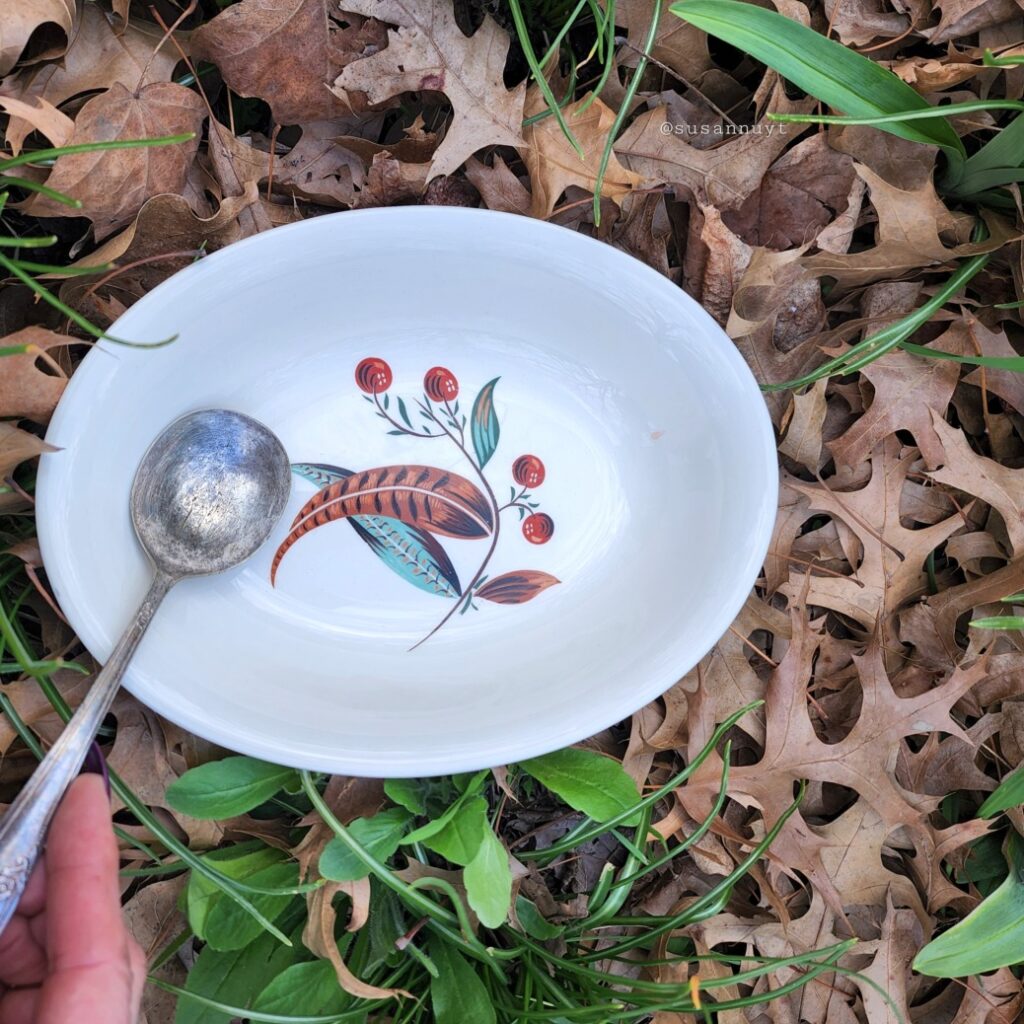 Cherries and feathers.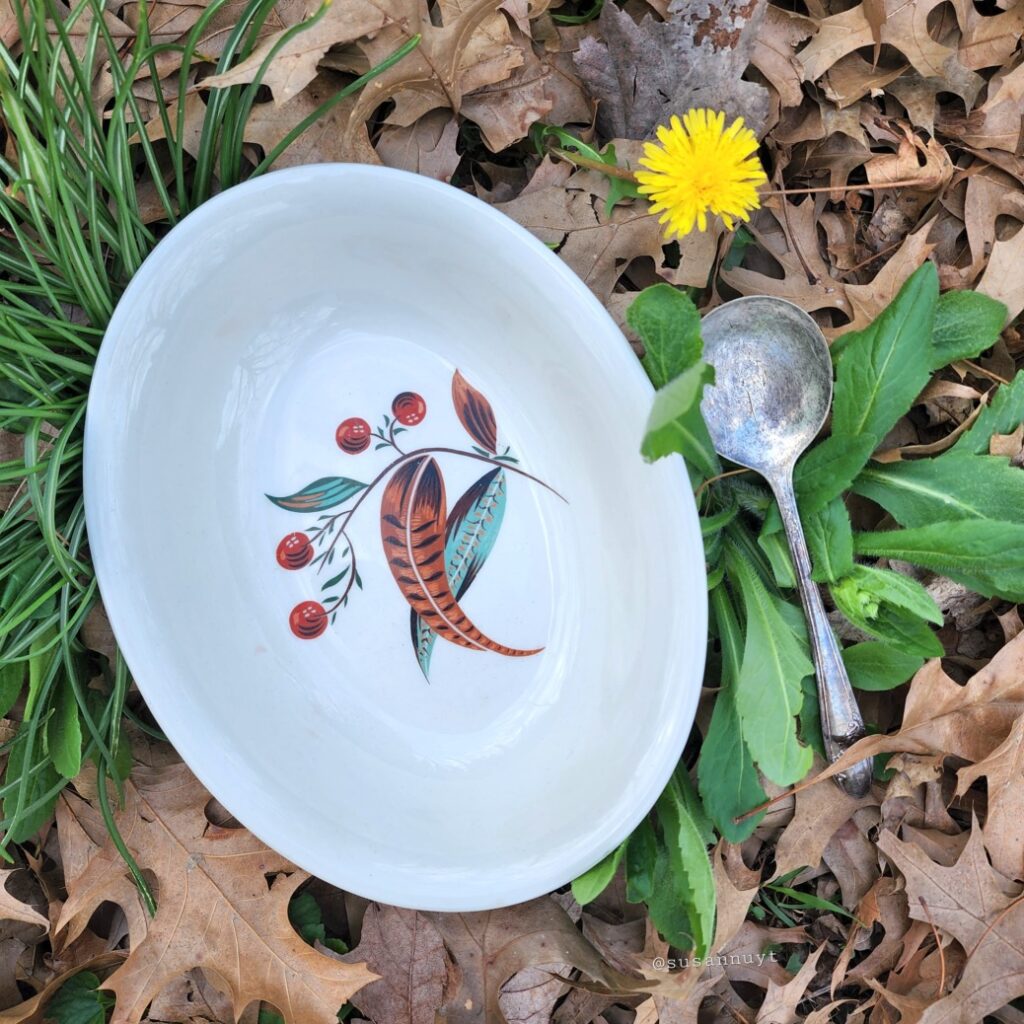 I guess that's what they are–cherries.
It's kind of nice to settle for the chunkiness of a soup–not a smooth texture–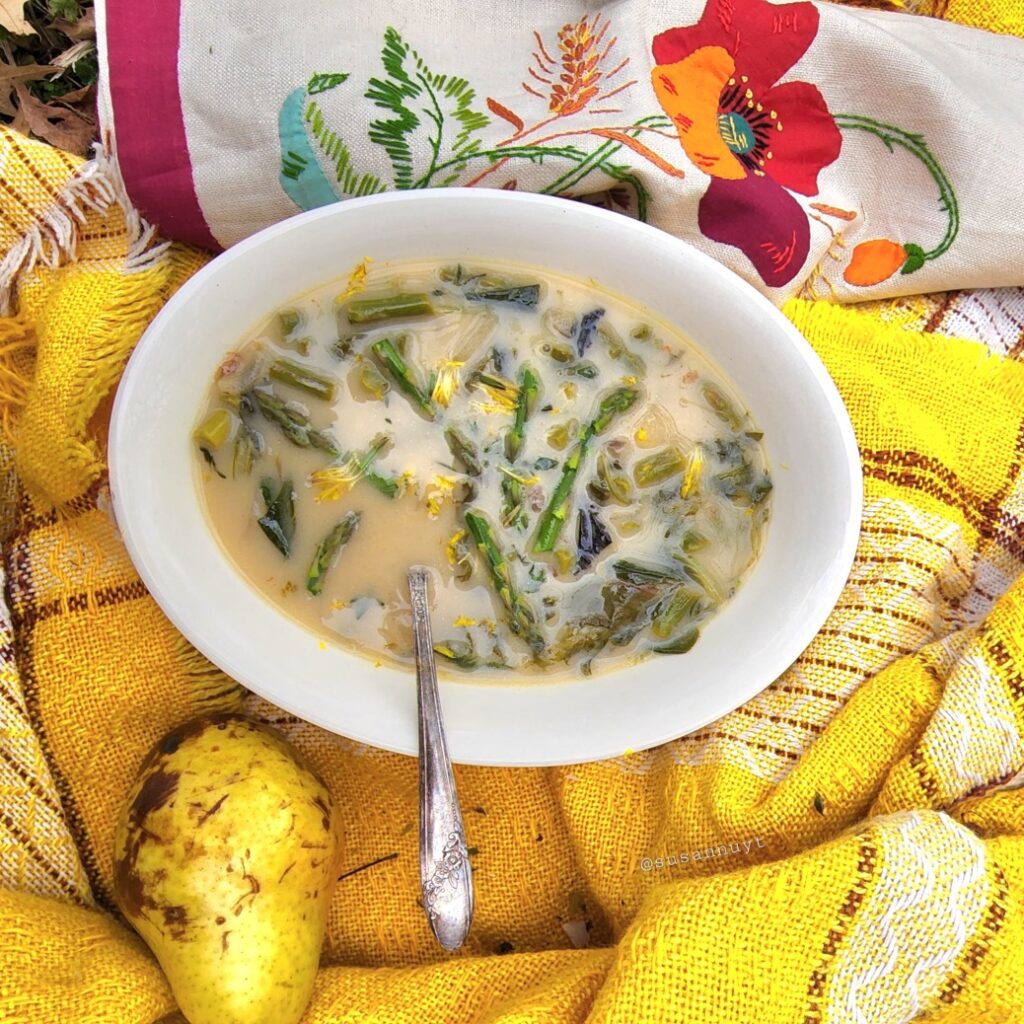 And if the blender is broke!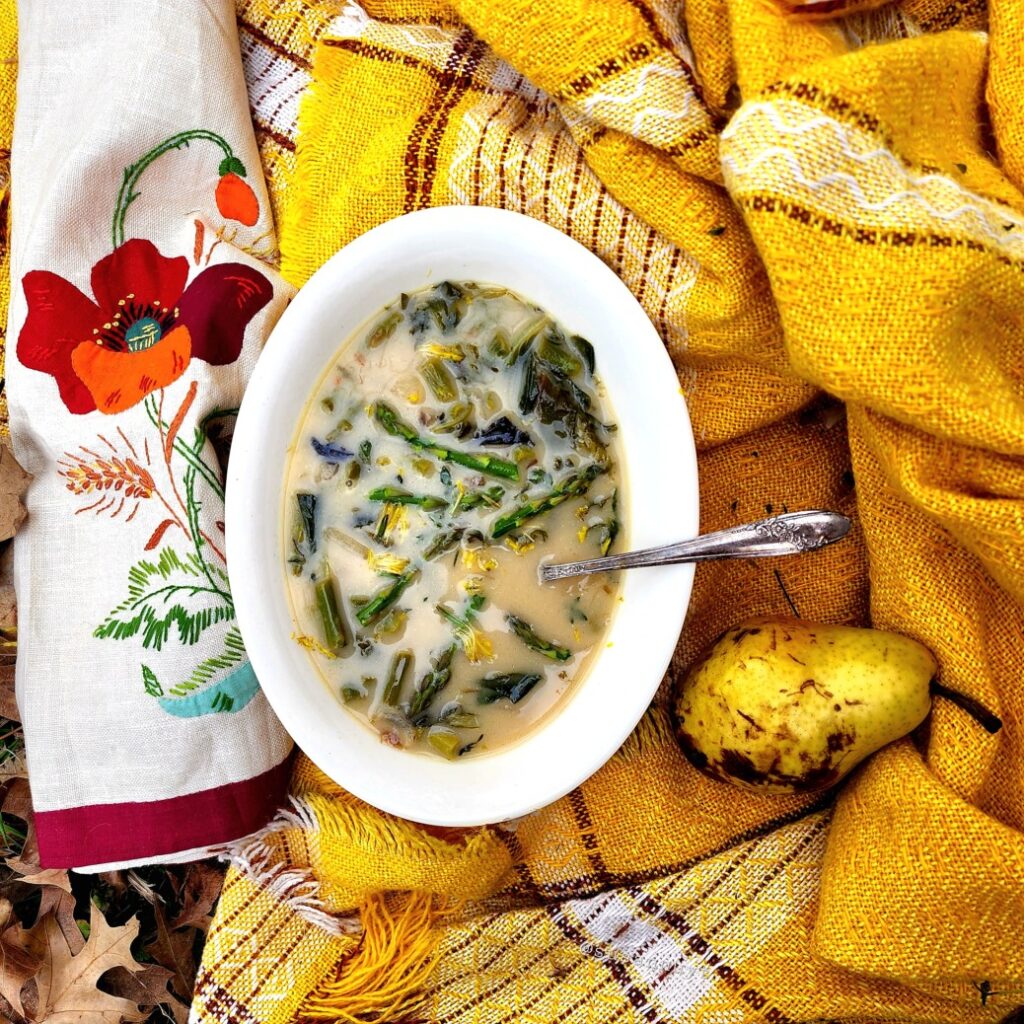 So you haul it outdoors for nothing?!–
Never a waste of precious time. You had fun with me here; and I with you.
(Garnish with pesticide-free, clean, dandelion blooms)