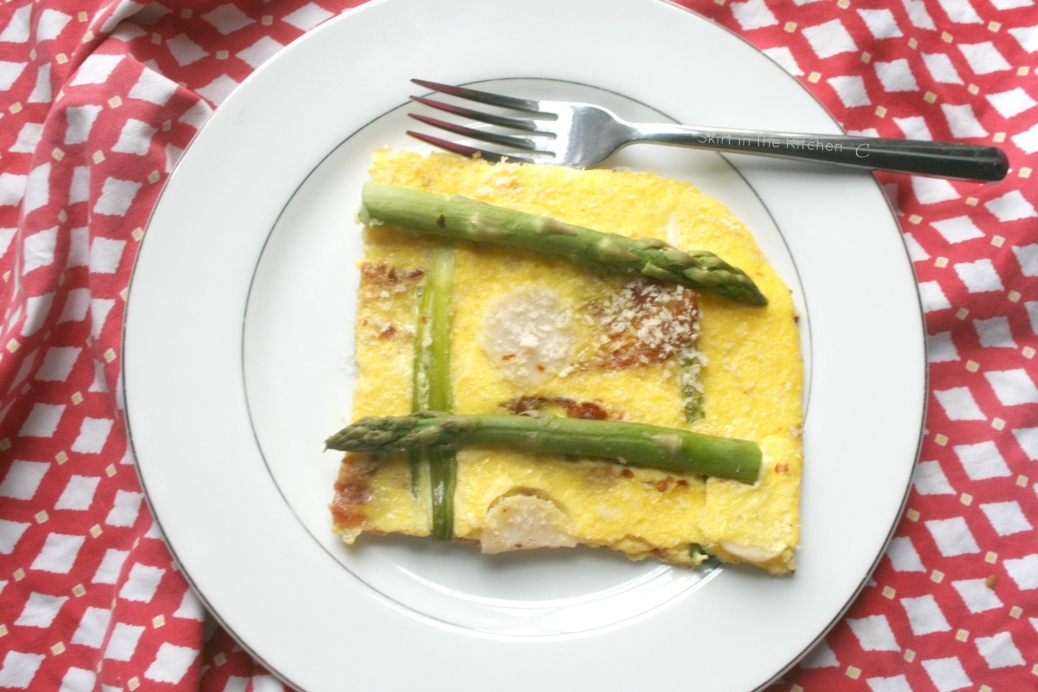 Asparagus Egg Bake, exclusively Skirt in the Kitchen
I want the sun to come in, don't you?  It already feels like it's been a long winter.  According to the groundhog and his shadow, we've still got far to go of seasonal harsh winds, days of drizzling ice, and winter's cold breath.  I've eaten enough pickled hot peppers to combat a sore throat and a stuffy nose.  You?
I'm pulling for spring.  It cannot get here soon enough.  I'm ready for warm days.  I'm yearning to plant a garden, to cook and eat outdoors-even brew coffee under a pear tree with a table set for an early rise.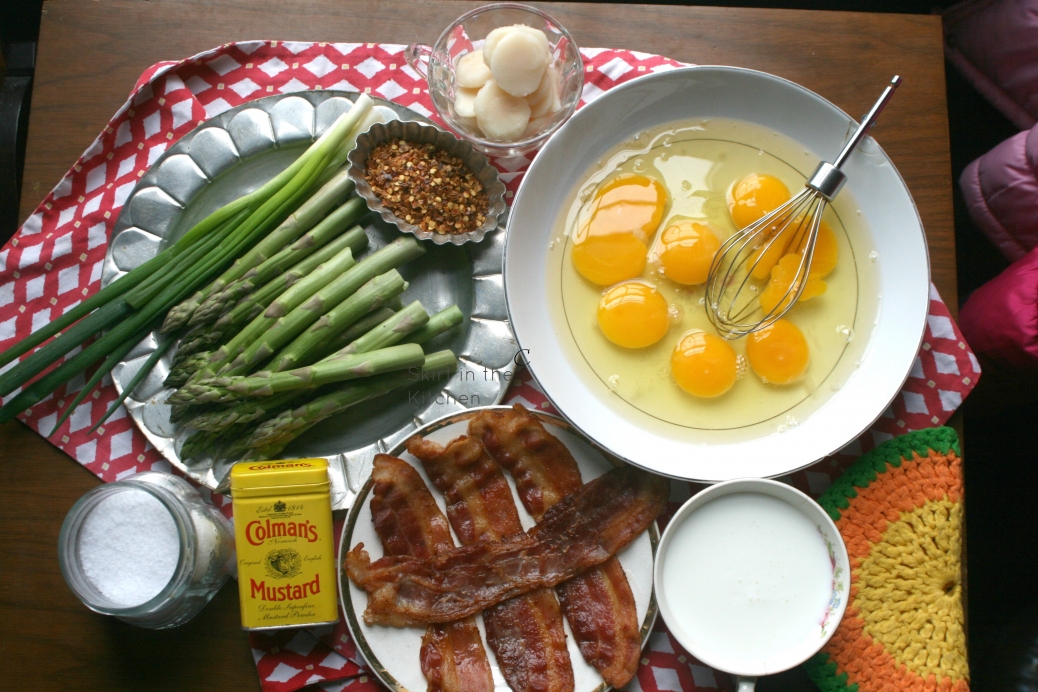 Sunny yolks have always been cheerful.  Just the sight of eggs does it for me!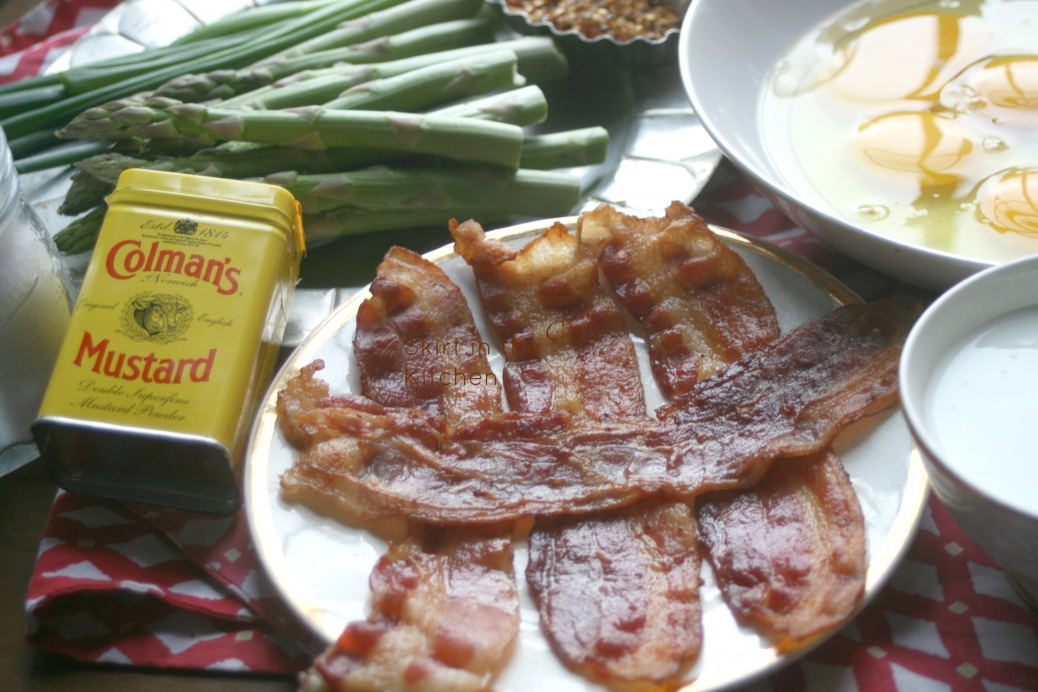 Let's slip on an apron and cook!  I've already got the bacon fried, not to a crisp, but tender for a knife to cut through for when this frittata is ready to serve on a plate.  This will be a cheese-less frittata!
What I like and have always had in my kitchen, and have grown up with, is Colman's Mustard.  I put it in a variety of food dishes, hot or cold.
Since I like history, am a huge history buff, I'll tell you a tidbit of the inspirational story of Colman's Mustard.  They are one of the oldest existing food brands, established by Jeremiah Colman in 1814 in Norwich, Norfolk.
In 1823, he included his adopted nephew, James, to take part of the family business that he passionately started.  It then became J.&J.Colman.  
Jeremiah wanted a tangy flavor of mustard, so he mixed a brown mustard, a horseradish-mustard flavor of plant, with a white mustard, "a yellow mustard" that originated in the Mediterranean.
(Colman's became the acquired owner of French's, the American mustard, in 1926.)
In 1855, the bull's head logo appeared on the bright yellow tin.  And in 1866?  That's when Queen Victoria adored the powdered mustard, so much, that it was granted the Royal Warrant as manufacturers of mustard to Queen Victoria herself.  Presently, Her Majesty's household carries and uses Colman's, something that she adored for her own use back in her day- carried through the years to this very time-her family of today continuing her love of this very mustard blend.
We can whisk 7 large eggs or we can machine-whisk them to a frothy state.
I want a light texture as much as possible, so let's use the KitchenAid stand mixer.  Toss in a pinch of salt when whisking the eggs until very frothy, then a bit of black pepper, and 3/4 cup low-fat buttermilk.  Whisk again just to blend thoroughly.  A little bit of salt helps eggs whip even lighter, for a better frothiness.  The buttermilk will present a creaminess, plus add a complimentary taste to the powdered mustard, but don't put in the mustard just yet.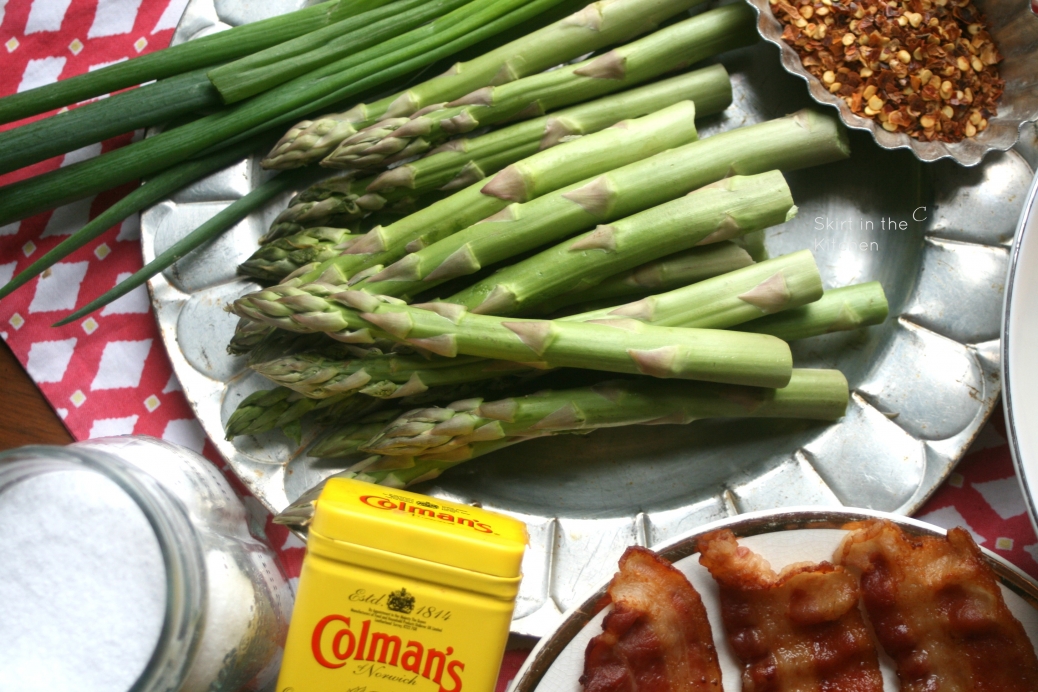 I don't cut asparagus; I snap it off, so then I know where the woodiness is of the stem and where the tenderness of the vegetable exists.  Only the tender part of the asparagus is desired.  I'll cut the onion ends of the scallions if you'd like to prepare the asparagus.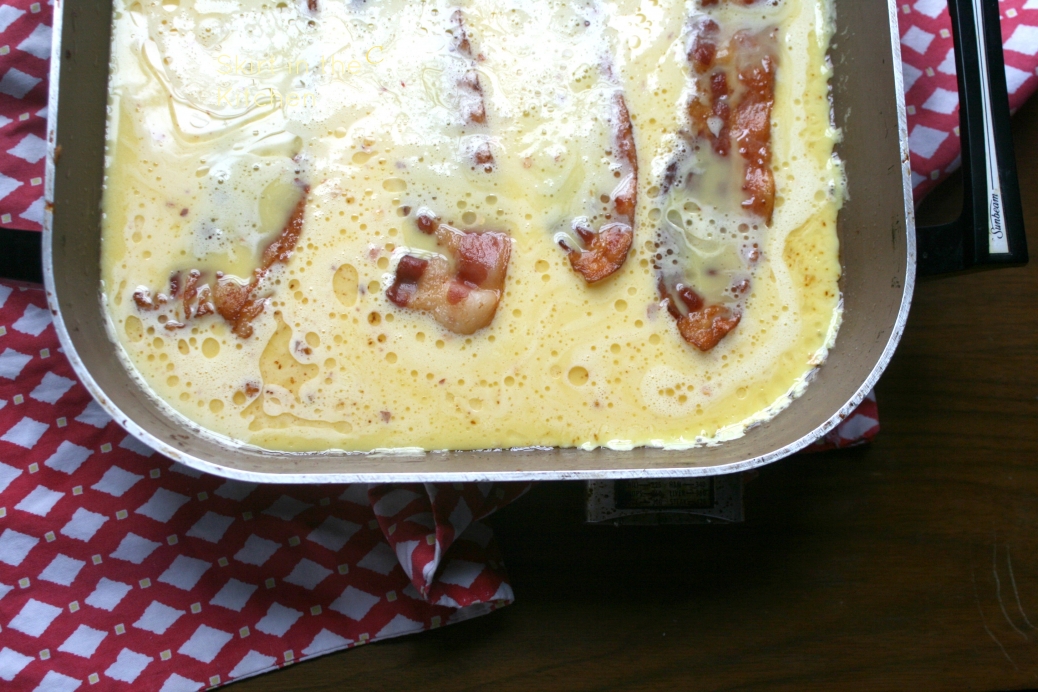 I like the electric skillet for this.  We'll use my vintage Sunbeam.  I have it preheated on 260°, and that's where we want it to stay for it to slow-cook up to 20-25 minutes, to keep a softness throughout the duration so there won't be a hard crust along the edges and on the bottom.  Also, this is a way to cook stress-free!
So for now, let's put in just a trace or 1 teaspoon bacon grease.  Brush the sides and the bottom of the skillet with the grease.  The skillet is hot, so let's pour the egg and buttermilk mixture, then carefully align the bacon.
In the opposite direction of the bacon, let's put down the scallions.
Now, the asparagus and coins of water chestnuts for crunchiness.  They hold potassium, fiber, zinc, and vitamins B-6 and E.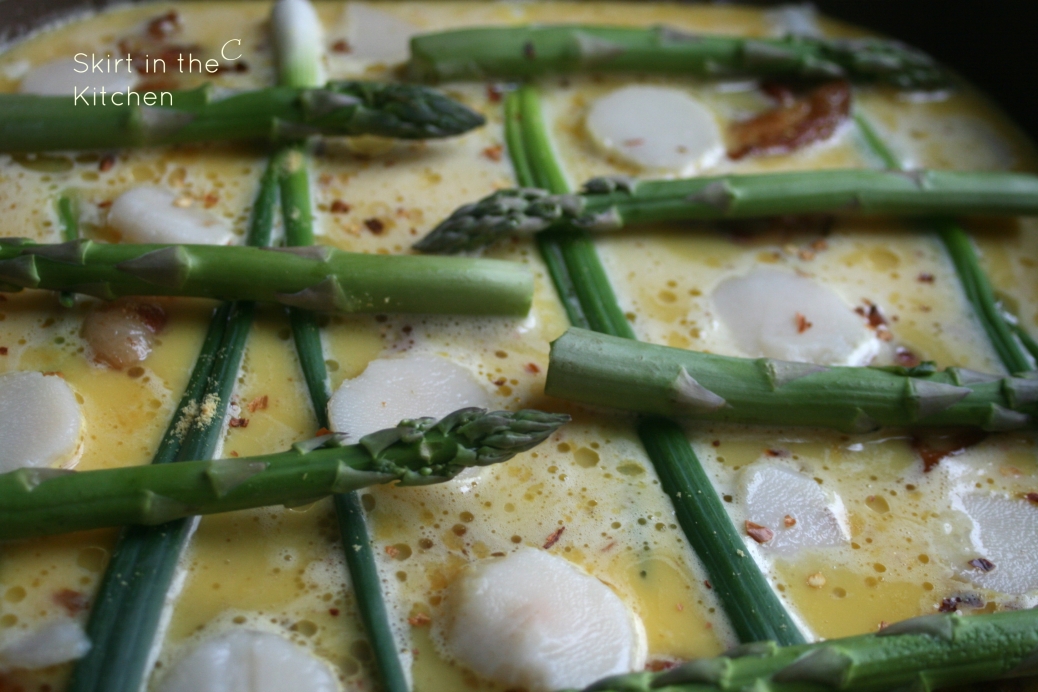 I want a few hot pepper flakes going over the top, then a very light sprinkle of salt, and then a sprinkle of powdered Colman's.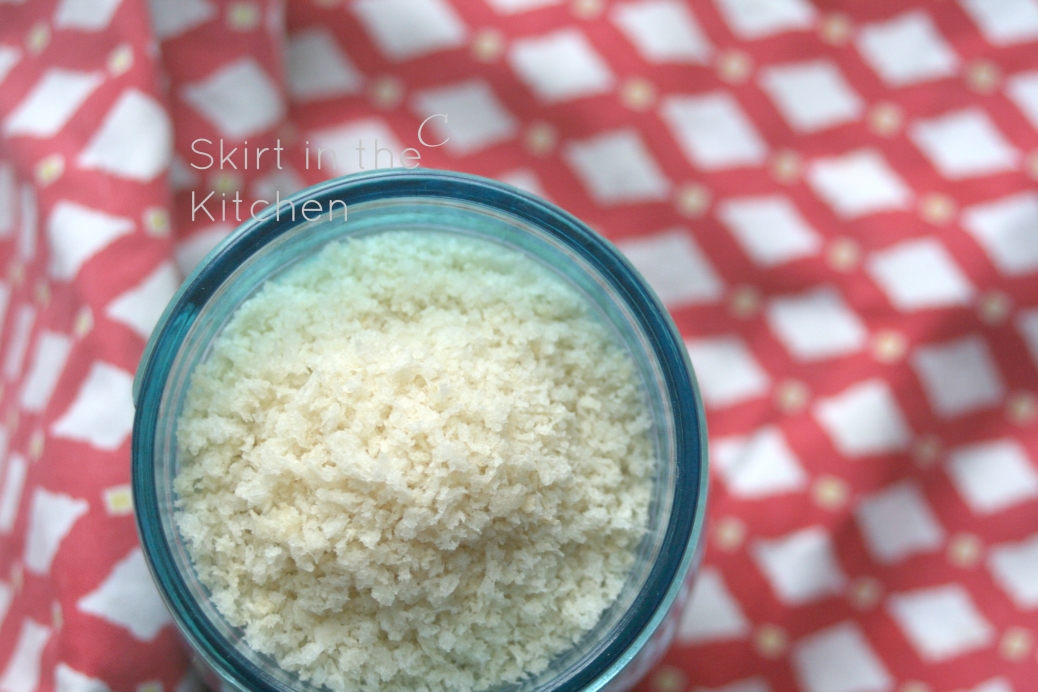 The last thing I'd like to top this with is Panko dried bread crumbs. For this dish, I like the reverse textures:  The creamy softness of the buttermilk-eggs with the crunchiness of the water chestnuts and Panko while the asparagus cooks semi-done so the spears aren't mushy. Slow-cooking this covered will secure the right texture for asparagus while thoroughly cooking the eggs and preventing them from cooking too dry.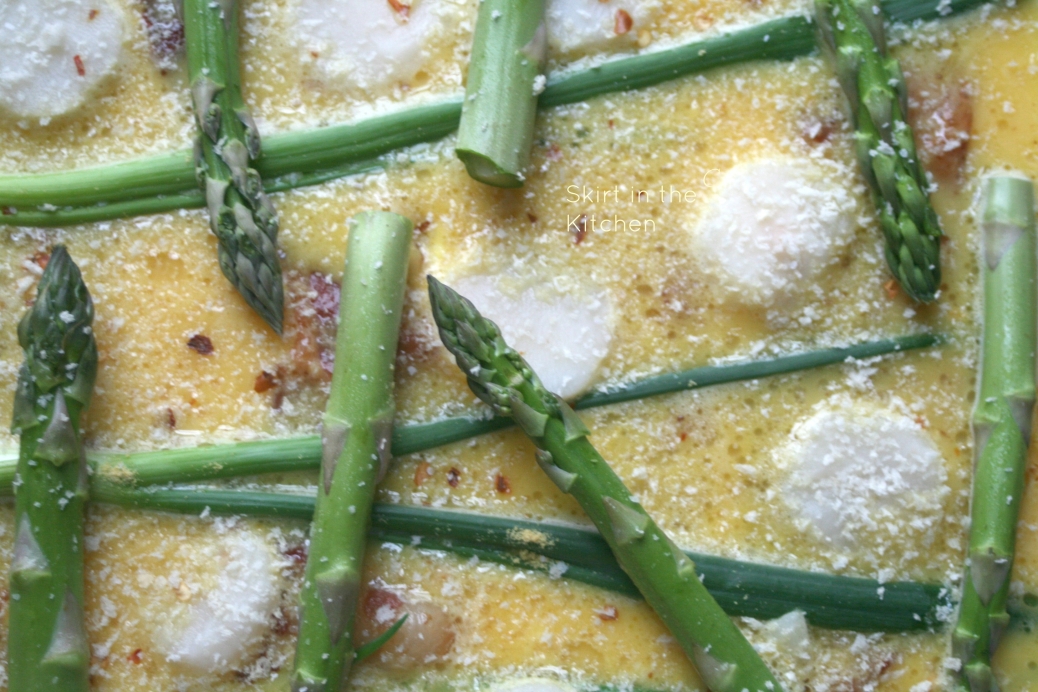 On goes the Panko!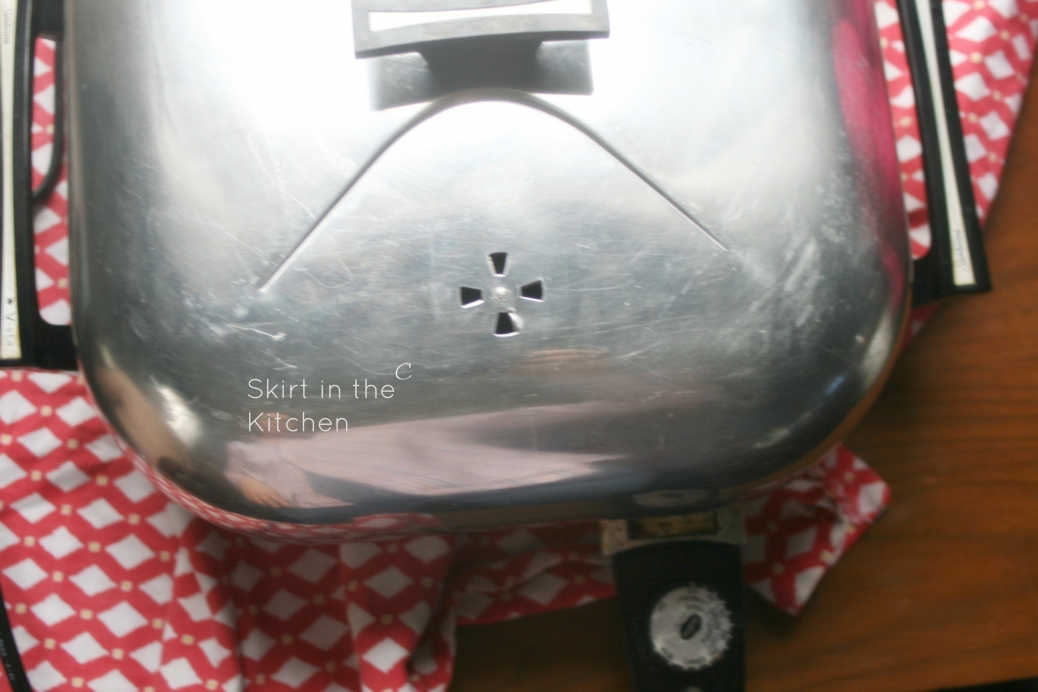 We'll check it in 15 minutes, then in another 5, and so forth until it's just the way we want it.  Keep the vent open.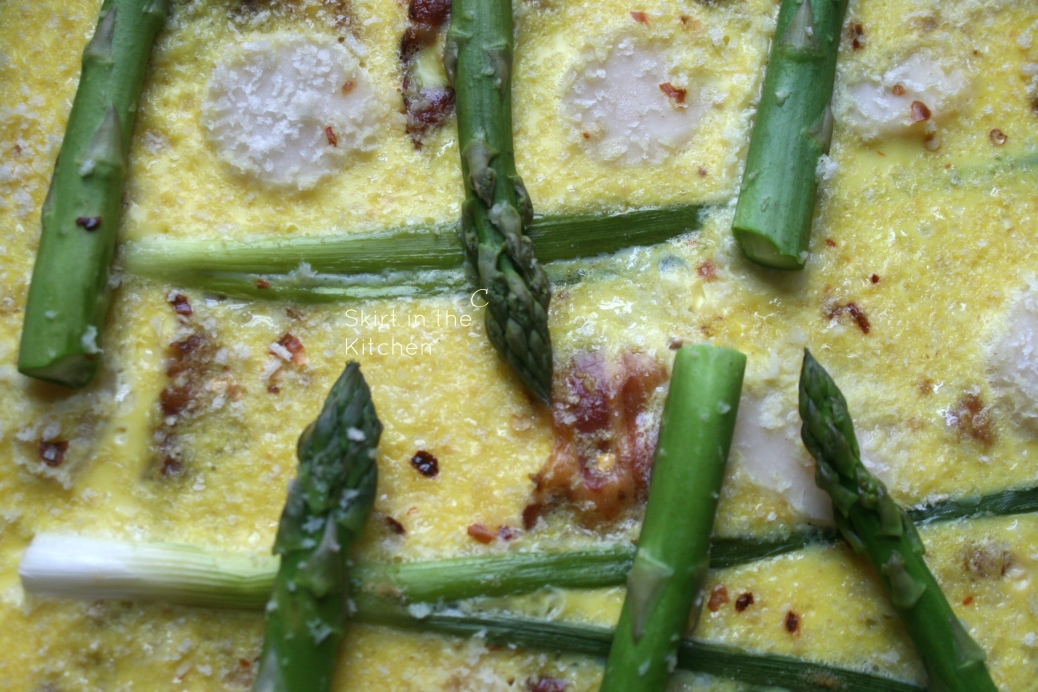 Vegetables and bacon cook into the egg, even part of the asparagus, while top portion of spears seemingly lay over the cooked egg.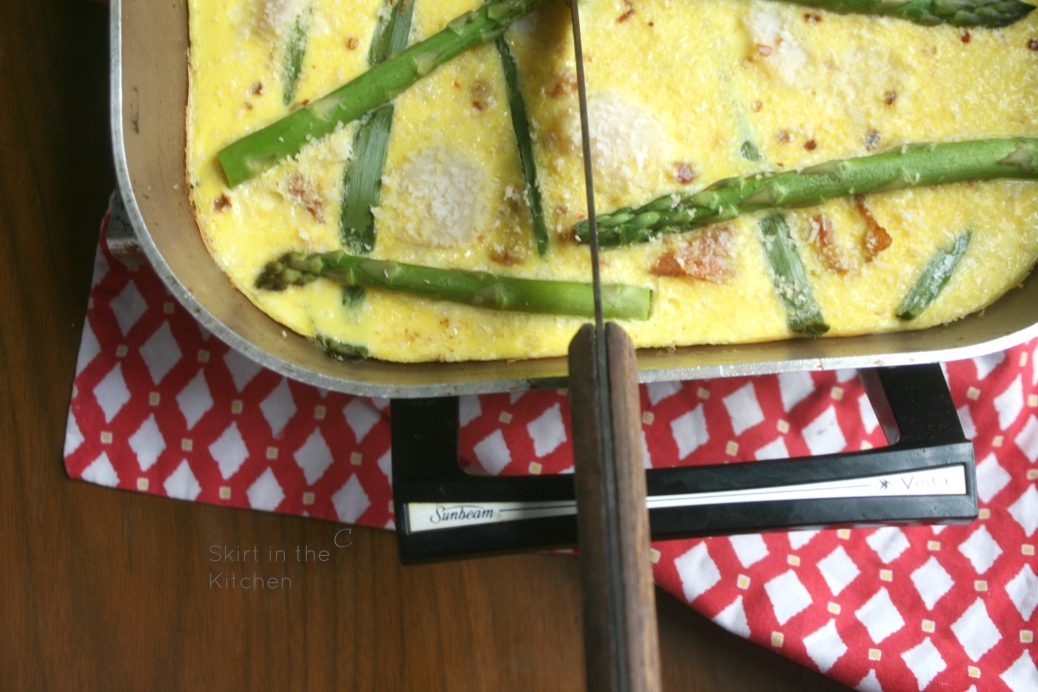 Slowly work a straight edge around the outer surface, then cut portions for serving.
So good!
morning yolk