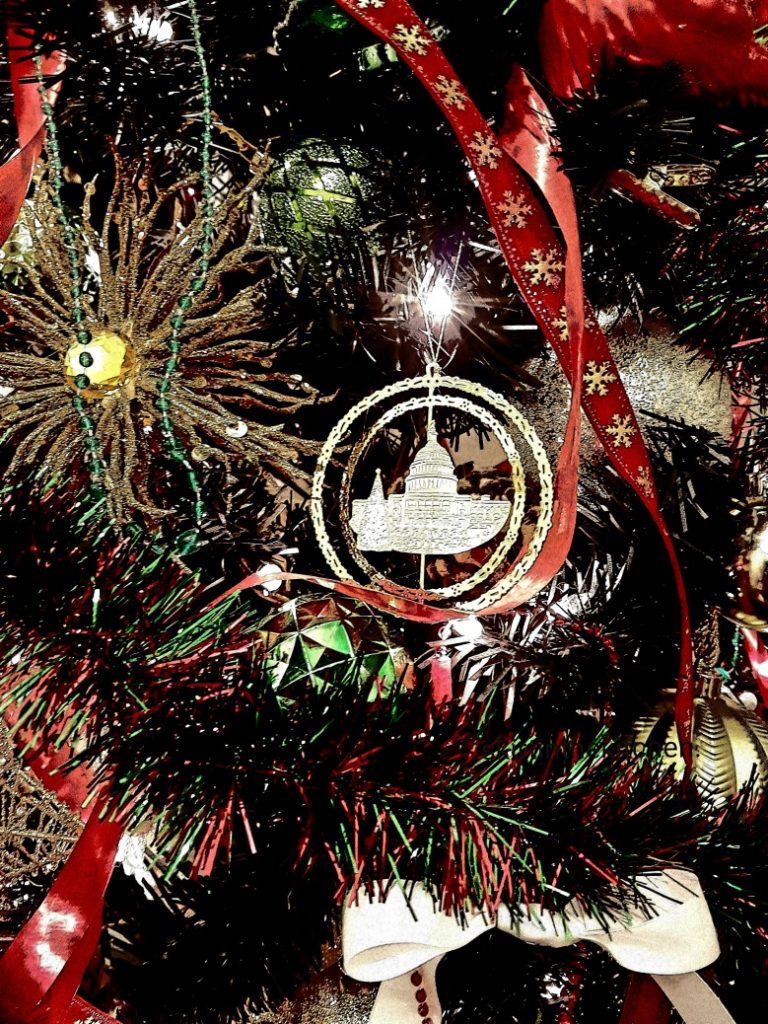 This is a black Christmas tree from the prior Christmas, 2019–I just put everything on it this time in a humbug kind of way when I decorated it, this now, last year of 2020.
Unless you're standing up close to this tree, it looks dark green–from a few feet away. It ended up being a pretty tree. A picture doesn't do it justice.
I had already decided to keep this tree up throughout 2021, lit and devotedly standing, for the people who died of Covid–a sentiment to all of them...
So, so many of them who never got to see another Christmas dream lived through this past Christmas Eve; not a new baby born, not a wish come true with family virtually or physically with them…not one more new year to look forward to, because their lives were gone too suddenly–and unjustly.
I don't know who could not be touched by stories told of the people's lives, and those of their families who have to go on without them now–and the children who now have to grow up without their parents–so many real tragedies of this pandemic, the disease that has ripped out people's families–the thief that has taken and destroyed dreams of love and family belonging/unity.
What I also still find difficult to reason is how people can just operate in public without a mask on–or wearing masks but still huddling up close to others, standing too close–people still congregating as though they are invincible and uncaring to the reality of this pandemic–though it's been months now, months.
(As of today, we've now gone over 410,000 deaths in the United States; 2.06M worldwide)
Nobody wanted to miss Christmas. Those of us stayed home, many died even on Christmas Day–and other people still got together at other houses and locations, selfishly…
(I'd rather keep you alive than lose you)
Then worse, upon worse, got into the Capitol–without coverings–plus, the 'devout' Republicans in Congress who were too stubborn to consider their fellow Americans in this virus age of time–unmasked when they had to group into a room to keep safe from harm on that day of the insurrection onto our Nation.
I don't, I cannot, understand the real arrogance and carelessness of people willingly jeopardizing lives and their own. We are so up in the count of deaths from Covid, now, amidst the other diseases of deaths that have always lurked–many other forms of people perishing that would be an endless list of words to mention, but felt and known all too well.
Christmas seemed void, like it never happened; sort of like we're still waiting on Christmas dinner. We're still waiting on Christmas to arrive.
This 2020 tree has to resemble the spirit of hope, peace, and healing for all who are gifted another day to live–not only for those gone–maybe equal parts, I'm not sure.
But in a personal life, in every life that still has breath that we so take for granted…
Hope for/in our Nation; in our world.
After the insurrection on Jan 6, I thought what would be suitable for the tree would be an ornament of our United States Capitol.
Such an ornament that resembles this beloved Nation for its strength and love now dangles from a branch. The white ribbon bows, I had on the tree when the tree was decorated as a Thanksgiving tree. Leaving the white bows, with the red velvet ribbons, it's now turned into a patriotic tree as a symbol, repetitiously felt and spoken, for the lives gone–as well as for those who lost their loves; and for the people who will yet perish because of Covid-19.
The gift of Christmas: daily having life, living life into everlasting. We hope with faith unto salvation, that no life ever was or is lived in vain–and thereafter.
"I love you" really is never too strong to say in appropriate action to anyone you've ever loved, even to a stranger–whoever you are reading this, humanly connected around this globe and beyond–what time sets forth that is soon revealed.