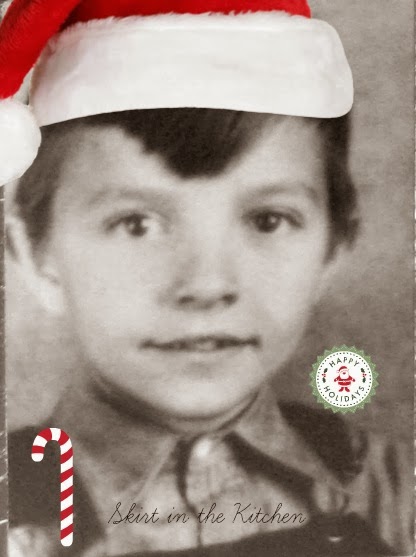 I'm all sentimental with a gladness in my step this holiday season; seemingly more than the previous years since my dad has been gone, since my family has been split completely apart… but I'm actually enjoying the memories that Skirt in the Kitchen has been built upon– and I'm living well.
Before there's any mistake about it, not that it really matters what somebody on the outside thinks or says, it's not "living in the past". It's appreciating and honoring my family/blog legacy, my dad whose dreams began the food process of our tree!
I do miss his jolly spirit around the holidays!– when he would clown and sing silly, but cheerfully, Christmas songs for my kid-sister and me– just to see our faces fill up with laughter– I know he did that for that reason!— to see his girls happily laughing! That means so much more to me, now, than even then— many, many years later!
Isn't time a funny thing!— These memories of him, and of an old-fashioned Christmas, light my spirit for the holidays this year! I have tears of gladness and laughter thinking about some of those things about him!
Memories happen for a reason! They are there for years' later-use, long after; for the happiness and cheer when your family is no more– when loved ones pass away, but they're not really gone.
That love never slips away. It forever stands still though time moves on and changes much.
When you don't have blood family around you but your new family of offspring– and that does mean a lot, too! They are an extension of you, and your beautiful parent/parents; grandparents and other family close and far to your heart.
No, nobody is perfect; and yes, like all people, he could be stinkery, too, at times haha! But all of his beautiful,lovely parts about him built me. Along with other "stuff"– but your roots matter!
Today, December 4, Dad would have been 88. He was seven years older than my mother.
Not every year– but on many of his birthdays, my mom had the Christmas tree put up to decorate for his birthday. He'd go get one with all of us in tow! And there were times when she did have a German Chocolate cake baked for him! Not every year is alike, you know– and it's not really a bad thing.
If everything, and everyone, stayed identically the same, there would never be progress or good change created!
I'm proud of my father. And this blog that originated as a food blog, began with him. Even though Skirt in the Kitchen is a lifestyle blog, the food columns are because of him. He started this in our family. His passions run deep down into the family tree.
I'm also proud of the fact that I gave him offspring in my branch. I see qualities in every one of my kids of him. What they missed out directly from him, I gave to them of him.
"You're just like your father!" –A good thing all along.
Enjoy your holiday season!
~ Love from Skirt in the Kitchen, and from my father's big heart!