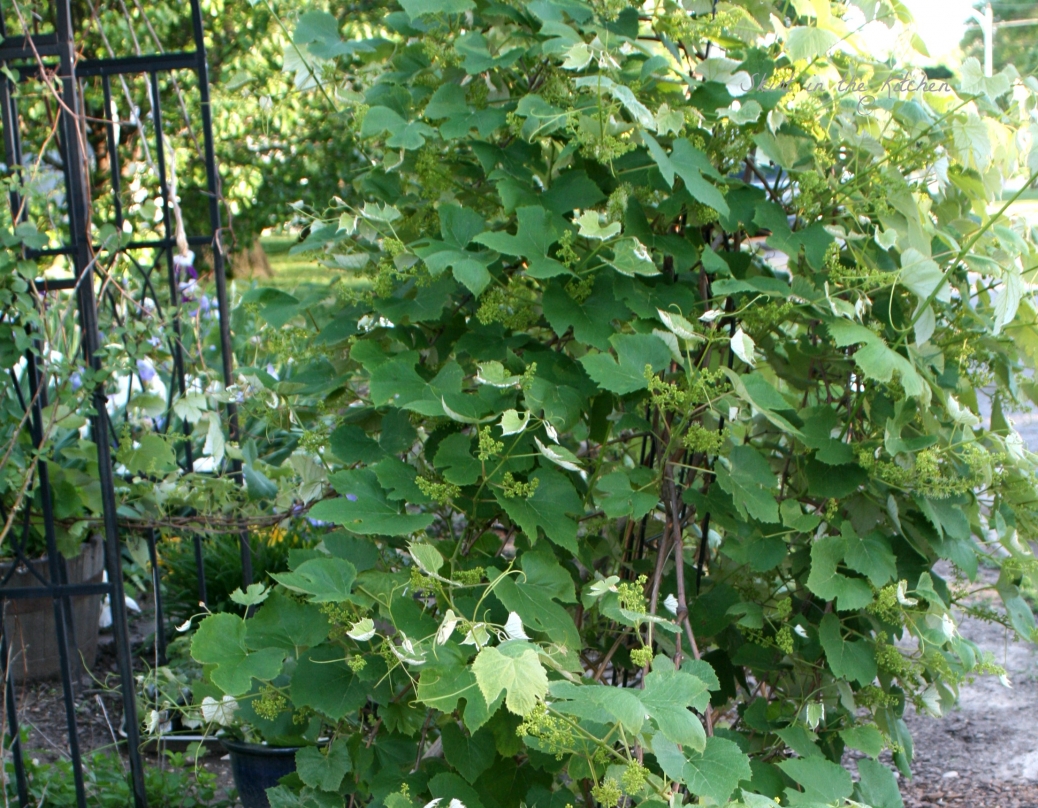 It's a spring awakening–and maybe to many things.  It's a time to refresh and renew.
It's food on the vines, miniature clusters of green Concord grapes in baby form.  These will take much of summer to grow large, and purple, then plump up for a juicy and healthy pick for harvest.  The plants have been pruned in the early spring in preparation and hopes of a fuller bounty.
The young leaves have a silver tint on the backs of them.  Early in the season, they can be stuffed and made into meat and vegetable rolls, the grape leaves cooked as a wrap.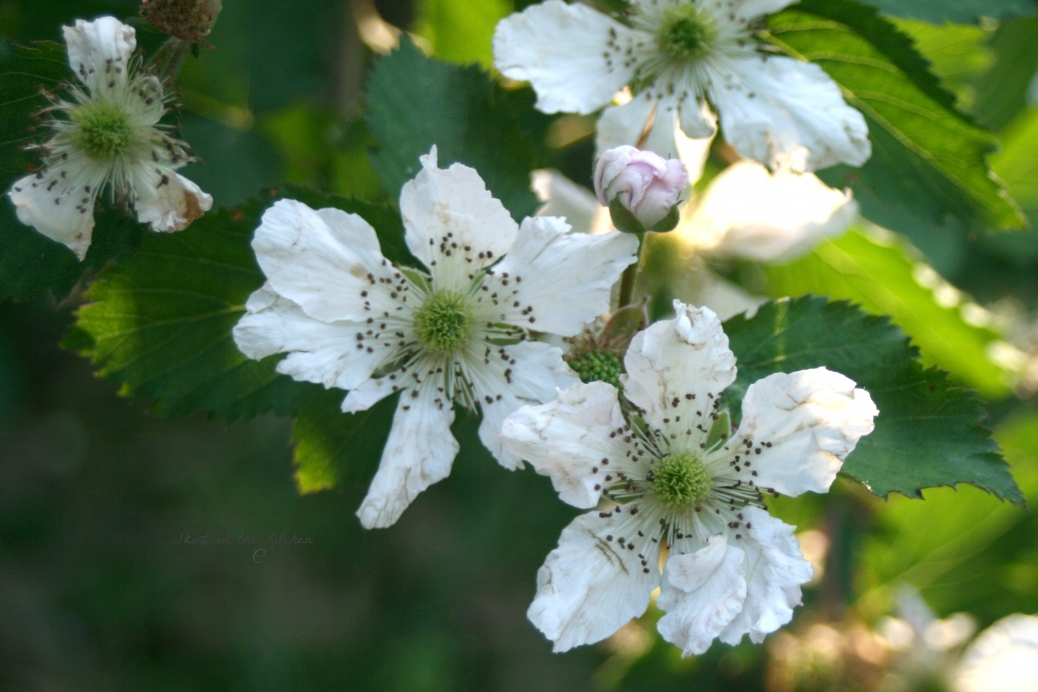 The blackberries have bloomed.  They're as pretty and frilly as a white cotton blouse in the summer.  The sun's light is peeking through the petals.  This picture was
taken early evening.
New shoots and leaves of the Moon Marvel Hibiscus have come up. This happens quickly, almost overnight.  I leave the old stems intact until they easily break loose from the ground, and that's usually when there are enough new stems for the new growth of the plant before this happens.  This is one of my flowering edible plants that I make jelly from; pancake syrup, BBQ sauce, and summer cocktails, too. Hibiscus leaves are edible, also.  I like to cook the leaves in a cheesy pasta with ground beef, the leaves made into a pesto for the Italian base of the dish–Hibiscus Rigatoni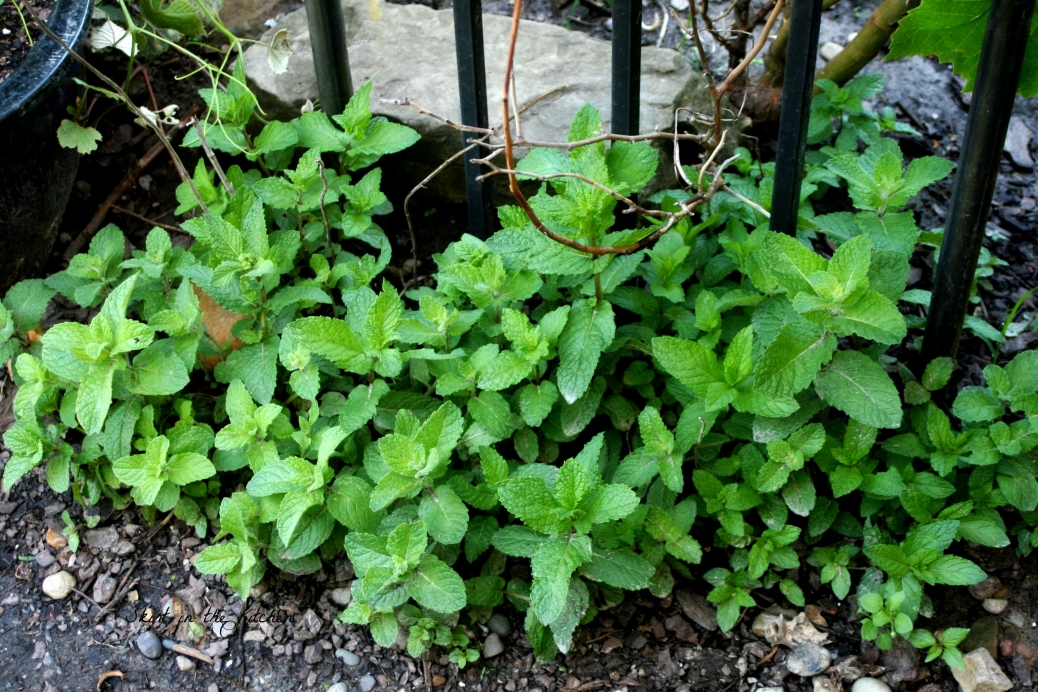 Mint is a supplement for tea roses when planted around or next to a rose bush.  Mint helps the roses smell and taste even sweeter for human consumption providing that the roses are free from pesticides.  Mint encourages the roses' growth while contributing to the quality of the tea rose plant.  I have actually cooked a Bean Tortilla Taco with Don Juan rose petals, and extracted rose petals for cake as well as adorning an angel food cake with such a beauty and a high-quality rose.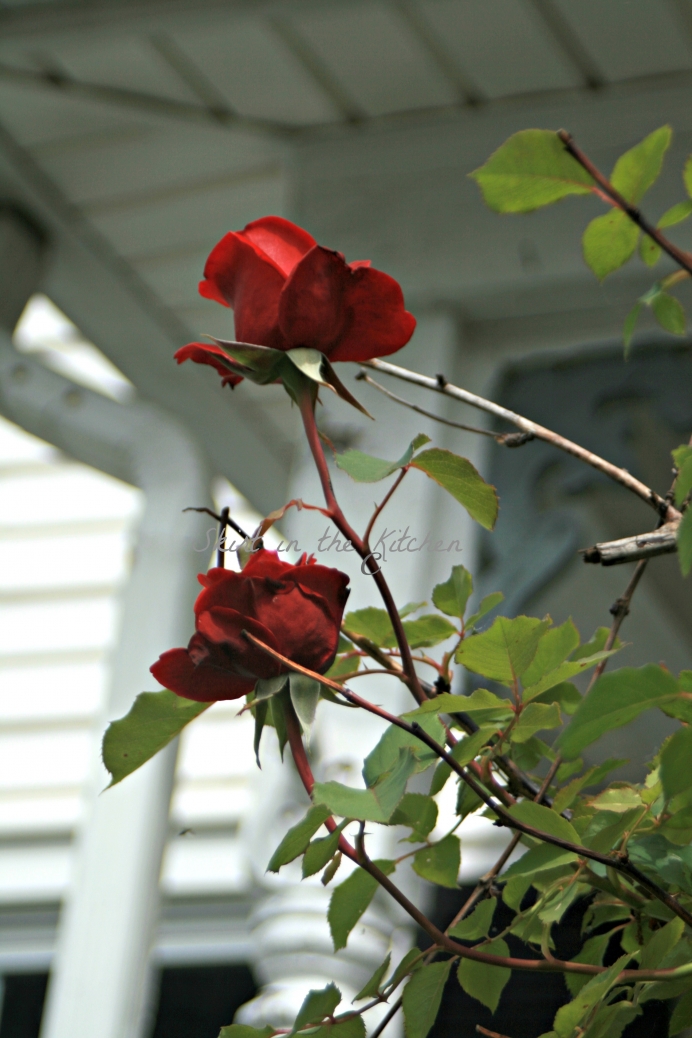 The Don Juan bloomed on Mother's Day this year.  It was my Mother's Day gift; kind of neat–like it was a message from my father.  I planted these after he passed away, his name being Don, and for the fact that he loved red roses. 
When I received my first bouquet of red roses from a boy, when I was 16, my father comically sang to me an old song by Jim Reeves, Room Full Of Roses.
My father associated the red rose with his mother, probably with his sisters, too.  Aunt Darla carried them in her wedding bouquet.
He and my mother planted roses from Wayside Gardens when I was a kid.
I'd like to think that he also associated his choice of flower that was a spray over his casket with that moment, when he sang parts of that song to me at 16, that it held a significance in his heart.  I think it did.  Dad had a sense of humor but he also had great sentimentality.
I miss the Mother's Days when he would call me long distance.  It means more to a person after a loved one is gone, so give me a room full of roses.  I'll at least plant them in my garden.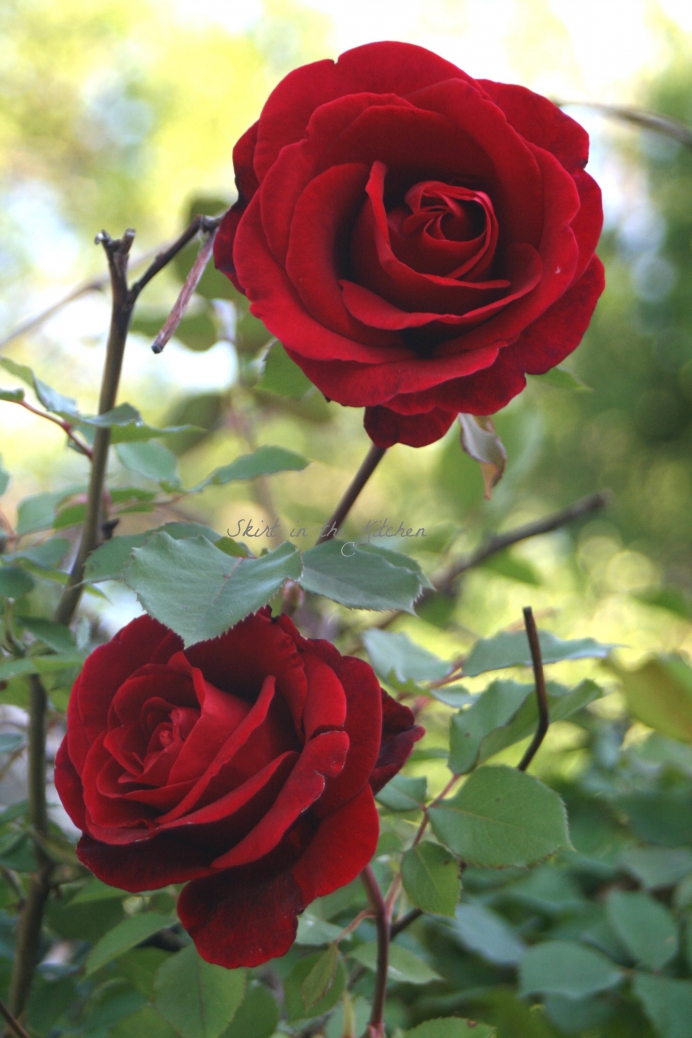 Every Jim Reeves song reminds me of Dad.  Knowing him, he probably–most likely–associated the red rose with every single person he ever loved.
This is the Rock 'n Roll Rose in its third year.  It's got a raindrop on it.  The colors remind me of a cherry or strawberry jello salad with whipped cream.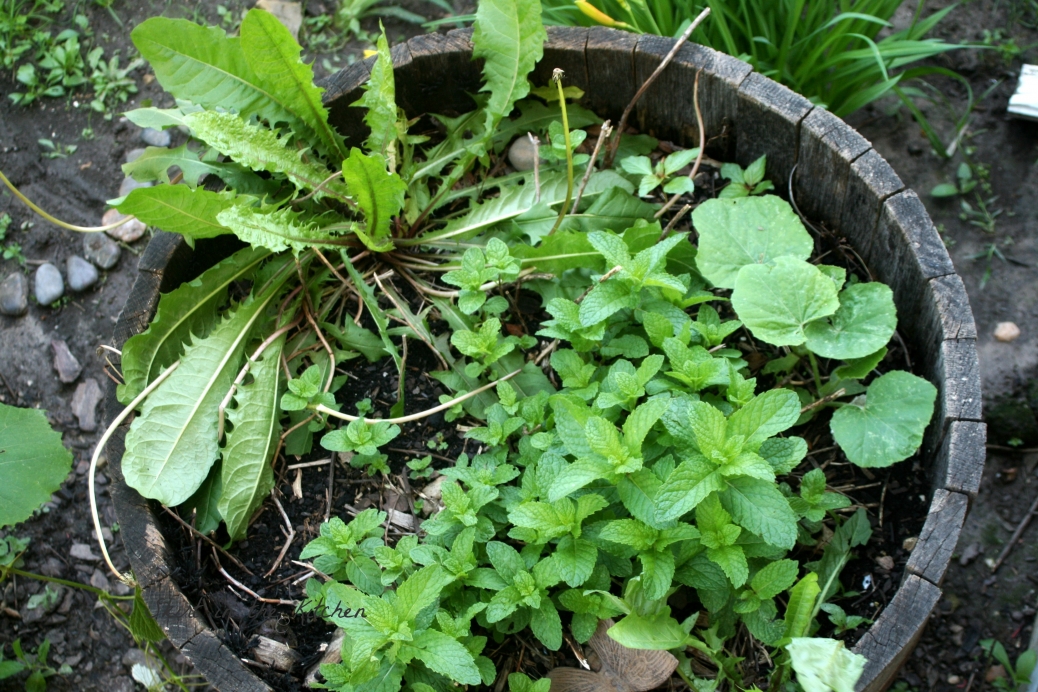 An unlikely trio in a whiskey barrel–mint, dandelion for salads, and Missouri melon that will be transplanted for more growth space so it will prosper.  The mint diminishes such a bitterness in the dandelion plant, makes it little mellow.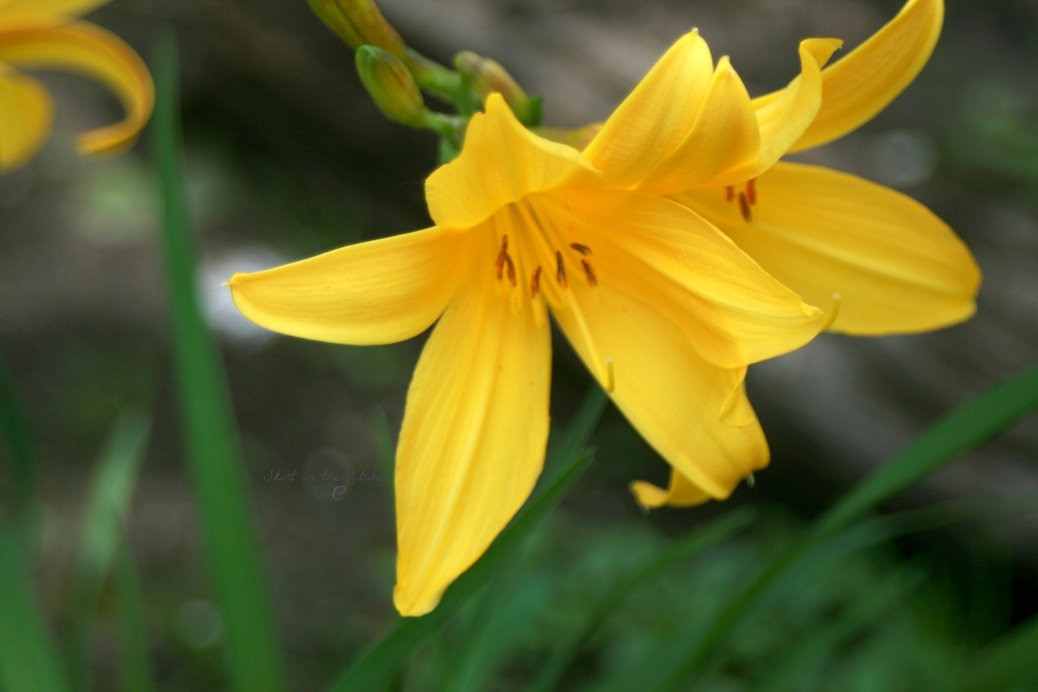 I want to put these yellow daylily blooms into pineapple cake this time.  I do something different with them every spring to experiment with since they are edible and fun to bake with.  And of course, I always make jelly with them.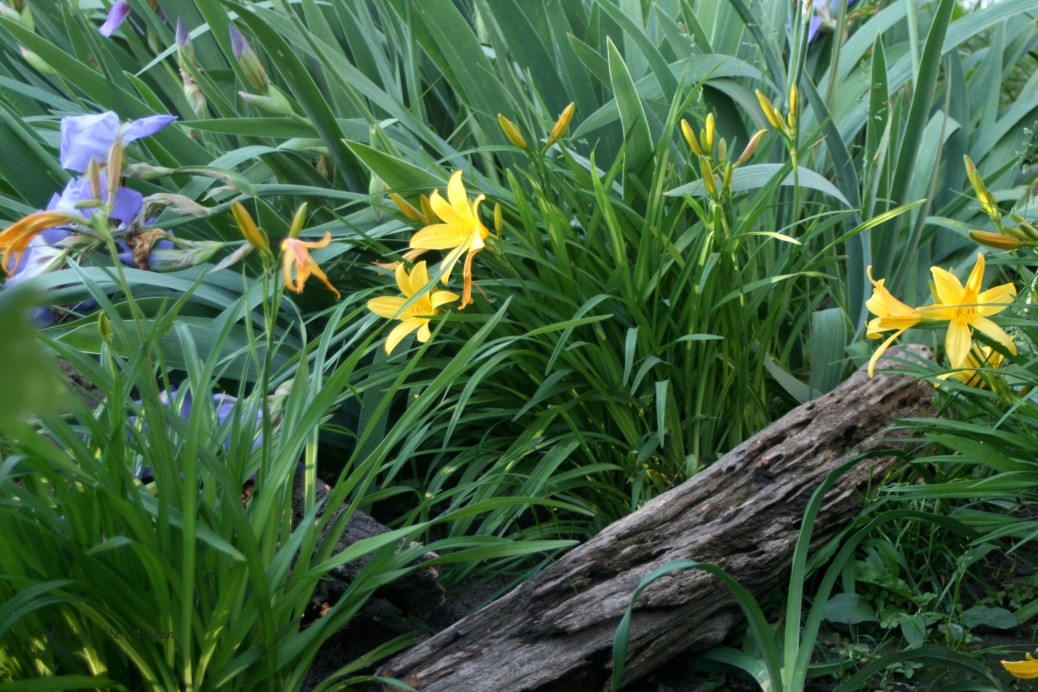 The iris blades have a blueish tint to them.  I gather driftwood from the river to line my flower beds.  I like the natural ruggedness of wood that is worn by the weather.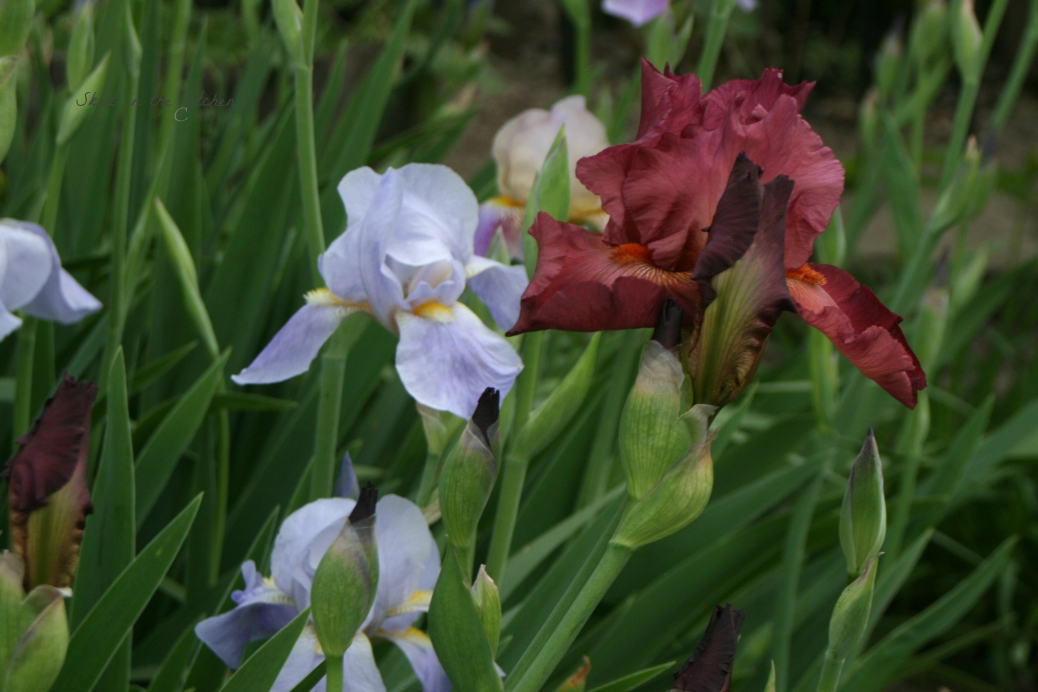 Blooms of the bearded irises have multiplied every year.   They hold as much of a sweet scent in the air as the Don Juan roses.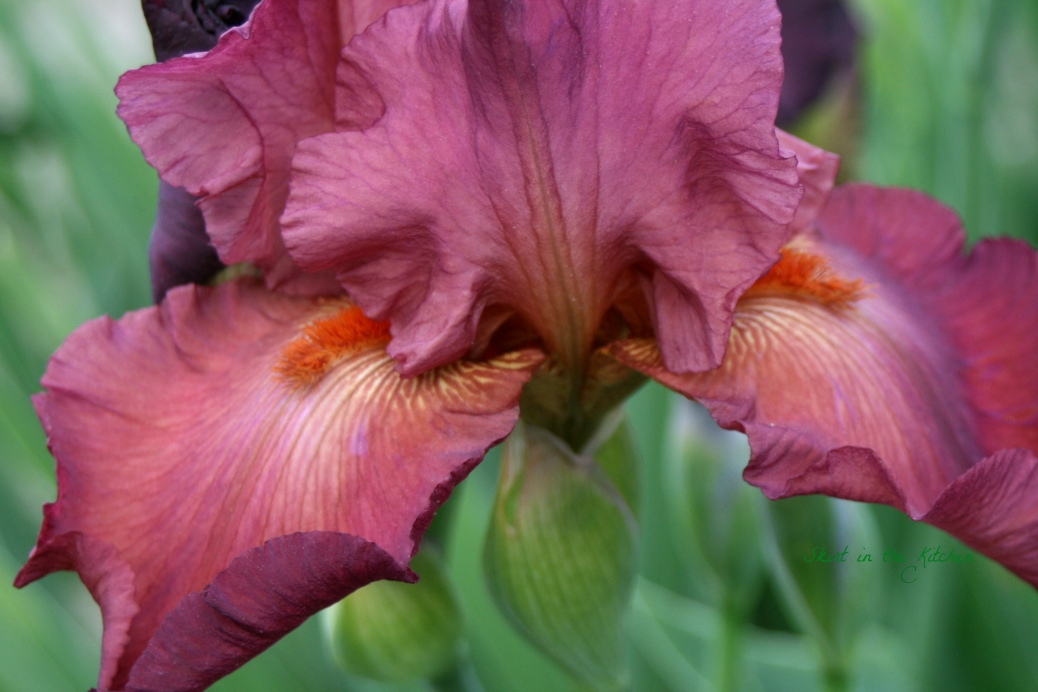 I love the orange fuzz on the petals.  The veins are vivid.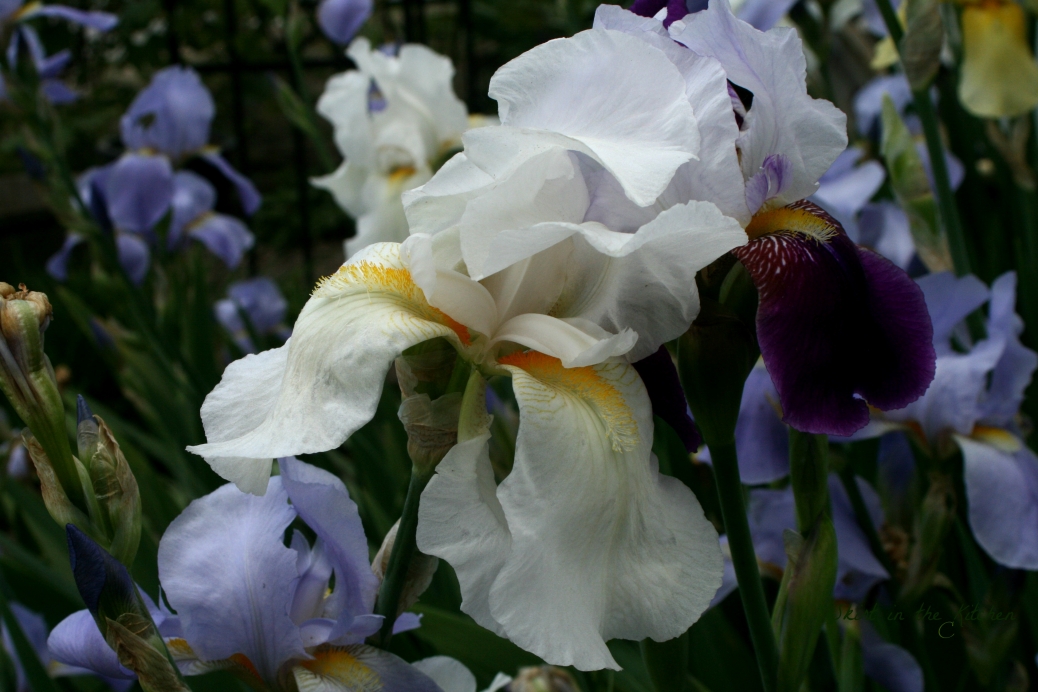 Bright and clean, beautiful painted colors…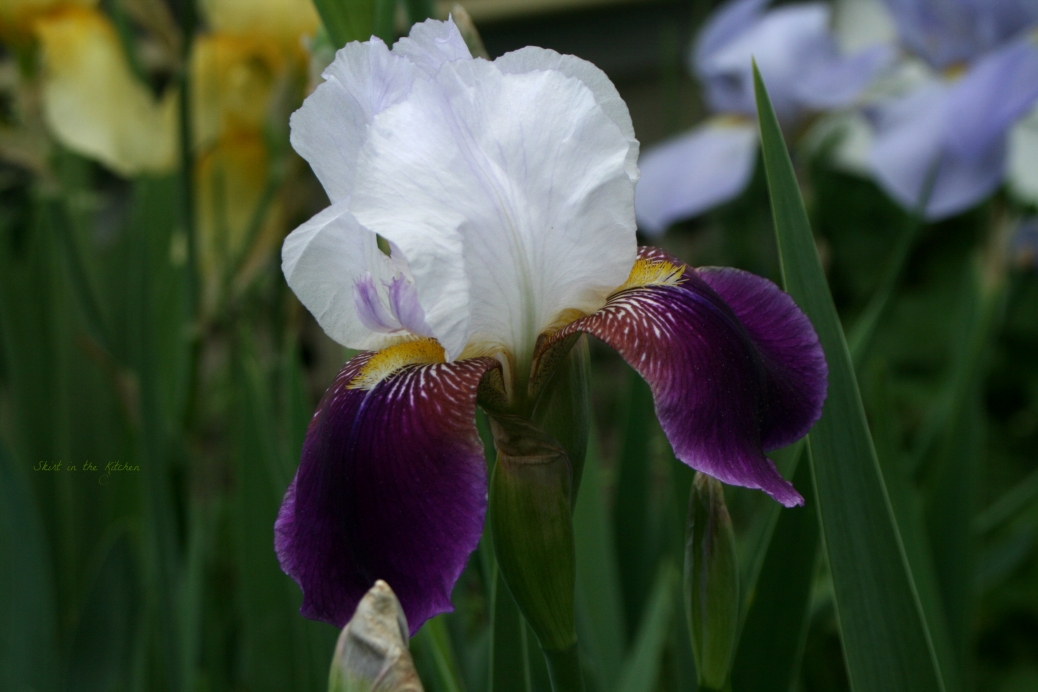 detailed in every way.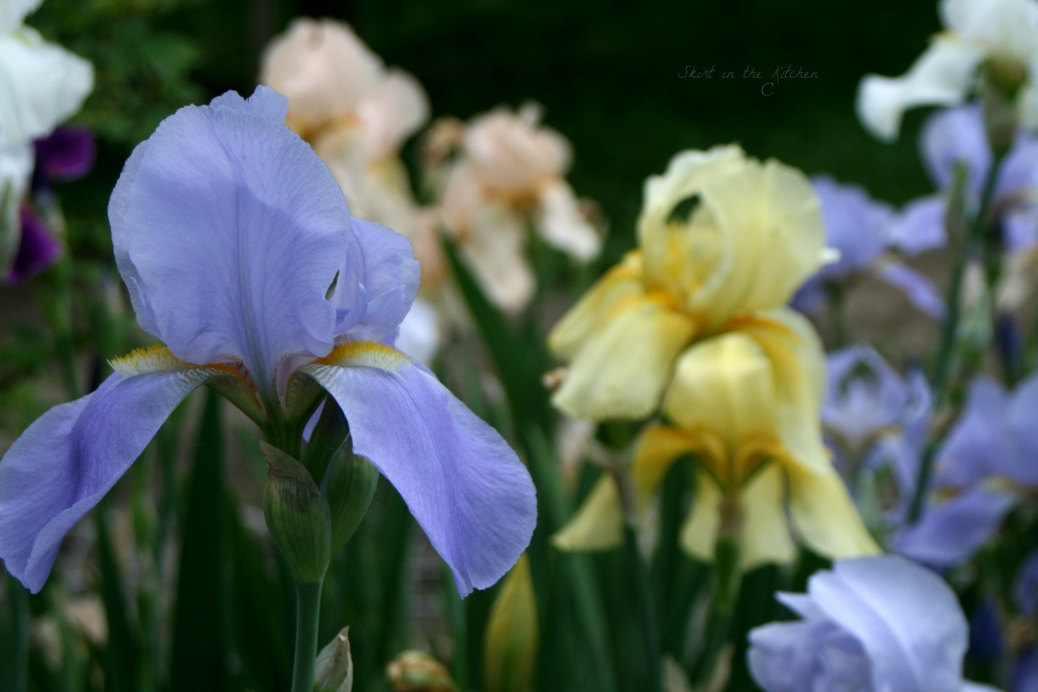 I transported these states away from where they came from–from my mother's flower beds!  She had so many of them, so she shared bulbs with me to give me a good start.  These are now six years in my yard.  There are more every year, as I mentioned.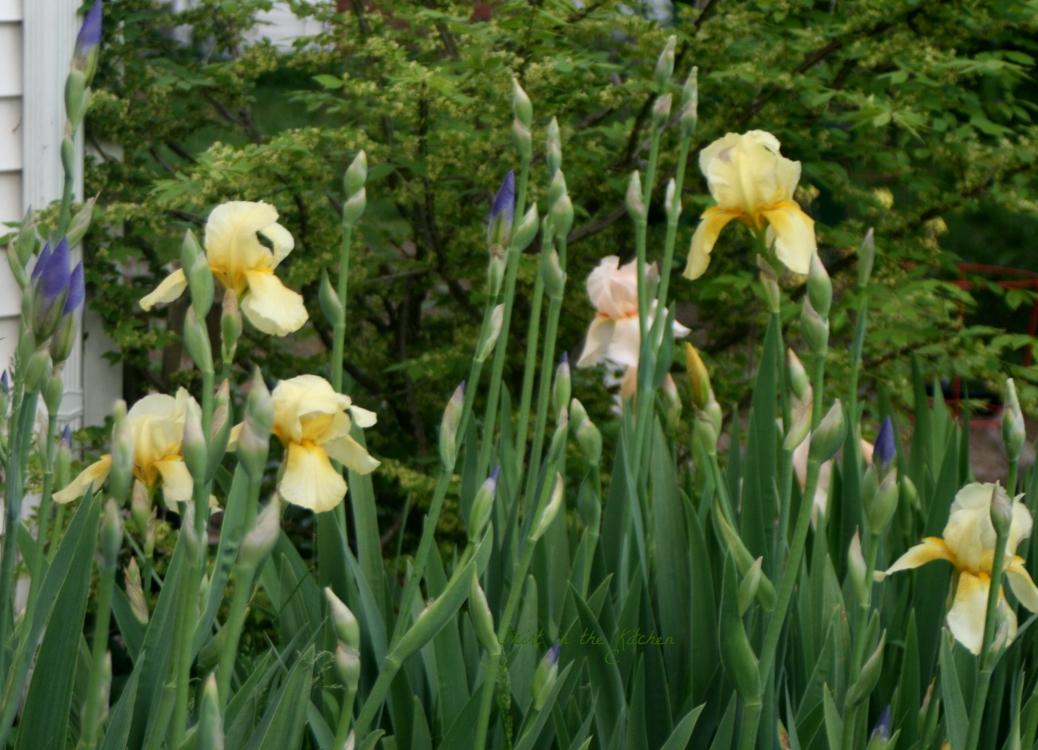 They always bloom in this color order:  First, peach; then yellow; purples; lastly, white.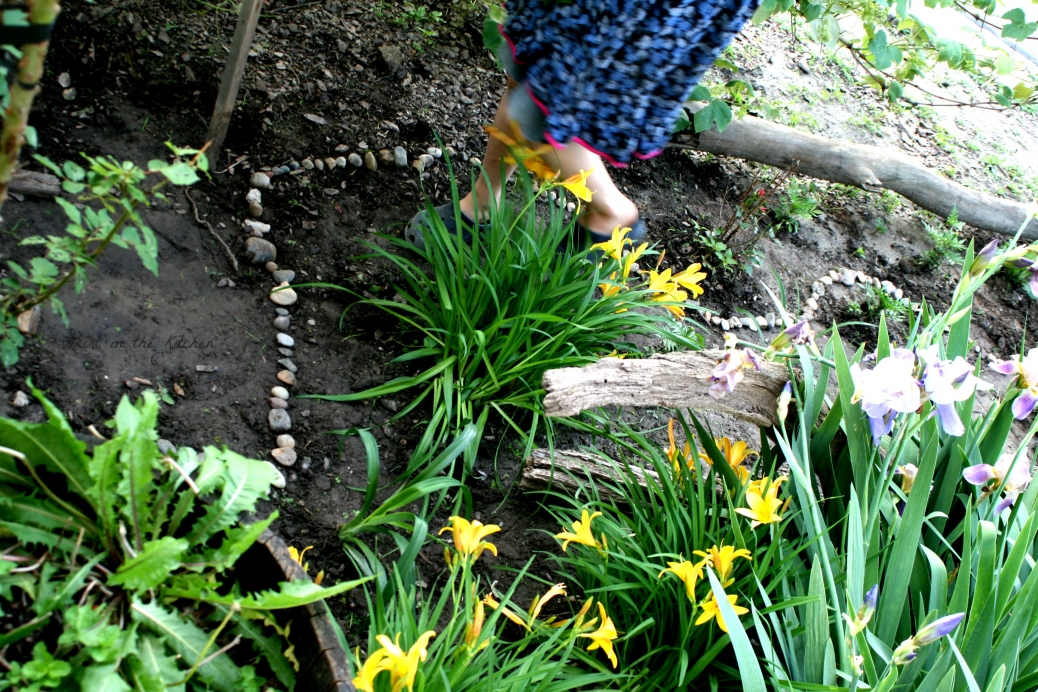 The making of a fairy garden…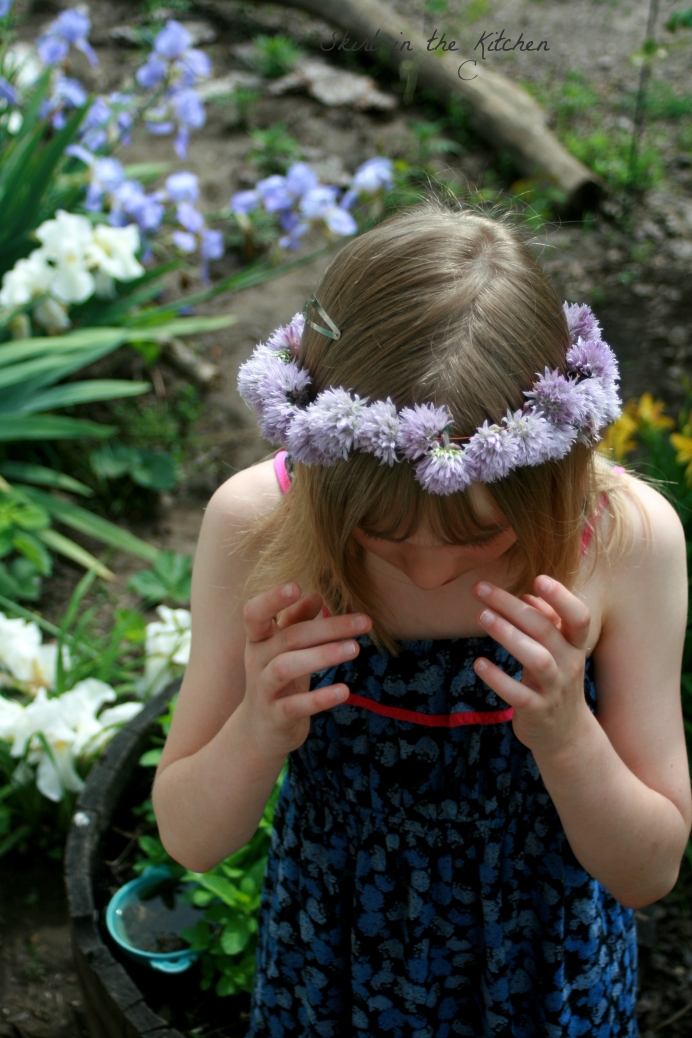 and the construction of a chive crown.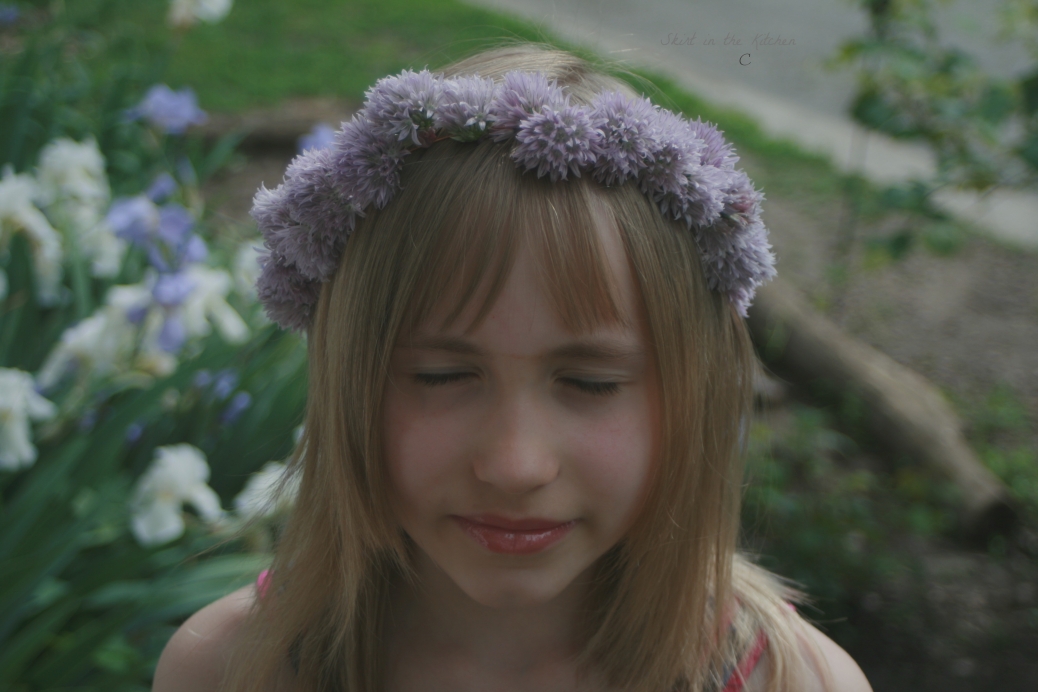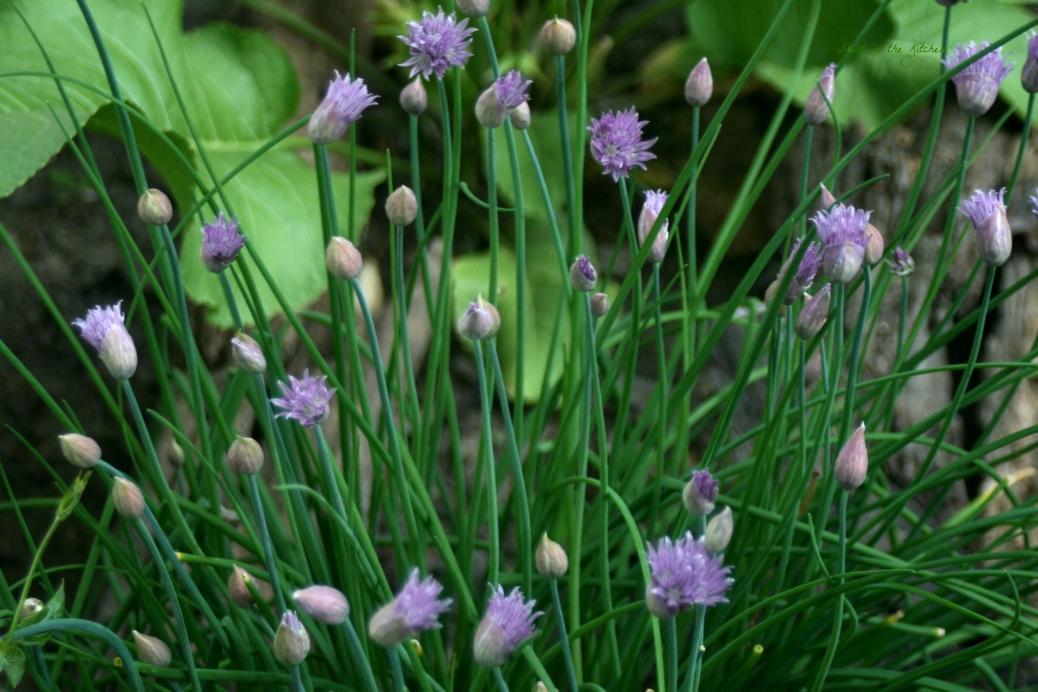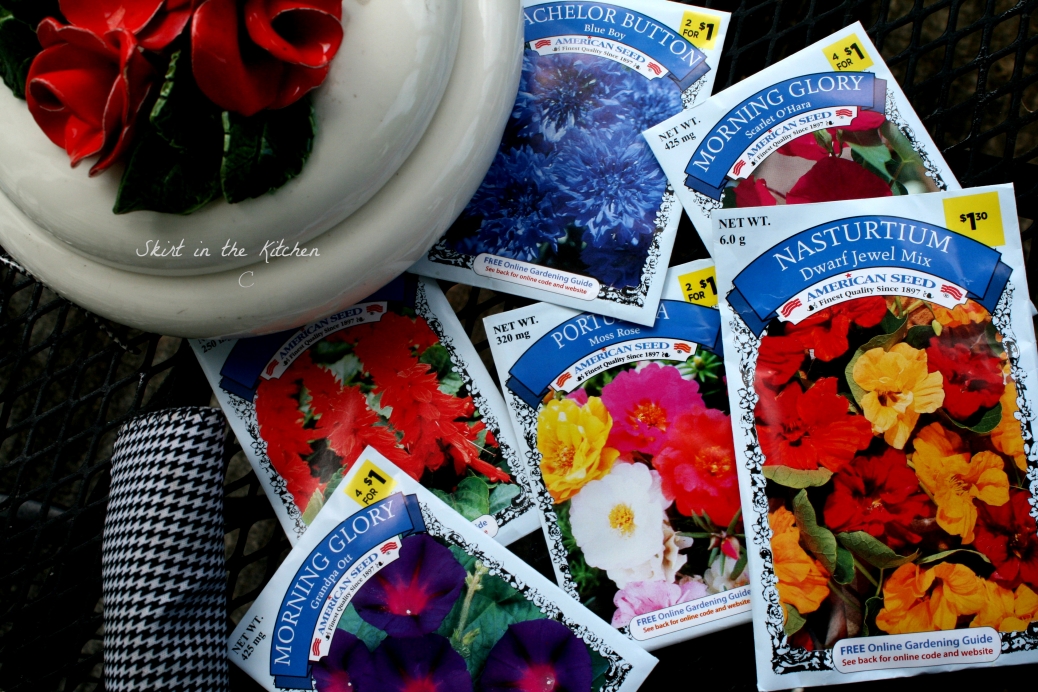 What I'm planting this week:  Bonfire Salvia, Grandpa Ott Morning Glory, Scarlet O'Hara Morning Glory, Blue Boy Bachelor Button, Dwarf Jewel Mix Nasturtium, Moss Rose Portulaca, and Alaska Shasta Daisy. 

Plant a garden.