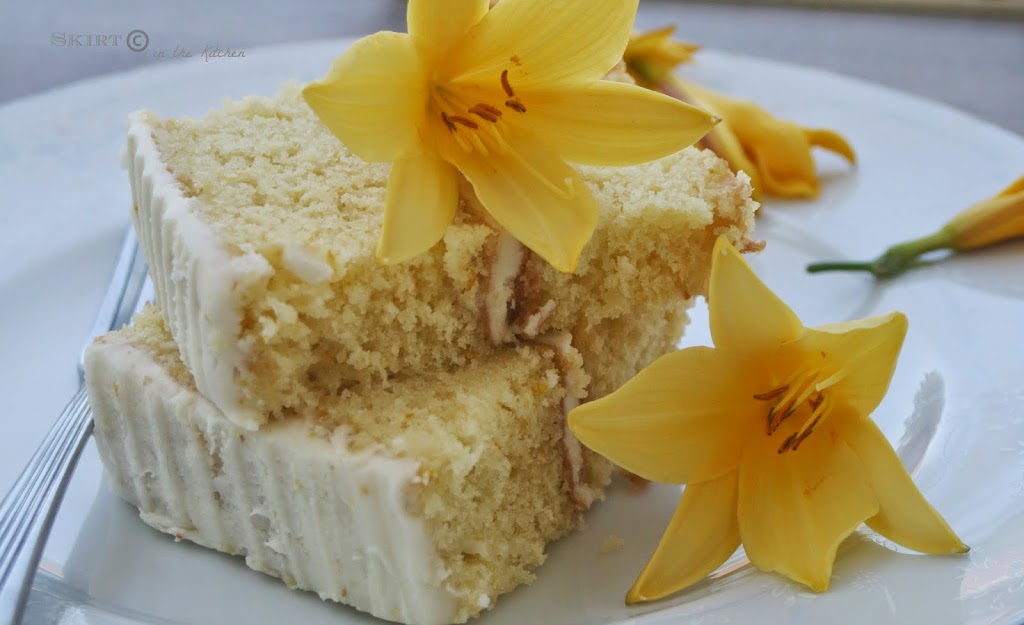 exclusively Skirt in the Kitchen
 This holds all the essence of everything floral.  It's refreshing with hints of citrus throughout.   Cheese is baked within.  It could be the recipe for a wedding cake, just multiply it in accordance per servings needed; bulk it up!
The cake also has extracted juice and the specks of orange zest.  For a unique twist, in place of vanilla extract normally used, I added 
Barefoot sweet wine
.
It's a party cake.  It's a walk in the park.  It's mildly accentuated, not overly done with the citrus and the floral accents.  They say, "Take time to smell the roses"– I say, "Why not the lilies?!"  There is so much to take in and enjoy.  Take time to do something crazy and different.  I finely chopped Daylilies and put them inside the cake!  
Sit outside in the evening with the candles lit in Mason jars hanging from the trees.  Serve this cake with an outdoor theater in your backyard after a meal pleasantly shared.  Be hospitable with your loved ones so they can enjoy your ideas and dreams put into a delicious cake as this one is.
 I was so rushed for time in making this cake that I thought I ruined it.  I had planned on a fluffy or creamy frosting and I ran out of ingredients for what I originally wanted so I wasn't sure how the cake itself would taste.   I roughly frosted it with barely having any frosting, stuck it in the refrigerator, went somewhere, then came home and discovered that it was so good!  It was in the first bite and thereafter.
Was and is it crazy to put grated cheese in it?– No, this is Skirt in the Kitchen!  We do outlandish things here!  That's what makes us tick; we follow no rules when it comes to food matters, we're as wild and relaxed as the weeds.  We like the unusual, the unpredictable ways of doing things.  I wouldn't have it any other way!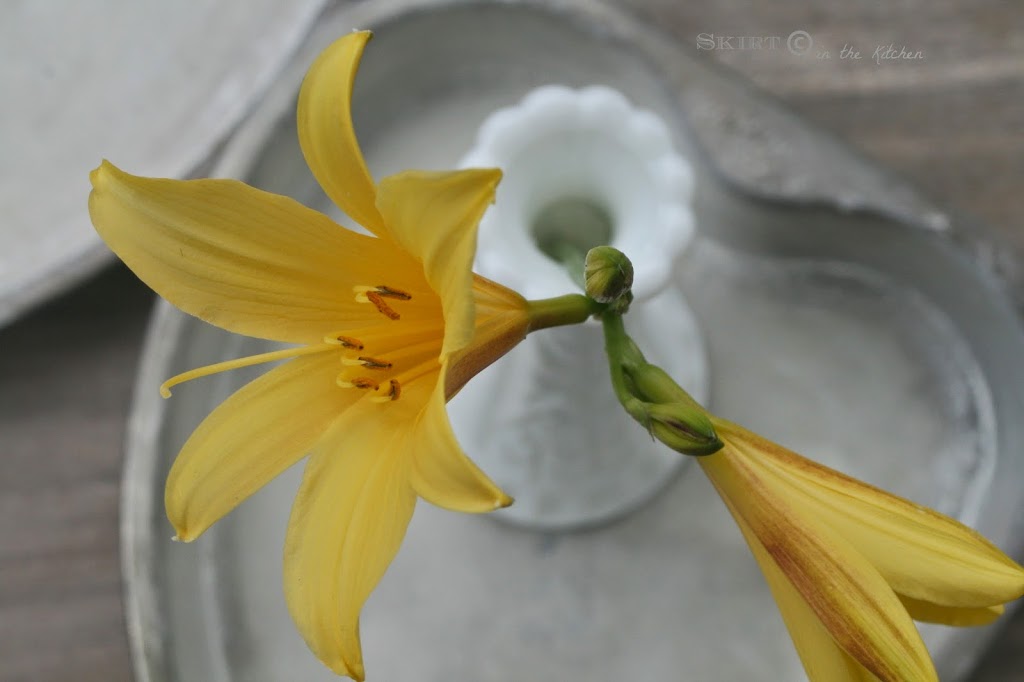 Have the oven preheated to 350º.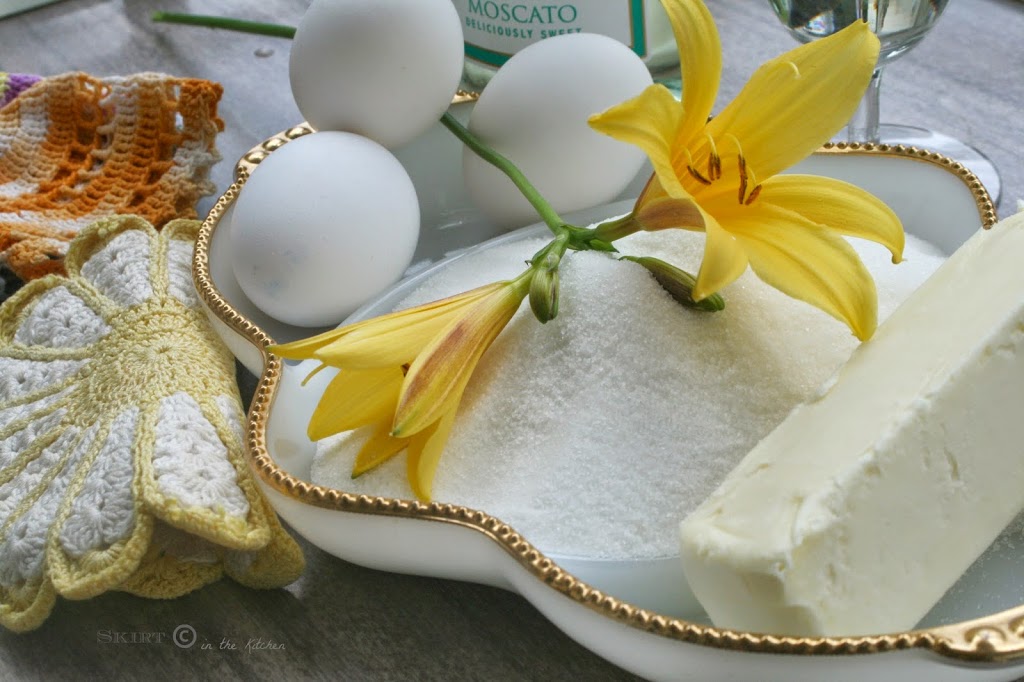 Have 3 'extra-large' eggs at room temperature; not 'large'-size, not even the 'jumbo'-size.  First, using the whisk attachment in a stand mixer, beat 1 stick softened unsalted butter with 1 1/2 cups sugar.  One at a time, beat in the eggs, then switch out the whisk attachment for the paddle attachment on the stand mixer.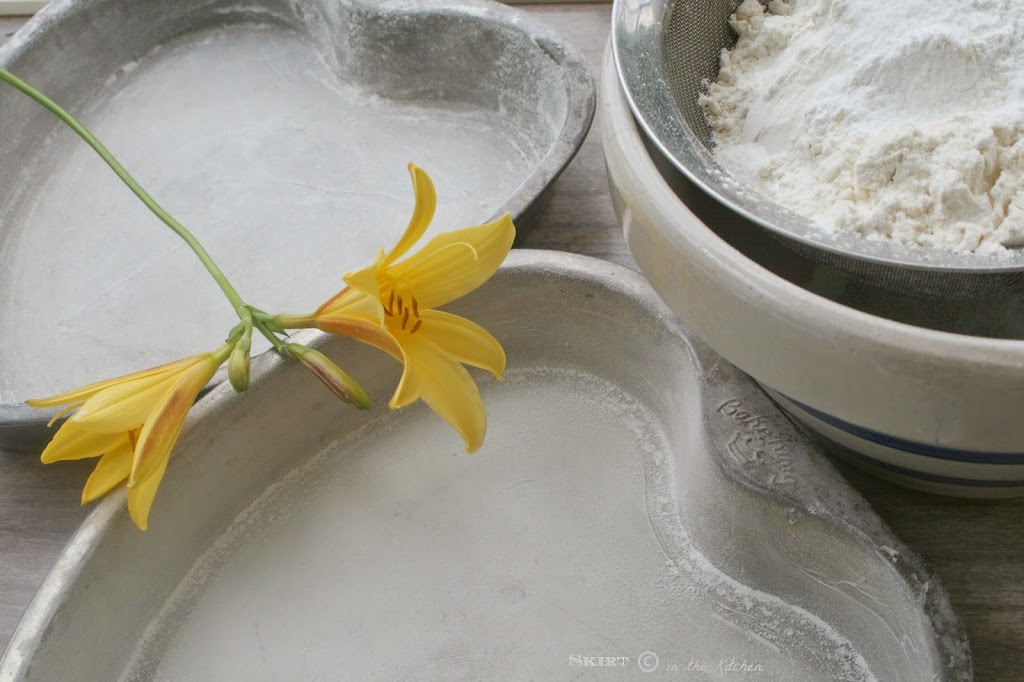 Measure and sift 2 1/4 cups flour, 1 teaspoon salt, and 2 1/2 teaspoons baking powder.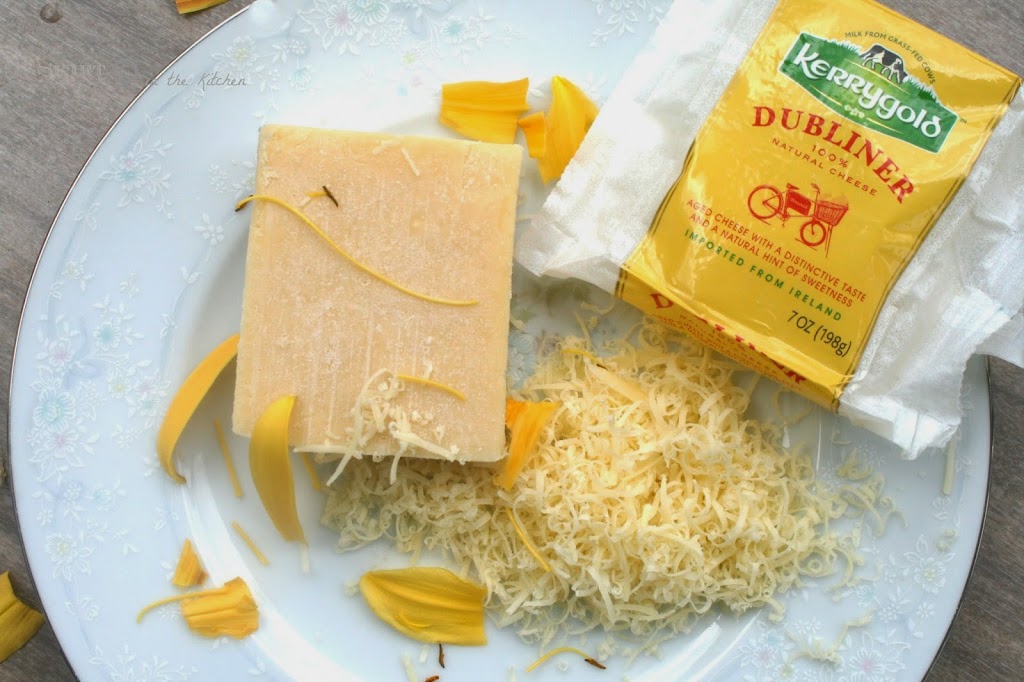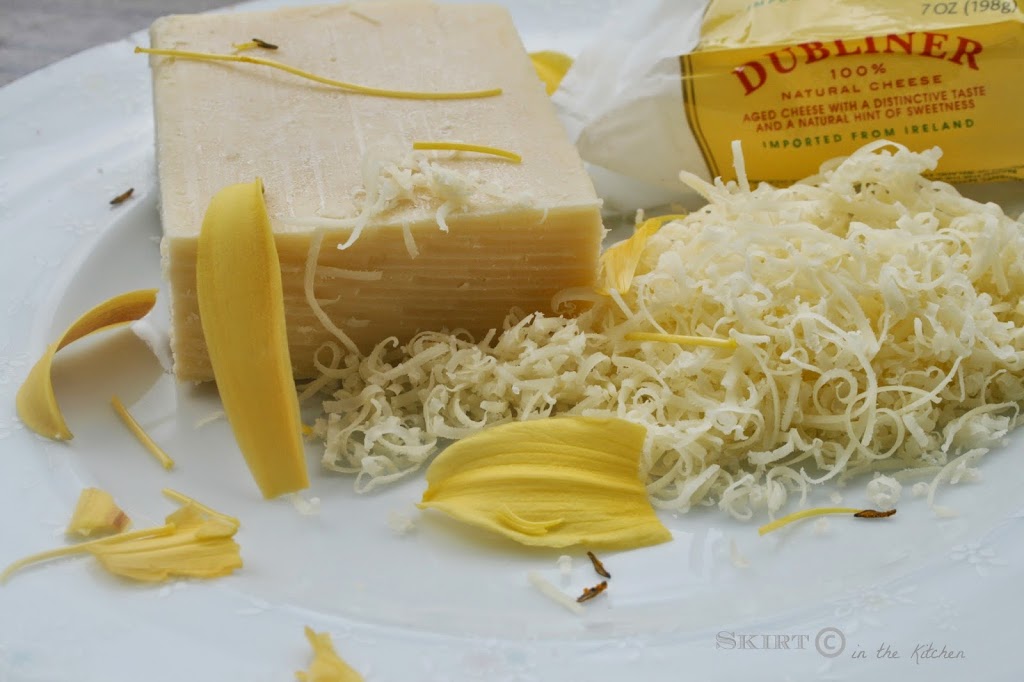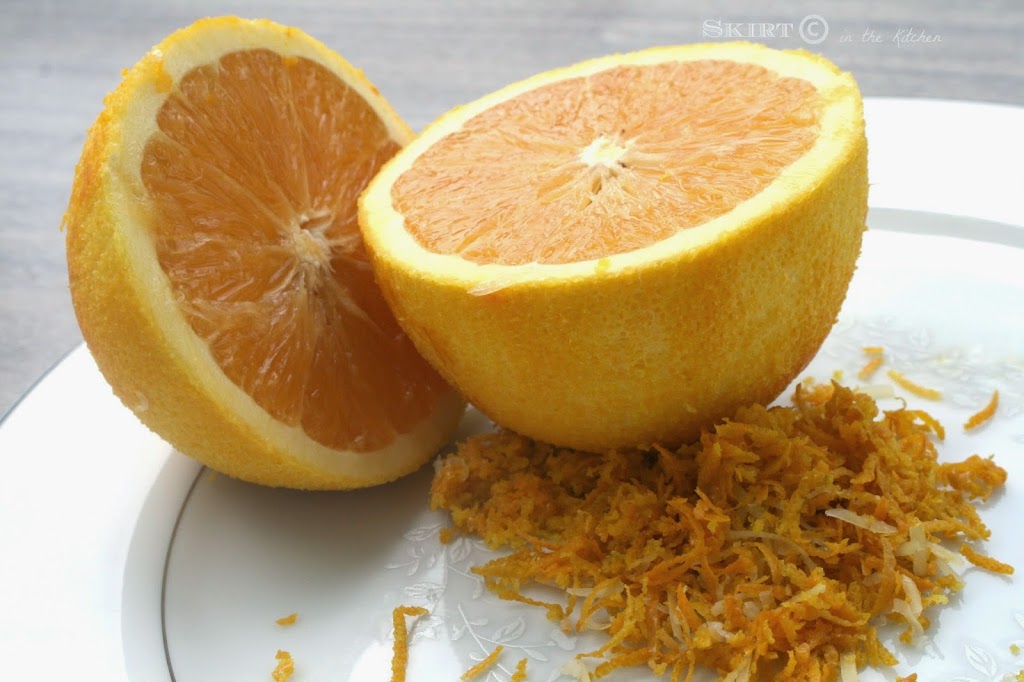 Zest 1 orange and mix into the batter.  Juice 3 large oranges; add alternately with the flour mixture.  Add the grated cheese.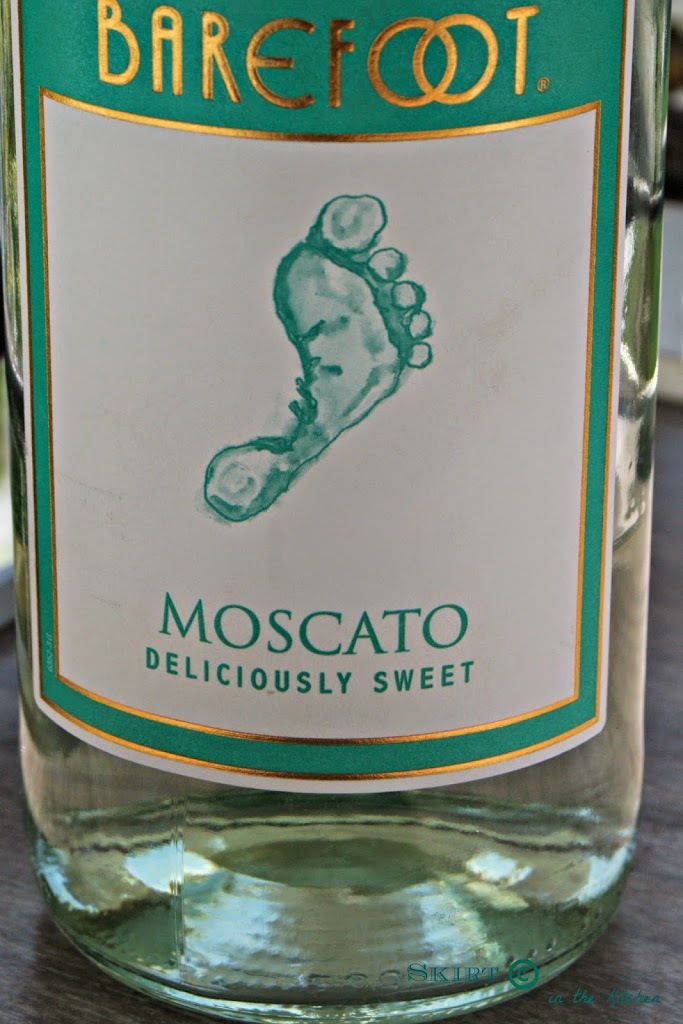 Add 1 1/2 teaspoons 
Barefoot Moscato Sweet White Wine
.  It has the flavors of
peach
and
apricot
 with hints of
lemon
and
orange.  
Depending on the size of the oranges, if cake batter is still not the consistency needed for cake batter to be, add just a little more squeezed orange juice or more of the wine.  It's all for one, one for all.  Fill into buttered and floured cake pans.  Cool completely on racks before turning out of the pans, then frost.
Having no set recipe for the frosting, simply beat 1 stick softened butter with powdered sugar, freshly squeezed orange juice, and more of the wine.  Achieve desired thickness to frost the cake.  Place frosted cake in the refrigerator for several hours or overnight, then let it set out in room temperature in a cake dome to keep covered when ready to serve.  The transition from chilled to warm temperature does it a favor.  It sets up the flavors much better this way.  It's every bit worth it.   Everything melds together better during the setting process in and out of the refrigerator for this cake.
— Susan Nuyt, Skirt in the Kitchen
cake for the sweet